It's been another information-packed day at Efecte's virtual event 'Digitalize and Automate', and it's time to highlight the second day's sessions along with some of the key things we learned. After looking at the 'why' of digitalization and automation on Day 1, we have today explored the 'how' – with the help of some exceptional speakers.
Aki Ylivarvi and Nick Boettcher, Efecte - Towards exceptional user experience with self-service modernization
Aki started the presentation by giving a short overview of how the Efecte portal has developed in time. 15 years ago, the company provided a simple and functional portal for simple requests, the UI not being a focus at that time. Then, 5 years later, a totally new architecture was introduced and offered a web-shop-like experience to users. It was more graphical and offered basic functionality to order equipment or file requests. That was already called a self-service. That architecture has been developed throughout the years and today it offers a real UI with many use cases ranging from IT, and business services to the governance of identities and access requests.
"Today we're introducing a new generation of self-service with optimized user experience", Aki explained. It is intuitive to use, responsive, search-centric and designed in a modern Finnish design style. The data that users are seeing is the same that back-end agents use to process the requests. The unified administration and the single point of management for both, data, and tickets, have been a particularly important focus.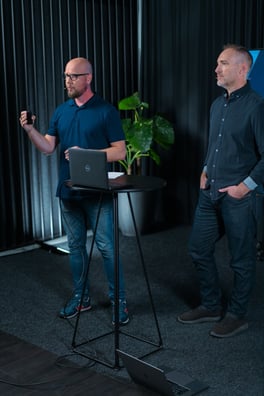 Nick continued and explained the why behind all these new developments. Obviously, there has been a long phase of research and listening to users and customers to find out about the most critical needs for development. But there are some principles that have driven the innovation:

1) start with the search, the search box being now a dominant part of the homepage, search should speed up the process not slow agents down
2)keep it simple, and offer a clear and transparent view of all information
3) access anywhere, with a platform that is responsive to device types and screen sizes and offers access to the same functionality regardless of the device
4) be helpful, and for example, offer agents and users real-time information about their tickets and tasks upon connection to the tool
"Every self-resolution is a win", Nick said. We want to empower our customers to be self-sufficient and to have easy ways to quickly find answers to their questions. We want the tool to be intuitive and conversational to enable interaction. The user should be able to access the portal and use it without any major guidance. Through a transparent view and access to data we want to engage the user personally," he concludes.
Aki Koivukoski, Efecte - New ways to work with Service Management
After having heard a lot about user experience and the customer, Aki had a different focus in his presentation: the service desk agent. The agent has a crucial role to play because he or she represents the whole service desk organization. The success of it depends on the agent and his performance. That is why it's particularly important to support the agent activity.
Aki also delivered a very insightful overview of the challenges, that service agents face.
1) tool capabilities: just as the users want consumer-like experiences, the agents want and need to get the most out of their service management tool. It should provide all modern functionality that allows for easy usage, transparency, data availability, and collaboration.
2) process knowledge: every organization has its own definition of a process and how it is solved, who's involved etc. That creates a massive amount of knowledge for the agent to have.
3) Increasing volumes of incoming tickets: we all know that we need to digitalize our processes and many companies have already embraced that trend. This creates however more services that need to be supported and increases the volume of tickets to be solved, more data to be processed and more knowledge to be handled by the agents.
4) Work continuity: the agents need to make sure that neither shift changes, nor the transfer of a ticket to another support group or a third-party provider causes a loss of information on a ticket. But how to make sure that nothing falls between the gaps?
Looking back at what has been said throughout the two days of Digitalize and Automate, Aki picked the most important topics that are relevant to all these challenges and offer a real improvement to the agent's work. The live Chat for example that enables the agents to interact in real-time with the user will be integrated into the platform and the agent will be able to use that without using another tool. The new self-service and chatbot will help to dramatically reduce the massive number of tickets regarding trivial and routine cases. Active collaboration through the Microsoft Teams bot allows for internal collaboration with other agents or the new Discovery will make Assets in the organization much more transparently available.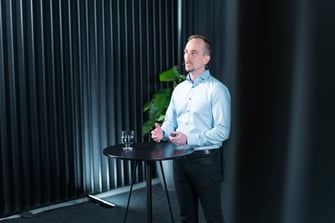 But what else does Efecte do to support the agent's work? To that question, Aki explained that by renewing the agent UI Efecte wants to simplify the agent work and ensure that they use the full potential of the tool. We focus on usability, process visualization, and transparency on the process status, stages, stakeholders etc., and are going to implement yet more best practices into our platform. Lastly, automation and AI will help with the work volumes and help the agent to become managers of their own work. The goal is to make the agent happy and satisfied with the tools that are in his or her hands because ultimately, happy agents make happy customers.
Milla Kuosmanen and Jonne Kauko, Efecte - From ticketing to enterprise service management - new ways to create value
Milla opened the discussion by explaining the service management environment, the structure, and process of how a service is provided, and all the stakeholders that are involved. This part is important to understand to see, how you can best apply the best practices coming from IT to the business. Many things are similar. For example, we always need data (from the system and coming from integrations), we need reporting capabilities, and we need partners to provide the services.
However, if service management is not done in an organized way, the challenges that you face are manifold. Very often, service channels tend to grow and, in the end, users don't know who to contact and how to contact. Without an ITSM tool, the transparency of the workload or the progress of a task is lost. Data is often scattered ad unreliable. That is true for IT services but is also valid for services coming from the business.
All these explanations come to the same conclusion: best practices from IT service management can and should be applied to business functions to generate time and productivity gains as well as improve user satisfaction.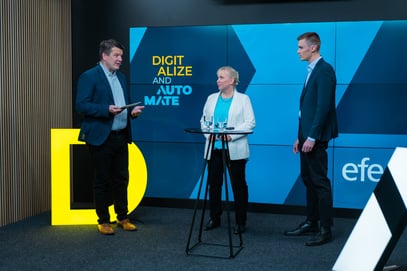 Jonne provided some real-life examples of customers of Efecte who do already use their service management platform for their IT and business services. Especially for the example of that Nordic retail chain, he explained that "you need to adopt a very customer-centric approach and understand their needs and challenges to plan for the right service structure". He also stressed again that Efecte is currently improving the Efecte tool interface, offering many new list views, conditions, working spaces, or for example a GANT view that allows visualizing data cards in relation to a timeline. All these features make it very easy to use the tool for non-IT stuff coming from the business units.
Patrick Thurman, Efecte: Defining modern service management to capitalize on experience
Patricks started his presentation by reminding the audience what service management means and that while the way how service management solves issues has improved over time, end-users and agents still struggle with the tools they interact or work with.
"So, how can we help improve the end-users' AND the agents' experience?", Patrick asked. Usually, users need assistance with incidents or requests, and they want these to be dealt with quickly and efficiently. Agents on the other hand have plenty of different issues to solve and lose time dealing with common issues, the use of different tools, and complicated processes. Patrick explained how AI, automation, and the use of a single platform for all services in the company can help to dramatically improve the experience for both users and agents.
The use of a single platform allows agents to deal with incidents and requests concerning IT but also all business-related services, such as HR or Finance. Thus, agents can serve more areas without increasing the system. Efecte can virtually serve any service with templates that can be customized and adapted to all service areas. Much of what does not need direct interaction can be automated. Integrated chatbots allow agents to save time by automatically solving the most common issues. For more complex issues, chats can be escalated to an agent. The single platform and integrated chat allow agents to interact with many users and issues at the same time. Users on the other hand benefit from faster times to solutions, and a better general service experience by only using one tool for all service requests, mostly provided in their local language.
"If companies want to improve the experience, they should always focus on the people and tasks, not just practices and processes", Patrick concluded and provided four simple steps to start that journey:
Identify your user groups and their needs,
review the actions they are looking to complete,
analyze and understand the tools at their disposal and
be realistic
During Day 2, more presentations have been delivered on the following topics: