Benefits of Essential SAFe with Efecte
Essential SAFe is the most basic form of the Scaled Agile Framework and also a great way to get started in transitioning an organization to a modern and lean way of working. Now you can digitize your Scaled Agile Framework (SAFe) implementation in an enterprise service management solution improving the effectiveness and collaboration between teams through a structured approach.
Our Essential SAFe Community solution includes all templates required for using the Efecte Platform as a central place to manage Essential SAFe operations. The included templates are Strategic Themes, Agile Release Trains, Program Increments, Sprints, Epics, Capabilities, Features, Stories, and Subtasks. The Kanban board functionality of the Efecte Platform supports the creation of product backlogs, sprint boards, and retrospective lists for the different agile teams.
Orchestrate Agile Teams Daily Work on Kanban Boards
Organizations using the Kanban method can create boards to visualize planned, in-progress, and completed tasks, while organizations using the scrum method can easily collect and organize tasks into sprints.
Create Transparency Across Multiple Teams
Collect and combine the results of multiple agile teams into Program Increments. Easily manage the delivery of developments to large-scale solutions or services using Agile Release Trains.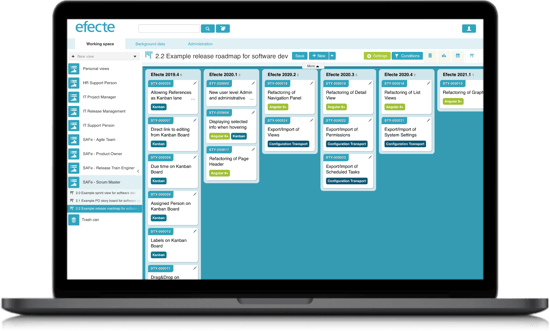 Centrally Record all Work
Every agile team needs common forms to record the content of their work. Our solution includes critical templates, including stories and epics, to help ensure complete documentation.
Why Choose Efecte for Essential SAFe?
Integrate with IT Operation
Move past the basics and give your teams a better way to work. Efecte Essential SAFe lets your agile teams work better. Link processes from your DevOps and SAFe teams to make releases, deployments, and other IT services seamless.
Create a Central Log of Every Project
Build a single template that can be used by every project that includes information on budget, schedules, and scope. Include the hourly cost of team members and have them report their hours to automatically calculate the current cost of any project or the remaining tasks.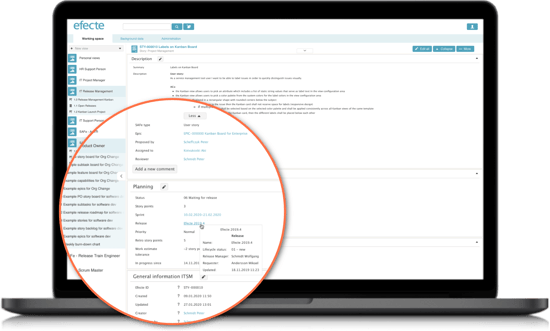 Interested?
Leave your details and we will get back to you very soon.
Agile Service Management with SAFe 5.0
Learn how SAFe Product Owners and Agile Teams can collaborate efficiently on various Kanban boards.