Enterprise Contract Management
Enterprise Contract Management software is faster, allows better-defined accesses, eliminates last-minute panic before contract renewals, and enables better auditing of who has been viewing documents.
Contract Management in use
Discover how Finavia manages contracts efficiently in a highly regulated industry.
Read More
Request a demo
Request a demo and see how Efecte's Enterprise Contract Management would help you.
Request now
Enterprise Contract Management Software
When using enterprise contract management software, you will create a single point of record for every contract, automate archiving and user logging, create email notifications for key dates such as deadlines, and formalize approval flows.
Automate Approval Processes Ensuring Compliance
Create workflows for approvals of contracts before they are signed using Efecte's visual workflow automation. Approvals are recorded as a dedicated record, to better protect against tampering.
Benefits of using Efecte for Contract Approvals
Replicate your exact approval chain without any compromises.
Automatic escalations based on the contract price, type, or location.
Send automated alerts to approvers to decrease reaction time.
Store approvals with contracts and as dedicated files to improve security.
Manage Access and Protect Sensitive Information
Fine-grained permission management allows an access hierarchy using folder trees and dedicated permissions, even on a single field value, for reading, updating, or deletion purposes.
Benefits of using Efecte for Contract Records
Use roles to ensure access without compromising security.
Create logs of every modification or even view of a data card in Efecte.
Build multi-level folders to manage similar or related documents.
Monitor and modify role permissions in real-time to simplify auditing.
Be Reminded of Renewals, Price Checks, and Expiries
Trigger notifications ahead of important contract milestones. Such as renewal obligations, notice periods, upcoming expiry dates, or agreed price checks to ensure important contract deadlines aren't missed.
Benefits of using Efecte for Contract Notifications
Automate alerts based on information recorded with the contract.
Include multiple alerts for the same or different dates.
Use if/then clauses to stop alerts after needed actions are taken.
Create notification groups for projects or departments.


What's Included with Enterprise Contract Management?
Centralized Document Repository
Create a central repository to simplify contract document storage, access, and storage of critical contract information, surrounding relevant parties, information, relationships, and linked contracts. View and review the links between all of the related items and assets with our Visual Contract Analyzer tool.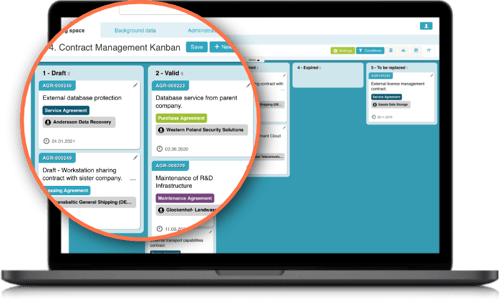 Agile Contract Task Manager
Simplify task management by using our Kanban board view to easily manage the required steps relating to creating, renewing, reviewing, or editing contracts.
Enterprise Contract Management Analytics Tools
Get insights into key areas of your contracts and their statuses with the use of calendar views, graphic views, and list views. Individual users can create any view they need and combine them into dashboards by dragging them into place.
Interested?
Leave your details and we will get back to you very soon.