Efecte's ITIL 4 ITSM Practices
Efecte ITSM Solution
View the Efecte ITSM Solution product page and discover how Efecte ITSM solution handles all the IT practices in one platform.
View More
Request a free demo
Discover Efecte IT Service Management for free and see how it fits your needs.
Book a demo session
Availability Management
Availability management allows organizations to precisely document KPIs for key services. Efecte ITSM will automatically create a dedicated service availability form at a defined interval. These forms are used to calculate in the service is within the availability target, record the result, and send a notification if the goals are missed.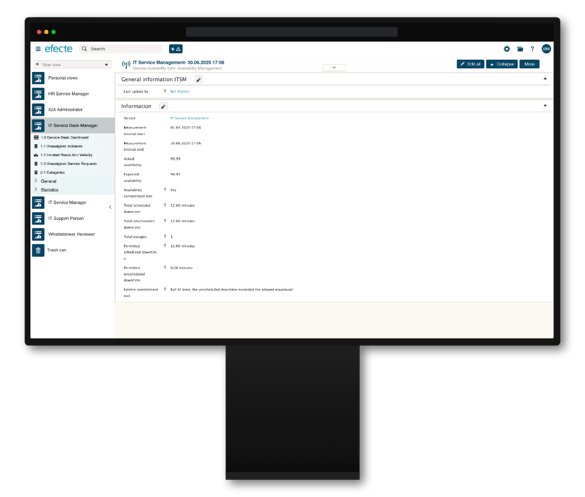 Create dedicated Service Availability Forms to record the availability of critical services for a set period
Automatically calculate KPIs based on the recorded information
Create alerts or alarms if service availability targets are not met
Link incidents or problems that create unexpected downtime for better reporting
Measurement and Reporting
Make good decisions based on facts decreasing uncertainty within your organization. Efecte ITSM includes extensive reporting tools, dashboards, and a Kanban board view that makes it easy to lead with data. Our solution allows every user to individually create the graphs, lists, dashboards, or Kanban boards they need. You can also create role-based views to ensure everyone is tracking the same critical information.
Create a list, graphic, calendar, or dashboards to gain greater insight
Automatically calculate KPIs and enable alerts if they are not met
Export or integrate all of the data collected for use in separate auditing systems
Measure customer satisfaction with a survey upon service completion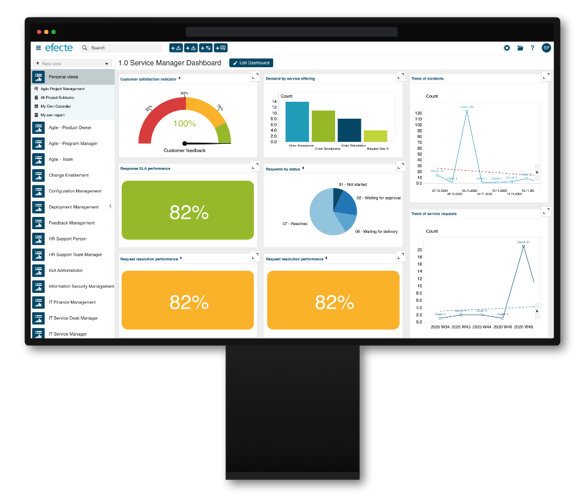 Monitoring and Event Management
Automation and integrations are becoming increasingly widespread and reliable. Reducing or eliminating the need for constant review and tracking by humans helps to greatly improve efficiency and allows them to focus on pressing issues. Proper and timely notifications allow organizations to take the proper steps at the moment they are needed.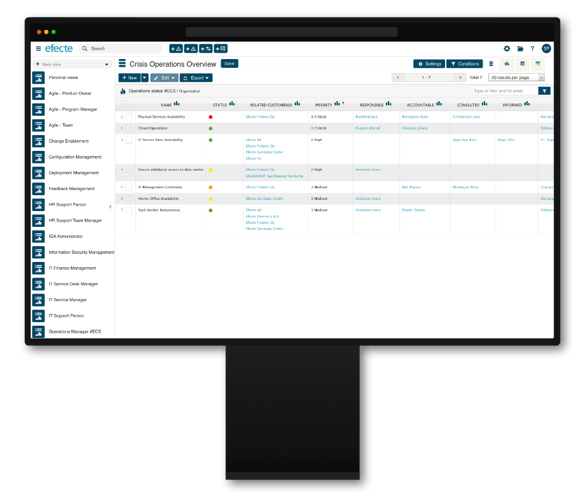 Log service events for easy review
Easily classify and report events
Create links between events and incidents for better evaluation
Receive event notifications via email or the service management tool
Problem Management
In some cases, incidents can only be resolved with workarounds, and preventing the same incident from reoccurring can only be done with deeper root cause analysis. Problem management is a dedicated practice to analyze complex issues. Incident and change management must be closely linked to problem management in order to receive professional analytics.
Create known solutions for recurring incidents
Easily identify and remove the root causes of known errors
Link problems to knowledge base articles to provide solutions or workarounds
Analyze trends to identify causes of problems before incidents occur
Improve service quality by measuring service areas with frequent problems
Centralize operations to better identify and react to core issues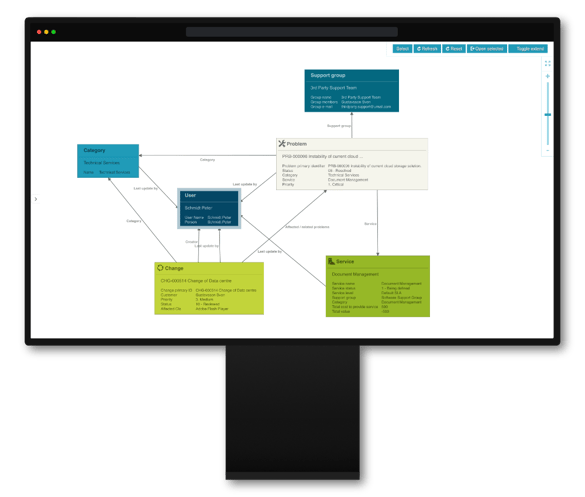 Project Management
Properly plan, delegate, monitor, and maintain control of your IT projects with a Project Management Practice based on ITIL 4. Efecte ITSM allows users to record relevant project data. Supports monitoring through Kanban boards and enables coordination of multiple projects with calendar views. Individual list every task and link sub-tasks to create greater visibility.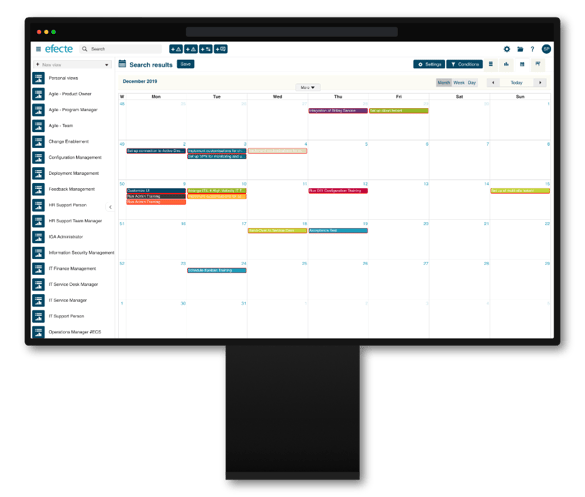 Record relevant project data for planning and delegation
Monitor project statuses with Kanban boards
List project tasks as separate entities for greater visibility
Store default tasks and repetitive projects
Relationship Management
Relationships can be hard, even in the business and IT worlds. The practice of Relationship Management helps organizations manage connections and dependencies with internal and external employees, organizations, service providers, and more. Efecte ITSM makes Relationship Management easier by creating clear records for every organization or person and linking interactions, services, devices, and more to these profiles.
Manage partner, customer, or provider connections and view dependencies
Record and link critical information relating to a service or company
Clearly classify the relationship type for greater visibility
Review relationships and linkages with our visual analyzer tool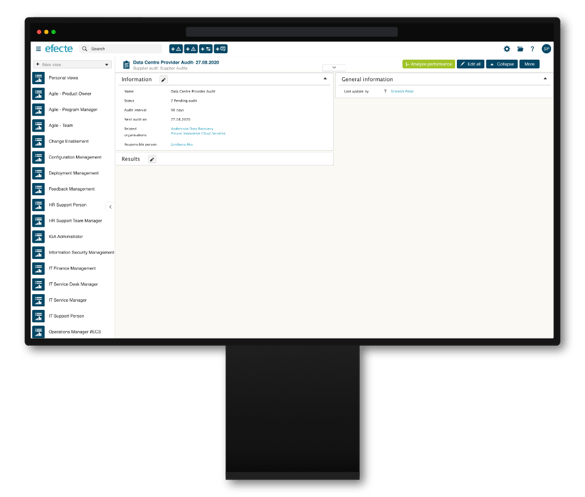 Release Management
Development and improvement are never-ending practices. Ensuring these positive changes do not have negative effects on business operations is essential. Through the use of proper planning, testing and contingency plans these negative effects can be reduced if not eliminated.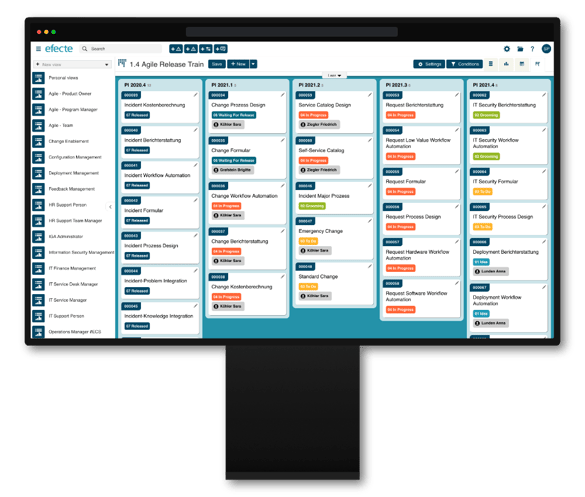 Record all steps within a potential release
Easily plan, build, test and deploy new assets
Link assets, problems, incidents, or changes to expand the potential impact
Set clear milestones to ensure releases go as planned
Visually view releases within the included calendar view
Risk Management
The effective handling of risks is crucial for every organization, and their ability to identify, assess, and treat risks is essential for the stability and sustainability of their services. Proper risk management can help organizations operate with increased agility without risking system and service security or availability.
Create a central location to record and link risks, controls, assets, and owners
Expandable past IT risks and assets to allow for a single risk management solution.
Send notification of assignments to ensure reactions
Automatically calculate the risk level
Built and designed to meet ISO/IEC 27001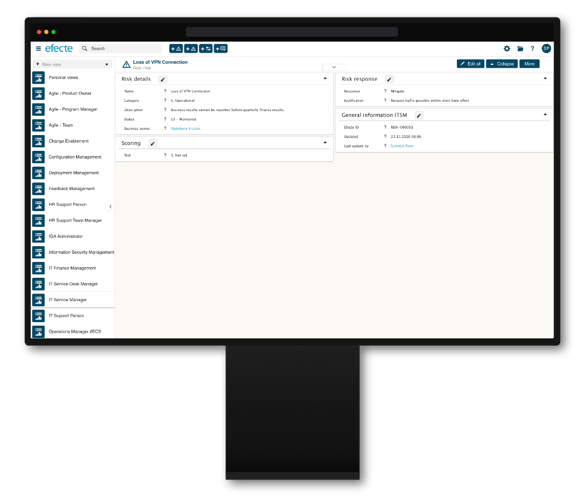 Service Catalogue Management
IT organizations must manage an ever-increasing amount of digital services, both related to running IT and other business units. Service catalog management manages the lifecycle of services. It is essential to understand the relationships of services in order to manage portfolio changes without interruptions. Recording service and business owners.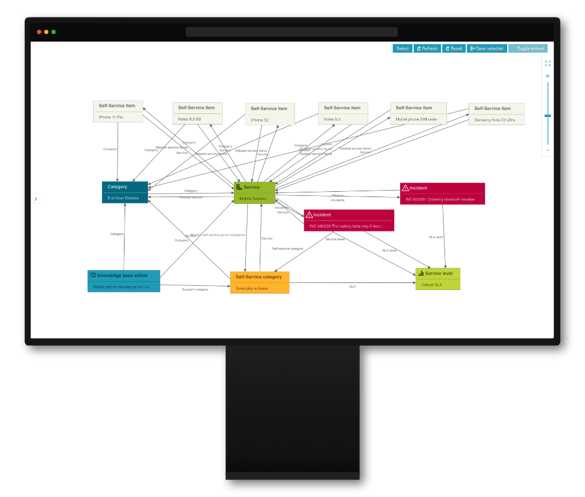 Categorize service offerings and service items
Multi-language, multi-site and multi-tenant service catalogues support
Create role-specific service offering and service catalogue bundling support
Pre-integrated asset, CMDB, contracts, and licenses
Easily review and report service catalogue utilization
Service Financial Management
Control, allocate, and improve the cost efficiency of enterprise services with Service Financial Management and Efecte ITSM. Our solution allows you to create flexible dashboards to monitor cost development in real-time. Record a budget for a defined period and calculate the charges for any interaction within Efecte ITSM or integrated from an external invoicing solution.
Track the costs associated with Incidents, Requests, and Changes
Define budgets for cost centers or services
Flexibly define the recording period as quarterly, monthly, or any other interval
Easily integrate external invoicing systems for greater efficiency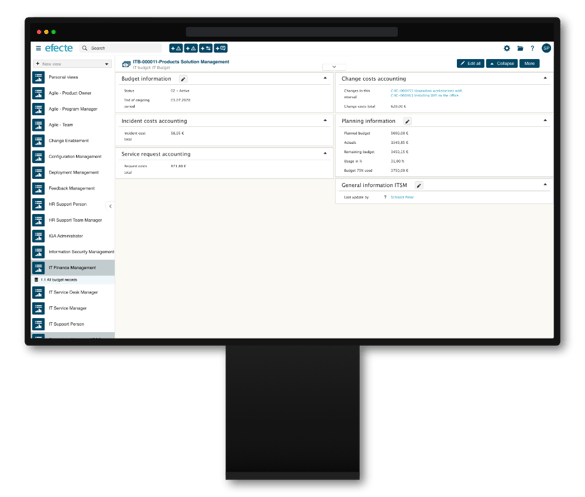 Service Level Management
Business operations are a continuous chain of tasks, and any delay or issue within this practice has a ripple effect. As technology expands and improves, seconds can prove detrimental. Organizations need an easy-to-use, visual and reliable tool for tracking and reacting to any changes.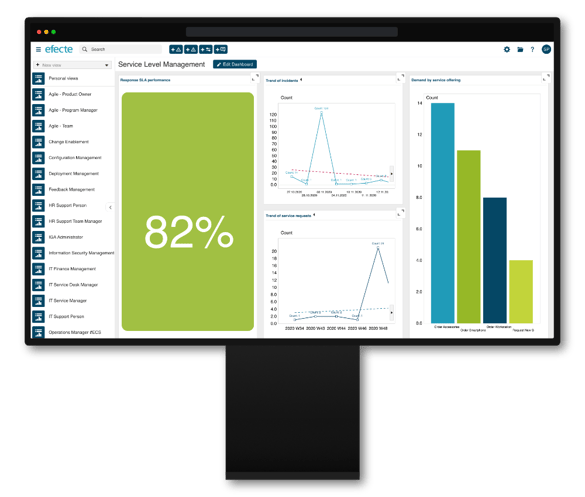 Record SLA's for assets, service requests, incidents, and problems
Monitor service levels in real-time
Automatically escalate a case or incident if the service level breaches
Benefit from extensive reports and statistics of service levels
Capacity and Performance Management
Capacity Management allows Service and DevOps Teams to record, plan, and forecast capacity demand and capacity performance of individual Configuration Items. Efecte ITSM focuses on capacity planning, resource allocation, and real-time capacity monitoring collected from external monitoring solutions.
Record the capacity allocation for a particular CI
Simplify requests for CPU cores, memory, and storage
Simplify capacity allocations to customers or cost centers
Use calendar views to better visualize allocations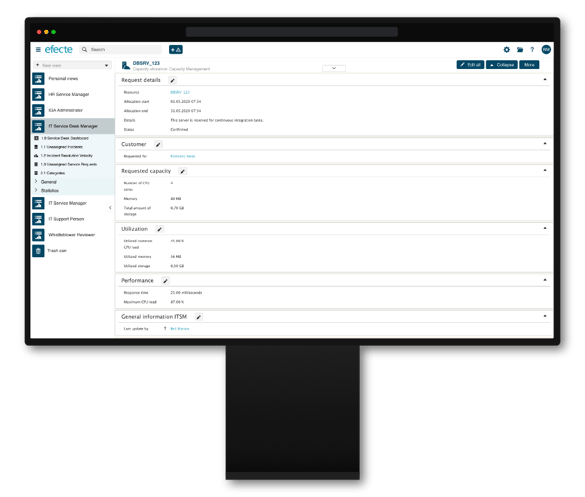 Service Request Management
Providing employees with the necessary tools to complete their daily tasks is essential for any organization. This practice can be improved through the use of a central and easy-to-use location with clear approval processes. Service request management centralization will help to reduce approval, processing and delivery times, improving organizational efficiency.
Service desks can easily be overwhelmed by emails, updates, and requests for devices and services. Using self-service portals can help improve the overall user and manager experience by centralizing and simplify these practices. Efecte ITSM includes a mobile-first customizable self-service portal to provide uses with an easy-to-use location to make any requests regardless of their device. All of these requests are managed by the service desk using list views, custom dashboards, or Kanban boards. Managers can improve processing by incorporating workflow automation to tasks or entire practices and review key metrics and KPI's such as SLAs, feedback, and processing times for every stage of deliveries.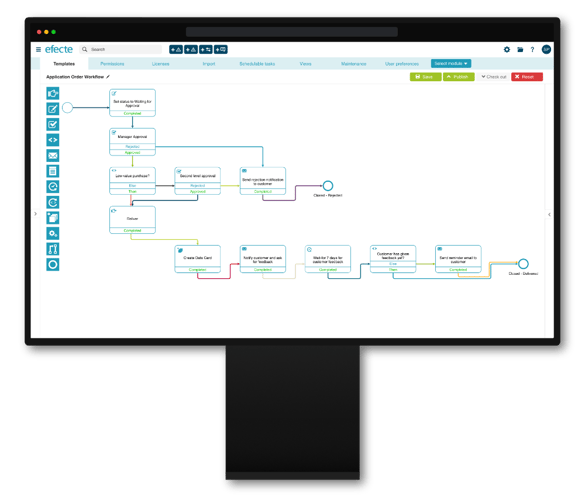 Manage service requests through an easy to use self-service portal
Simplify service requests by automating the entire process
Channel requests to the appropriate service personnel based on the type
Instantly review requests with real-time tracking across the entire enterprise
Create flexible reports across all service requests
Limit request availability based on user roles
Service Validation and Testing
Service lifecycle activities such as Change Enablement, Release Management, and Deployment Management require testing and validations. Efecte ITSM includes testing related templates for a single test or large-scale testing. Create visibility into who is doing what, the current results, and more for your Quality Engineers, Product Owners, or DevOps teams, or any other stakeholders.
Use standard test templates for small projects or large-scale test suites
Review the status of tests by reviewing the individual activities
Use test planning templates to build a checklist before starting testing
Review test results with lists, dashboards, and Kanban boards to identify problem areas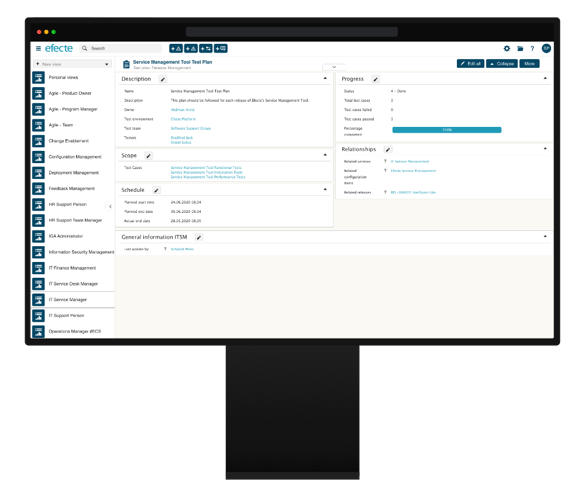 Supplier Management
Organizations are increasingly focusing on their core businesses. This means an increase in outsourcing of a variety of services and areas of their business. The proper selection of partners is important, but so is the continuous review of their performance to ensure organization needs are met.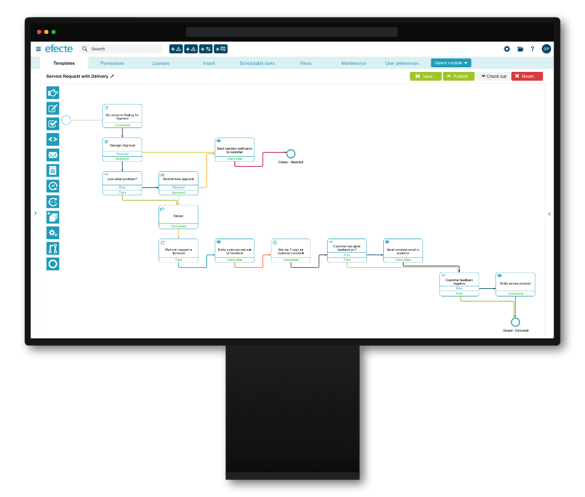 Single point of record for all vendors and suppliers
Pre-integrated license and contract management
Vendor performance rating based on end-user feedback
System integration and management-ready, multi-vendor access management
Vendor performance management for SLA's and resolution times
Change Enablement
Creating standards to allow for smooth upgrades, developments and releases are paramount. Issues with releases causing downtime or a lack of support can greatly hinder any organization. Most issues that arise surrounding change can be mitigated if not wholly eliminated but implementing clear approval processes, testing, documentation, and review.
Create a set of standard change templates
Record work and cost estimates
Transform changes to tasks assigned to a single person or team
Ensure proper authorization
Track the progress of changes in implementation
Review implemented changes and develop the implementation practice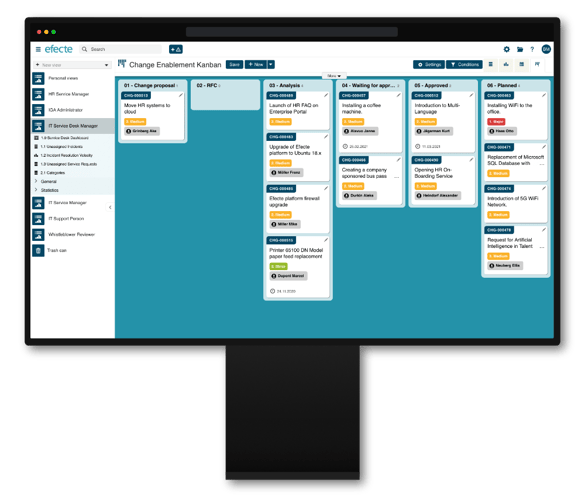 Demand Enablement
Capitalizing on organizational knowledge can mark the difference between rapid and efficient IT development and tedious and costly changes. Service provider organizations need to allow their customers to easily make suggestions for improvements and others to rate these suggestions. Allowing the entire organization to participate in the decision-making process allows for a wider review process and means a higher chance of success.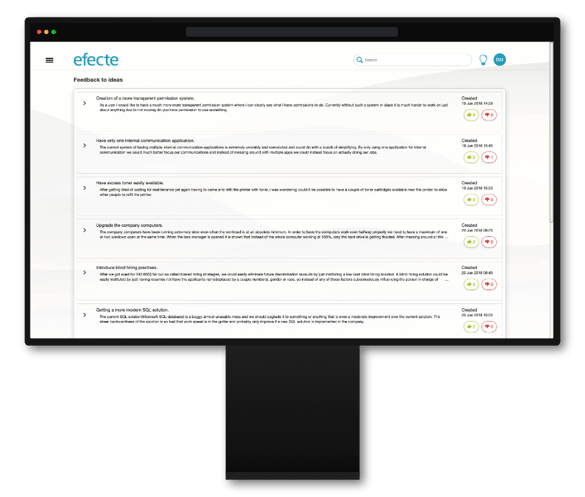 Record new ideas and suggested improvements
Create a list of acceptance criteria
Include financial and operational expenses for better evaluation
Allow users to vote on the demand
Link with changes and incidents for continued development
Deployment Management
Deployment Management is the practice of moving new or changed assets to live environments, mostly referring to production environments. Efecte ITSM uses a Deployment Pipeline to define the sequence of builds that will be deployed for one asset, such as a service, cloud solution, server, or software application. A build is a single instance of a new deployment at a given time within the Deployment Pipeline.
Create standard practices for moving assets to live environments
Separate deployments into Deployment Pipelines and Builds
Link schedules, tests, and reviews to deployment builds
Automatically duplicate default tasks and tests for each build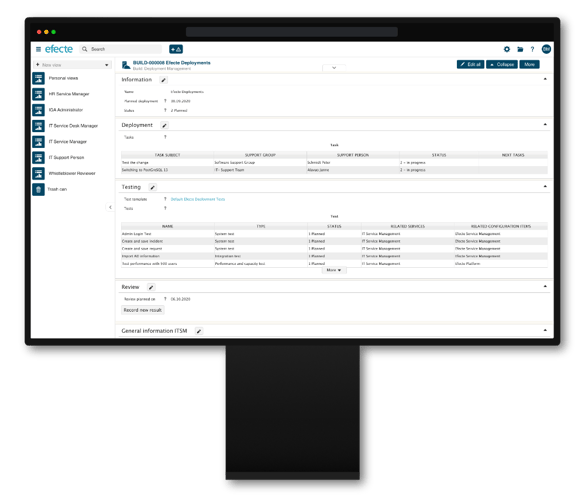 Feedback Management
Customer experience, happiness, and satisfaction are paramount in ensuring an organization's survival. Simply completing a task no longer means customers will fully accept the solution or service. Organizations must request, receive, review and react to feedback near-instantaneously to survive and develop.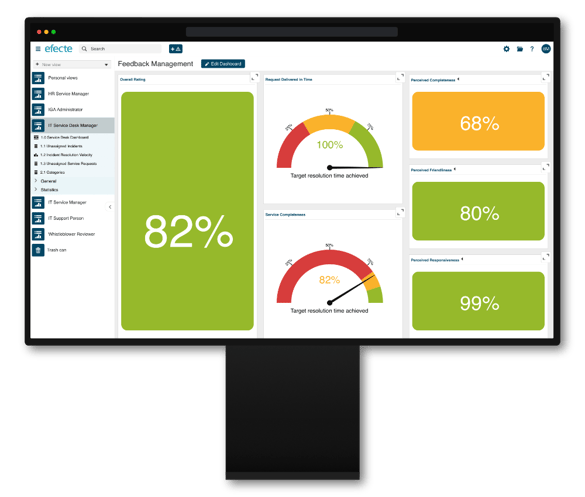 Customizable and dynamic form to collect the most relevant data
An intuitive, advanced and modern interface to analyze and record feedback
Automatic alerts from high priority feedback
Mobile device support, allowing users to respond via their chosen device
Collect and organize data from multiple changes into one platform
Incident Management
Issues constantly occur throughout the day, whether they are caused by a technical issue or human error. Effective incident management ensures that they are identified, reported and remedied. Providing employees with a simple and centralized reporting and notification location for issues and their solutions will greatly decrease negative impacts.
Detect, prioritize and record all incidents
Assign incidents to support groups or individual support persons
Easily track response times and target resolution times
Review progress and send automatic email notifications at key points
Find known solutions quickly from knowledgebase articles
Analyze incident trends to identify potential problems
Automate repetitive tasks through workflow automation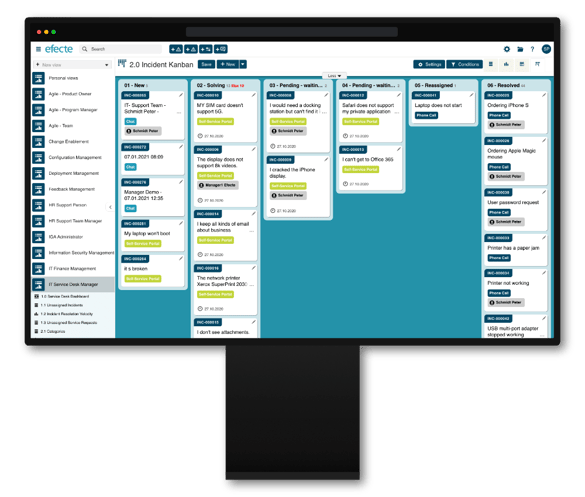 Information Security Management
Issues constantly occur throughout the day, whether they are caused by a technical issue or human error. Effective incident management ensures that they are identified, reported and remedied. Providing employees with a simple and centralized reporting and notification location for issues and their solutions will greatly decrease negative impacts.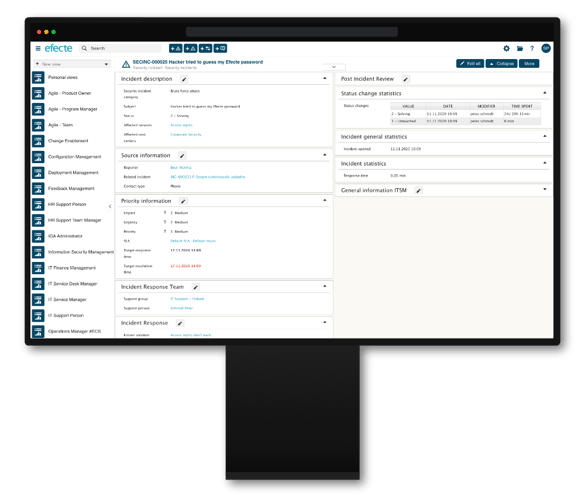 Automate security responses to improve data security
Schedule and assign post-incident reviews
Review the system with the included views and dashboards
Easily track and report any incidents
Manage and audit past action to improve operations
Easily share best practices to improve the entire organization
Receive instantaneous feedback on the current operations
Knowledge Management
An effective organization is not one which does not make mistakes, but one that learns from their mistakes and reduces the impact. Organizations can increase efficiency by creating a knowledge base, where employees and service personnel can easily find solutions for frequently asked questions. This improves both operations and user experience.
Create a single point for knowledgebase articles
Allow quick fill solutions from knowledgebase articles to incidents
Improve self-help by linking knowledge base articles to the self-service portal
Identify the most helpful solutions by asking for user feedback
Allow users to instantly rate if self-help articles are useful