Efecte AI Chatbot
In 2022, Efecte acquired Conversational AI company InteliWISE. Now, InteliWISE's enterprise-grade chatbot, powered by AI, is available to Efecte's customers across Europe. Fully configurable. Cloud and on-premise. With tons of integration tools.
AI- Chatbot, otherwise known as Virtual Advisor or Virtual Assistant, is Conversational AI class software, based on artificial intelligence algorithms, successfully applied to both e-commerce and many other industries – insurance, medical, service, transport, banking, etc. Chatbot analyzes customer questions and answers them 100% automatically, using virtual dialogue technology. The solution is used for intelligent automation and supports digital transformation projects.
An intelligent advisor can reduce the cost of solving one client's problem to as little as 1 cent
Chatbots can provide instant, automatic answer to 30-60% of the most frequent questions asked by customers 24 hours, 7 days a week.
Uses proactive engagement tools in communications
Understands customer's personality, tone of voice
Can be integrated with vital business processes
Replicate the performance of your team's best sales and service representatives
Deflect calls & messages
$0.10 or less for resolving a single problem, without a doubt, the lowest cost of service.
Automate your sales growth and service with bots, powered with AI in their DNA
Get more leads by recommending products and upselling, >11% increase in transactions after Chatbot's recommendations.
Eliminate waiting time
Long minutes of queues on web chat are a distant memory as the chatbot's response is 1 second.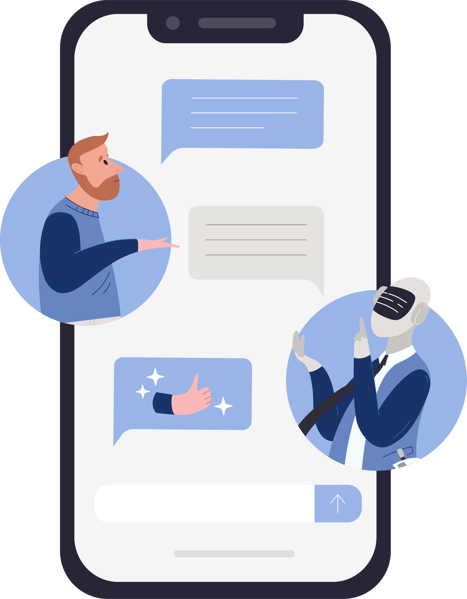 Efecte Chatbot can be scaled-up with cloud or installed on-premise
Chatbots can be launched from the cloud of the provider – when installation is limited to pasting the code into the HTML of the website, or in the on-premise model – all software is installed on the client's servers.
The choice of each installation can have a significant impact on cost – the price of a solution implemented on the company's infrastructure can be up to 2x higher than when provided in the cloud. Decisions are most often dictated by:
the company's privacy policy related to personal data – if the company must store data related to customer interactions on its own infrastructure
by law, e.g. financial institutions must comply with banking law (which does not necessarily exclude cloud-based options)
performance issues, often derivatives of the expected technology load by virtual conversations or automated chats – the higher the volumes, the more logical the choice of an on-premise version
the level of complexity of integration with other IT systems in your company.
Millions of recognized questions by AI
Efecte uses its own US-patented NLP (Natural Language Processing) algorithms, including a comprehensive AI Conversational engine to drive 100% automated user dialogues. This engine has already handled millions of queries for customers around the world.
The understanding of questions asked in natural language (e.g. colloquial speech, jargon) is made possible by statistical classification with text correction and targeted matching.
Pre-implementation analysis –
analyze current business processes in your company, determine the scope of needs and design optimal solutions to achieve your targets.
Choose the platform and interface –
a Chatbot can operate externally in messenger services, or, on an internal platform – in a dedicated mobile application or via the company's website.
Decide on the content and conversation –
analyze frequently asked questions and prepare patterns of answers to virtual dialogues.
Launch, train, and improve –
constantly analyze Chatbot's conversations to capture potential errors and supplement the knowledge base with missing scenarios.
What makes Efecte Chatbot special?
Systems tested on mass traffic of customers on websites - several dozen/several hundred thousand interactions per month, with the highest SLA guarantees.
100% support in the service of implementation/support/application management.
Analysis and advanced integration with customer's systems, including CRM, CC, ERP, Facebook and other social networking sites.
Comprehensive tools for managing appearance, behavior, software content - changes/updates can be done independently.
Full support in adapting the software to the new regulations, including RODO, IDD.
Possibility of embedding 100% of the solution (previously used in the cloud) on the customer's infrastructure.
Integration of Chatbot & Live Chat, the so-called Hybrid Chat, allowing optimal use of AI for handling the most common questions and immediate redirection to the Live Chat operator Maximum modularity: the customer can switch off unused software or activate additional functions at any time.
Contact us for more information!