CMDB | Configuration Management
Enhance Efecte CMDB with Device42
Device42 has capabilities for collecting in-depth data into a single repository on Efecte Platform.
Learn more
Request a demo session
Discover Efecte Enterprise Service Management for free and see how it fits your needs.
Book a demo session
What is Configuration Management and CMDB?
Configuration Management is about having a record of your systems, what's happened to those items, and the details of the relationships between the items on your list. It is commonly used in IT, military, or commercial aviation scenarios. In IT, a Configuration Management Database (CMDB) could include details of servers, code modules, applications, etc., and how they are connected.
Source: Axelos
How does CMDB help your organization?
Maintaining up-to-date records of organization assets allows any organization to operate leaner and more efficiently. Complete and detailed records allow organizations to easily upgrade outdated or aging equipment before failure. Expanding these past singular items to review linkages and commonalities allows for even greater control.
Efecte Service Configuration Management Database
Record all Configuration Items (CI) and assets in one location
Manage application and integration ownership and responsibilities
Record and review fixed or leasing cost of items
Easily create visual dependency and relationships maps between assets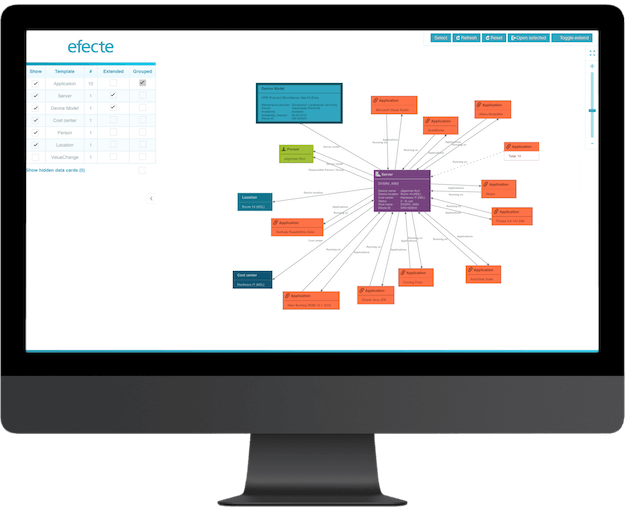 Enterprise Asset Management of Efecte
Building a central system for all enterprise assets makes planning, control, and maintenance simpler and allows easier integration with other digitalized enterprise processes. By running Enterprise Asset Management (EAM) on the Efecte platform, you can digitalize activities through workflow automation, advanced reporting, and integrations. Our flexible data model also allows for the referencing or linking of every asset to the associated services, processes, people, and other assets.
Inventory and device management
Centralized Asset Specifications, Classifications, Relationships, and Lifecycles
Proper categorization, classification, and linkages between assets are crucial to inventory management. The Efecte platform allows any organization to create the exact records they need for every asset and include the critical information for that particular item.
With Efecte, you can also classify your assets using a traditional LVP (Linear, Vertical, or Portable) categorization or any other industry or business-specific method. When using the Efecte platform for Enterprise Asset Management, you can design the system you need to create proper asset hierarchies. Records can be linked to make relationship management simpler and more efficient.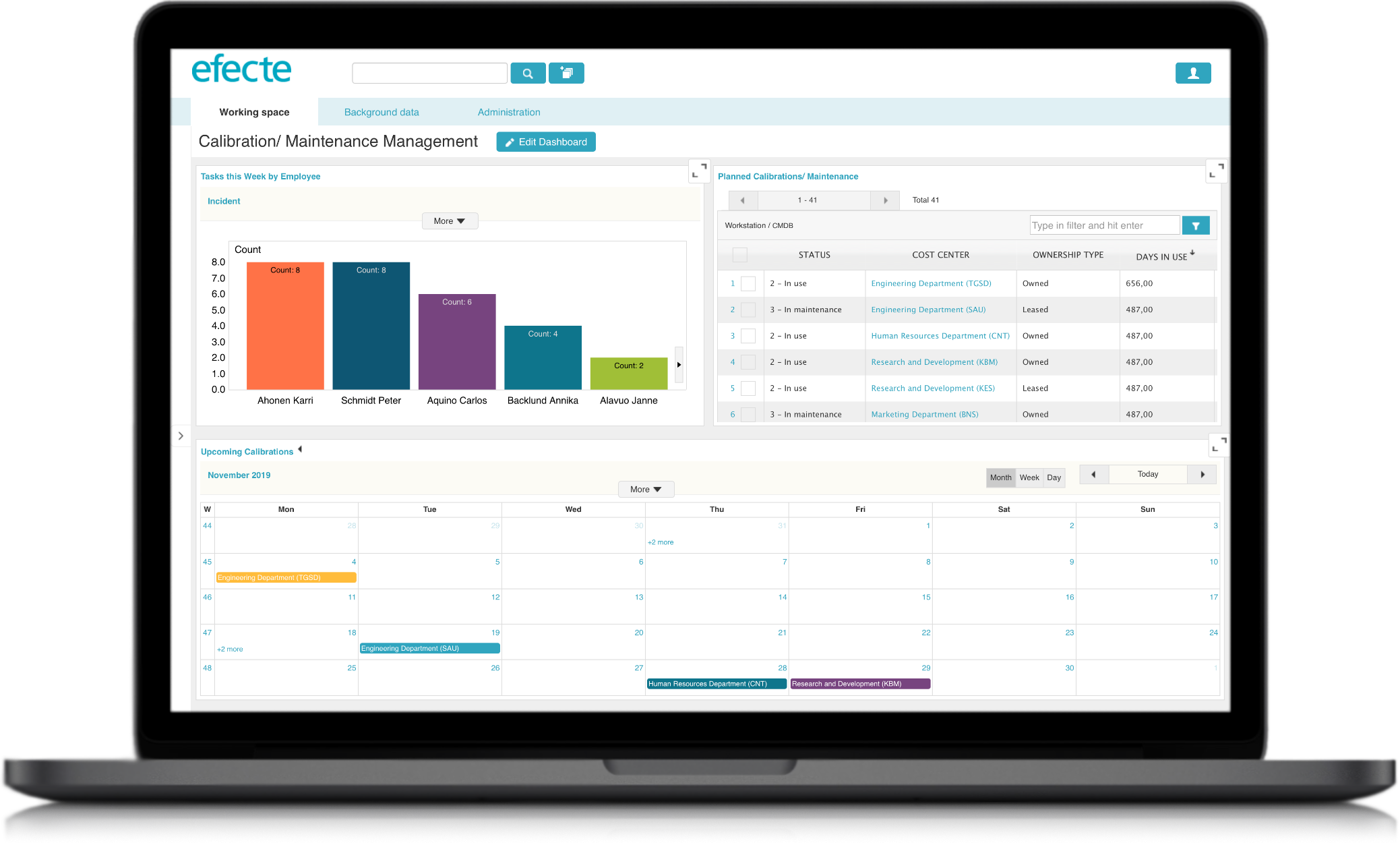 Asset specifications can be further enhanced by incorporating lifecycle management. Our platform can include multiple statues for a single item that can be used to further distinguish which lifecycle stage an asset is currently in. With workflow automation, lifecycle stages can be automatically updated based on time or an employee's action. This could be as simple a setting the status to "expiring" once the item is within 6 months of its planned lifespan or automatically be changed when an employee reports an issue, start a maintenance task, or runs a test to show the device as "down", "in repair," or "testing". This flexibility regarding information, relationships, and lifecycles allow organizations to easily handle a wide range of assets and dependencies within a single system built on the Efecte platform.
Planning, scheduling, and assigning tasks relating to maintenance, requisitions, and calibration are one thing, but reviewing all of the data surrounding these services is another. By using Efecte for Enterprise Asset Management, nothing goes unnoticed. Every data card change gets logged, all transactions are stored throughout history, and you can go back in time to see any needed info.

Even views of a particular data card can be logged if needed, all with comprehensive user access rights. With our platform, you will easily be able to see the current status of every device among the related tasks, including comments or documents and have an indisputable history and log of who performed the task and when. All of this data can be reviewed through a range of graphic and historical views, allowing managers to have the insights they need. For many organizations and industries, this is a crucial and mandated requirement.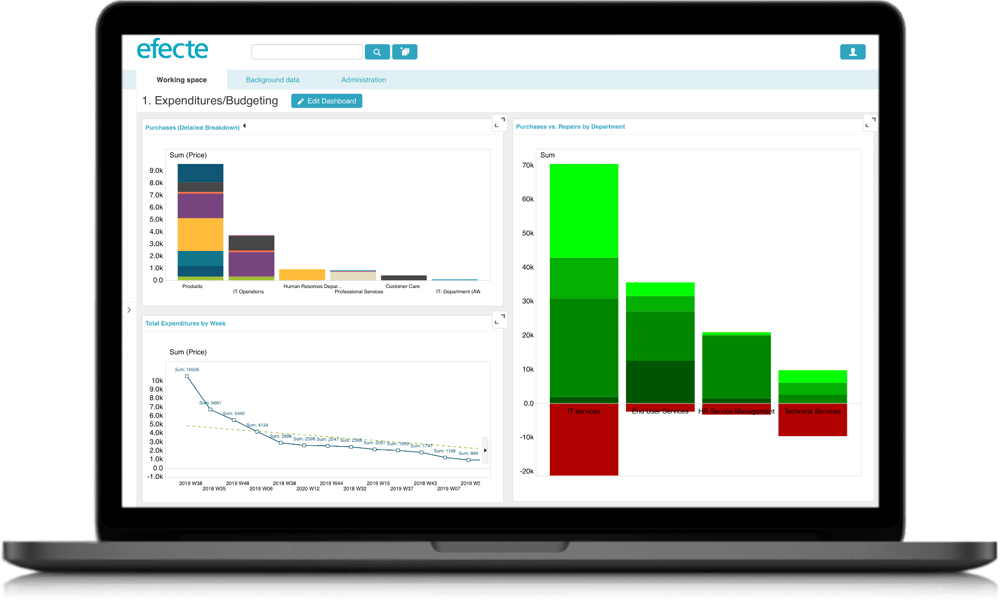 More Value out of CMDB by Understanding Your Services
Introducing a framework for easily combining your services and CMDB