Partnering with Efecte
Become an Efecte partner and join our success story as the European alternative for Service Management.
Partnering with Efecte
Become an Efecte partner and join our success story as the European alternative for Service Management.
Interested in becoming a partner?
Register now and we will be in touch with you.
Become a partner
Looking to find a partner?
View all our partners.
Our partners
Interested in providing digitalization and IT automation services for your customers?
If so, the Efecte Service Management Platform provides you with a new, recurrent and scalable business opportunity.
With the Efecte Service Management platform, you can target businesses of any size. With over 300 reference cases, we support you in enabling and building a profitable and growing business with the Efecte Service Management platform.
Our Standard Solutions range from IT service management and ticketing to implementing solutions for improving your employees' experiences. With our platform, you can also build custom business workflows and customer service processes. Best of all, with us, the digitalization of services is done using clean, modern, and easy-to-use tools.
European Alternative for European Customers
Our competitive cloud-based service management software helps service organizations digitalize and automate their work.
Agile Partner Program
Choose different partnership levels to fit your business needs and count on Efecte to help you to grow and succeed with your customers.
Low Barrier of Entry
No long-term commitments and flexible pricing, support options, and the ability to deepen your relationship with us your business grows.
Choose the Best Model for Your Needs
We understand that not all companies are the same, and all partnerships should not be either. We offer three different levels of partnership to ensure that anyone can partner with Efecte and build a beneficial relationship based on their skills, needs, and desires.
Registered Partnership
An Easy, Risk-Free Way to Get Started
You seek possibilities to build your business on top of the Efecte platform. As a Registered Partner, you will be able to stay connected with Efecte and be among the first to find out about Efecte insights, including news, product roadmap, and key events .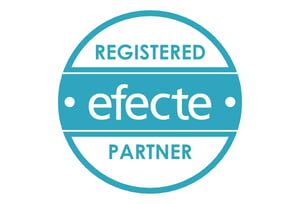 Silver Partnership
Enable and Expand Your Business
Are you a solution provider with consultancy services and would like to offer value-added services on top of the Efecte platform? As a Silver Partner, you can actively recommend Efecte, and we can create and manage the contracts on your behalf, allowing you to focus on your customers.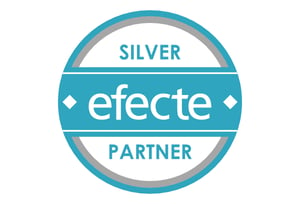 Gold Partnership
Make Efecte Your Strategic Partner
Do you want to sell actively, market, and deliver our solutions end-to-end with Efecte providing support? As a Gold Partner, you will own the entire customer relationship from the sale to delivery and providing value-added services, and we will handle the standard system support.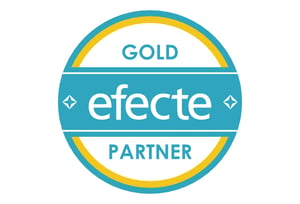 Efecte Partner Program Benefits
Efecte services for partners

Registered

Silver

Gold

Overview

Low barrier signup with no annual cost

The partner can use of Efecte logo

Newsletter and invites to digital events

Annual Partner Awards nominations

Efecte Partner Business Agreement with a contractual relationship

Visibility on Efecte websites and other digital assets

Build Your Business with Efecte

Joint Business Plan

Named Responsible person

Lead generation: Access to Efecte Digital Marketing Platform

Lead generation: Access to Efecte Digital Sales Team

Recurring Management Reviews

(Twice a Year)

(Quarterly)

Joint Sales Meeting

(Quarterly)

(Monthly)

Sales support/co-selling

Marketing support/co-marketing

Revenue Opportunity

Referral fee

Professional Services / Consulting Opportunity

Attractive commission model based on partner commitment




Subcontract with Efecte or contract Efecte to support you

Enablement, Training and Customer Success

Digital product training and certification

Discounted on-site product and delivery training

Digital Sales Training

Efecte Service Desk support services

Delivery support/co-delivery opportunity

Efecte Community access

Efecte collaborative tools access

Efecte Product Demo access

Partner Portal Access
Efecte Partner Program Requirements
Efecte services for partners

Registered

Silver

Gold

Overview

Efecte can use partner name in marketing

Certified technical consultants

Certified sales representatives

Annual Sales Target

Joint Business Plan

Regular plan review

(Quarterly)