Register to our upcoming webinars!
Read a Market Report by ISG
Efecte has been identified as Rising Star for Enterprise Service Management Tools in Germany by ISG.
Download market report
Try Efecte's Service Management for free
Discover Efecte Enterprise Service Management for free and see how it fits your needs.
Request a demo
Solid foundation for digitizing your business processes
The amount of information, processes, and systems used through an organization's departments are quickly expanding in scale and complexity. The need for a central and integrated system to manage all of the data and processes surrounding these services is quickly becoming critical.
Efecte Platform as the base for all relevant ESM processes: With an open data model, Efecte delivers readymade solutions for IT processes as well as some business processes. A system for incident processing by design, a No-Code Workflow Engine, and a process visualization application enable the user to implement any process flow.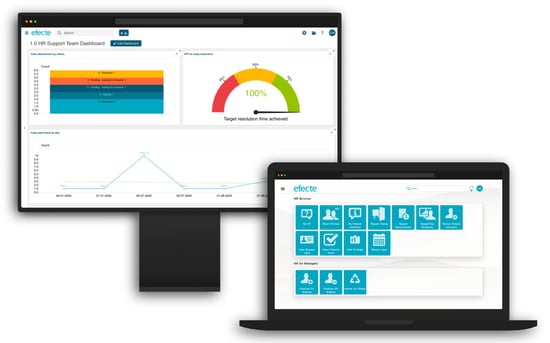 HR Service Management
Reducing manual work, transparency of operations and advanced analytics provide an opportunity for HR professionals to position themselves as fact-based, strategic partners for businesses.
A simple hub for all end-user services improves employees' experience and increases their satisfaction.
"We recruit 1,000 new employees annually, making easy on- and off-boarding essential. In the past, requests were made with several platforms but now everything is done using Efecte."
Petri Nieminen, ICT Manager
Valmet Automotive
"A plus for us was the intuitive user interface, which is easy to use for both our team and our customers' employees. An advantage that helps us to offer our customers new services as quickly as possible."
Tobias Stender, Head of the ESM Competence Centre
Bechtle IT System House Hamburg
Contract Management
Enterprise Contract Management solution is faster, allows better-defined accesses, eliminates last-minute panic before contract renewals, and enables better auditing of who has been viewing documents.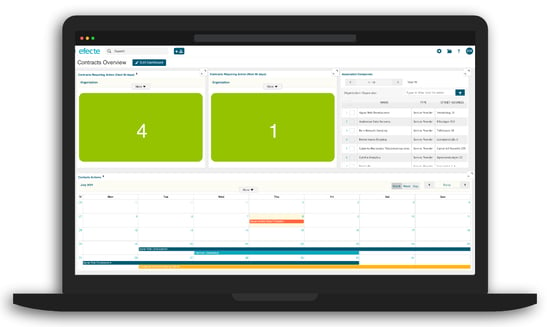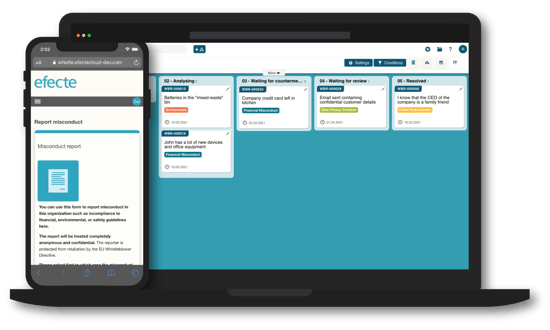 Whistleblower
According to the EU Whistleblower Directive (Directive 2019/1937), companies with over 50 employees must establish an anonymous channel to report misconduct by December 2021. Efecte Whistleblower is easy to implement and will help to ensure you stay compliant.
Other Business Processes You Can Manage:
Financial Operations Management
Improve your operations by reducing your reliance on emails, manual activities and centralize your financial services to a single system.
Crisis Ops
Be in charge and review operations and coordinate responsibilities during a crisis. Get immediate overview of the operational status of teams, services, and tasks of any business unit.
Guide: Why automate business services?
Discover three steps in how automation improves productivity and user experience.
ESM or Service Management Beyond IT
Read a guide on how to drive digital transformation in your company by digitalizing business services.