Efecte - A Rising Star for ESM Tools
ISG Provider Lens™ Quadrant Study ESM 2021
Efecte has been identified as Rising Star for Enterprise Service Management Tools in Germany by ISG, a leading global technology research and advisory firm, in the 2021 edition of the ISG Provider Lens™ Quadrant study on "Enterprise Service Management – Tools and Services".
The ISG study analyses providers, which are active in Germany, in the following Enterprise Service Management segments: Consulting & Transformation Services, Integration & Implementation Services, Tool Providers, and Managed Service Providers. Efecte has been analysed in the ESM Tool Provider segment for the first time ever and was recognised as Rising Star with significant potential in the German market.
According to ISG, "companies that receive the Rising Star award have a promising portfolio or the market experience to become a leader, including the required roadmap and adequate focus on key market trends and customer requirements. Rising Stars also have excellent management and understanding of the local market. This award is only given to vendors or service providers that have made significant progress toward their goals in the last 12 months and are expected to reach the Leader quadrant within the next 12-24 months due to their above-average impact and strength for innovation."
ISG highlights in the study the following strength of Efecte: "Efecte Platform as the base for all relevant ESM processes: With an open data model, Efecte delivers readymade solutions for IT processes as well as some business processes. A system for incident processing by design, a No-Code Workflow Engine' and a process visualization application enable the user to implement any process flow."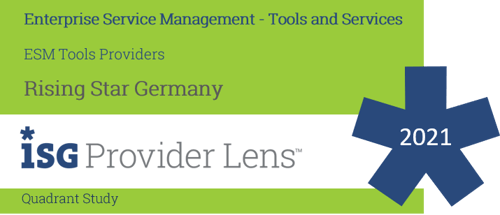 About Efecte
Efecte helps service organizations digitalize and automate their work. Customers across Europe leverage Efecte cloud service to operate with greater agility, improve the experience of end-users, and save costs. The use cases for our solutions range from IT Service Management (ITSM) and ticketing to improving employee experiences, business workflows, and customer service. Efecte is the European Alternative to global players in our space.