Automation: A Turbo for Service Management
Why Process Automation?
Companies have to react ever faster to the changing needs of their customers. This applies to both external and internal service customers – in other words, their employees. The central point of contact is usually a service desk, whose agents have to answer a large number of reoccurring standard queries. This guide will show three practical steps and examples of how companies use automation to increase their productivity, customer, and employee satisfaction.
An overview of the advantages of service process automation:

• Accelerated processing of service interactions

• Reduction in the error rate through automatic execution of predefined processes

• Errors caused by automatically generated incidents are easier to trace

• Less systemic burden due to fast and stringent implementation of queries

• Measurable relief for first and second level support

• Improving the quality of service


To read the detailed description of the three steps to successful automation please download our guide "Automation - a turbo for service management"
The author: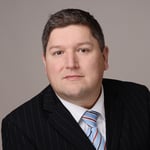 ABOUT FLORIAN HENNHÖFER
Florian Hennhöfer has many years of professional experience in the field of IT and enterprise service management. Before taking on the role of Senior Consultant for Professional Services at Efecte in Germany, he worked at Cherwell Software as the Senior Professional Services Consultant. He has also worked as ITSM SaaS Solutions Architect for IBM Netherlands and has supported several other companies as a consultant for ITSM solutions.