What is Identity and Access Management (IAM), and why do you need it?
Identity and Access Management, usually abbreviated to IAM, is an IT discipline and a category of software solution concerned with managing user access to sensitive corporate resources including databases, applications, systems, devices, and physical resources such as buildings and rooms.
As technology landscapes become more complex, with more devices, more applications and more data, there is a growing need for assurance that these resources can only be accessed by the right individuals, at the right times and for the right reasons.
IAM essentially comprises two core disciplines:
Identity Management
A framework for creating, assigning, managing and administering user identities throughout each user's lifecycle with the organization.
Access Management
A framework for defining, assigning, managing and administering user access rights to organizational resources, as well as authenticating users when they access those resources. The A in IAM can sometimes refer to "authentication" rather than "access".
While many software solutions exist for identity and access management, a lot of them are targeted primarily at large organizations. The result is that smaller and midsize organizations often resort to manual methods of managing user identities and access rights, such as using spreadsheets to keep records of users and their access privileges.
Why might my organization need an IAM solution?
IT and security teams are looking for a better way to manage and automate access and identities as manual methods become too difficult and risky. There is growing pressure to introduce IAM practices that are fit for purpose in a new type of work environment, characterized by:
More flexibility in the workforce
Temporary and part-time employment was already increasing in Europe prior to the pandemic, with 14.8 % of EU-27 workers in a temporary role and 18.3 % in part-time work in 2019, according to Eurostat.
The pandemic has driven further change in working lifestyles, with more people opting for flexible work and an increase in the freelance workforce in some European countries. Companies offering flexible work, job shares and contract/freelance work must be able to manage these different employee identities securely and efficiently.
A growing threat landscape
The rise in use of mobile devices for work has expanded the threat surface far beyond the traditional perimeter of the organization. IT teams must now manage identity and access on a range of mobile devices, including personal tablets and smartphones.
Working environments are more open and interconnected, not only across employees, but also contractors, suppliers and partners, as well as IT system resources and physical resources, creating high levels of complexity and risk. Attacks are on the increase too, with hackers frequently targeting users to gain access to high value systems and data.
Evolving data protection legislation
The need to manage personal data in line with the EU General Data Protection Regulation (GDPR), as well as national data protection and cybersecurity laws and regulations, calls for a more robust approach to identity and access management.
A sharp increase in remote work
The COVID-19 pandemic accelerated the trend towards hybrid working, with IT teams now expected to provide and manage access to core on-premises and cloud-based systems from remote and potentially insecure locations.
The need for digital transformation
Organizations of all sizes are looking for ways to increase efficiency and reduce costs through digitalization and automation of core processes. IAM is a strong candidate for transformation as manual methods take up IT time that could be spent on core business activities.
What solution does Efecte offer for IAM?
Efecte Identity Governance and Administration (IGA) is a cloud-based SaaS solution that automates and streamlines the identity and access rights elements of Identity and Access Management. Designed for organizations of all sizes, IGA offers an intuitive and affordable solution for managing user identities and access rights, for a large or fast-growing workforce, or a hybrid workforce that comprises employees, contractors, freelancers, temporary workers and partners.
What are the benefits of using IGA from Efecte for IAM?
Efecte IGA offers improved identity and access rights management as well as lower costs and greater time efficiencies. Here are some of the many benefits Efecte IGA can bring to your organization:
Streamlined identity and access rights management
Efecte IGA provides one easy to use self-service portal for access right requests, removals, and approvals (which can be expanded to other IT & enterprise services), offering:
Intuitive admin UI for a long list of use cases, from task management to toxic combinations and entitlement lifecycle management
Always-on visibility to identities and access rights for auditing, including both digital and physical accesses
End to end use cases with IT service management, such as employee onboarding


Improved security and compliance
70% of users have more access privileges than required for their job, according to Cybersecurity Insiders. Efecte IGA gives you always-on visibility of current and active access rights and identities (user and group membership connections), and allows you to:
Instantly audit users and access rights when deploying Efecte IGA
Recertify access rights for any user
Ensure users only have the permissions necessary to complete their tasks
Prevent unwanted data exposure and breach of information via automated deprovisioning
Identify and eliminate separation-of-duties (SoD) policy violations resulting from toxic combinations of access privileges among users
Solve the problem of privileged users having inappropriate levels of access to resources
Cost savings
Efecte IGA can reduce your IT and security costs in many ways, including:
Reduce manual work and risk of errors. Efecte IGA can help you automate your identity and access rights management processes, and when full automation is not applicable, IGA will link those processes to task management, to ensure clear SLAs and approvals

Reduce software licensing, admin and integration costs by consolidating IAM and IT Service Management (ITSM) on to one single platform with Efecte IGA + ITSM.
Identify and remove unnecessary software licenses. The average midsize company has 4.3 orphaned SaaS subscriptions, according to Blissfully. IGA can highlight when a user has retained access privileges after leaving the organization, enabling those privileges to be revoked or re-allocated.

Time and efficiency savings
Efecte IGA can save significant amounts of work and waiting time for key IAM activities, compared to a manual solution:
Save up to 30 minutes for each new user created

Save up to 30 minutes every time a user profile is updated

Save up to 8 hours of waiting time creating additional access rights for one new user

Save weeks of waiting time when updating user access rights

Rapid implementation and structured rollout
Efecte is designed to be implemented step by step, in well-planned phases, giving you improved transparency and control over IAM processes. Essential IAM use cases, such as onboarding a new user, off-boarding a leaving user, or requesting a new access privilege via the IGA self-service portal, can be implemented in just a few weeks.
Who uses IGA from Efecte?
Organizations across Europe use IGA for identity governance and administration. Two examples are KeuSote and Valmet Automotive.
KeuSote is the Joint Social Welfare and Health Care Authority of Central Uusimaa, which runs the public social and healthcare services for six municipalities in Finland, serving a combined population of 200,000. It uses Efecte's IAM solution to manage 5,000+ identities using a single, unified system.
"We currently have around 4,000 permanent employees and about 1,000 temporary workers. This means our IAM system is responsible for over 5,000 active identities at a time. Previously, creating a single user ID by hand could take up to 15 minutes, so Efecte IGA will help us save a great deal of time and money."
Benita Kapp, ICT Manager
Keusote
"We recruited 1,000 new employees in one year, which made easy on- and off-boarding essential. In the past, requests were made with several platforms, but now everything is done using Efecte."
Petri Nieminen, ICT Service Delivery Manager
Valmet Automotive
Valmet Automotive operates a car manufacturing plant in Uusikaupunki, Finland, which manufactured a record-breaking 90,000 vehicles in 2017, for marques including Mercedes-Benz, Saab and Porsche.
Its booming business has led to large-scale recruitment processes that have seen employee numbers increase to around 4,500. Onboarding new employees securely and efficiently is a must, and Efecte IGA helps Valmet Automotive to process new user requests quickly and transparently.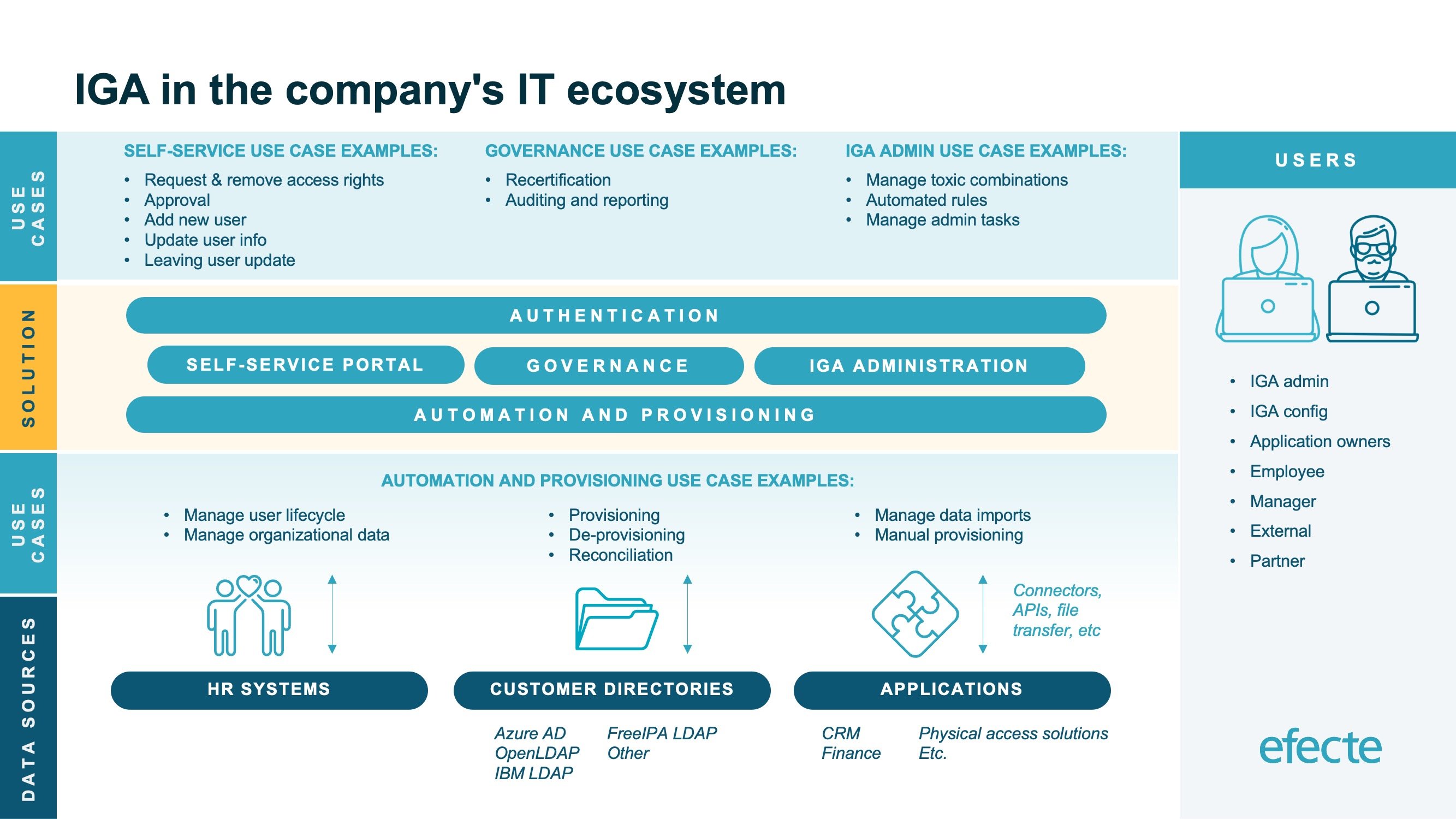 How can I find out more about IGA from Efecte?
You can learn more about IGA for Identity and Access Management in any of the following ways: