Efecte is an ITSM cloud software provider that builds its partnerships based on our values and European identity. We are a friendly and agile alternative to the global technology mega-vendors and want you to be part of our success story.

We have a robust and flexible ITSM platform complemented with quick-to-implement standard solutions and a comprehensive training curriculum. This combination offers local and regional partners plenty of alternatives to build a successful business in the mid-market customer space.

Efecte aims at providing our partners – both Service Providers and System Integrators – with the best ITSM partner experience on the market.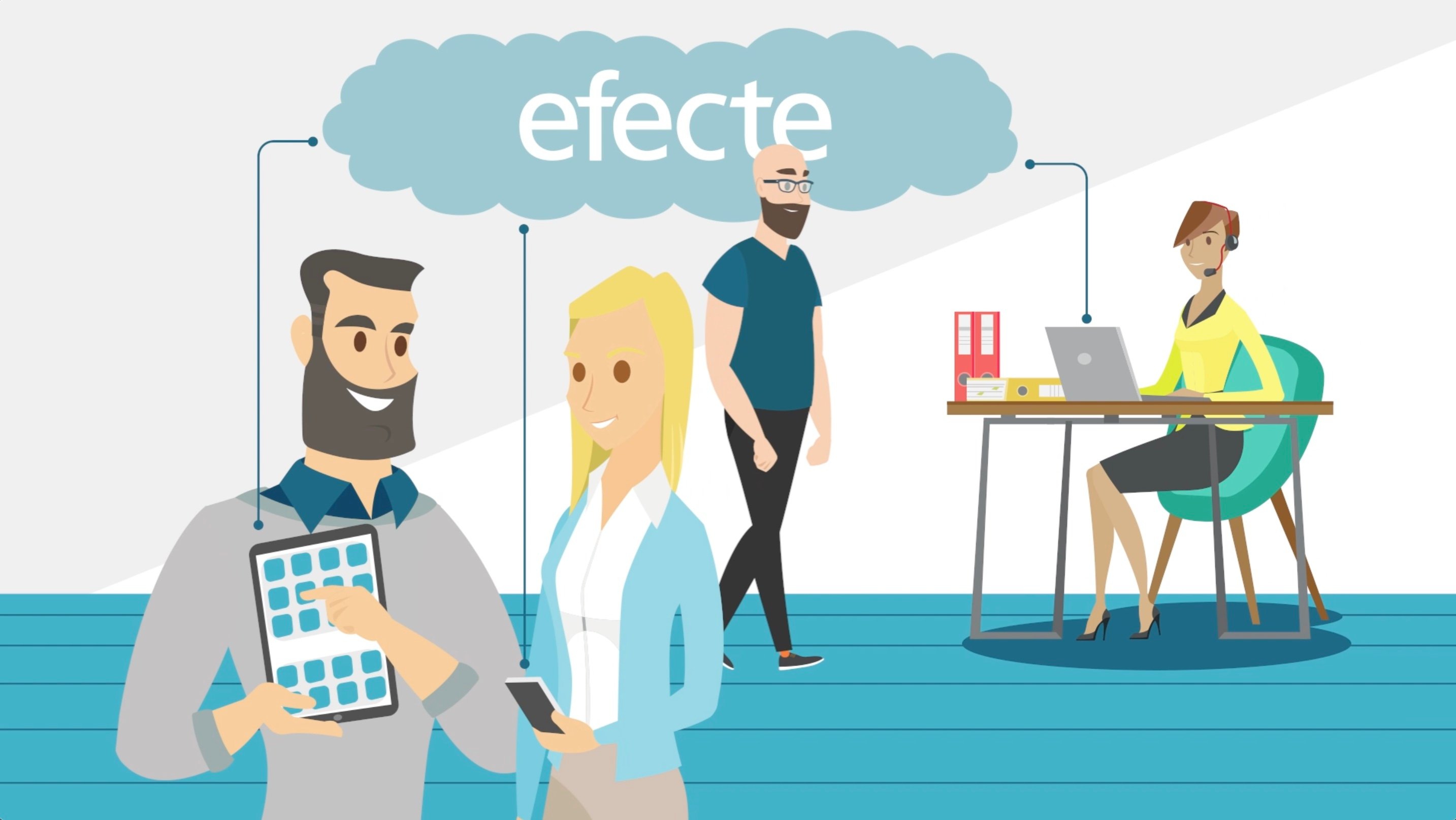 At times, collaborating with global software giants can be tedious. Their well-known brand might be a great asset to you, but their partner programs, agreements, and processes are often rigid and do not accommodate geographical differences, let alone your business's individual needs.
If you run an IT, Managed Service Provider, or System Integrator business in Europe, you have another alternative. Efecte is a European vendor of IT Service Management (ITSM) solutions. Our agile, user-friendly, and cost-efficient Software as a Service (SaaS) platform provides you, as our partner, with opportunities to build a lucrative business according to your business preferences.
The Europe-wide Efecte Partner Program accommodates your needs and helps you grow and succeed with your customers. The program has no long-term commitments. This means that you have the necessary flexibility to start small and deepen your partner relationship as your business grows.
More than 300 mid-market companies, service providers, and public organizations across Europe today leverage Efecte's ITSM and other service management solutions. Our tools help them operate with greater agility, improve their end-user experiences, and save costs.
Our playbook for succeeding and building a winning business with our partners consists of three elements:
A world-class platform to fulfill and exceed European mid-market customers' expectations and free them from the era of analog and manual tasks
The standard Efecte solutions that are quick to implement and that have proven return on investment for your customers
Training for our partners' sales and technical personnel to enable them to sustainably build their Efecte business
Unbeatably Agile, Yet Robust and Proven ITSM Platform
We have hundreds of customers in all segments and industry verticals that use our platform for their digitalization and automation efforts. Most customers start their service management journey with ITSM, but there are plenty of opportunities for partners also in Enterprise Service Management (ESM), like HR Service Delivery, Contract Management, and Financial Management, just to name a few. You can also easily integrate Efecte's solutions into any enterprise applications that your customers might already have.
The user interface of Efecte is clean and fresh, which enables agile work across your customers' business. The ideology of agile is embodied in the platform's Kanban board. Efecte's Kanban board can be used for any process, any service, and any team. You can visualize your own or your customers' work and make work transparent across team or unit boundaries. You can model any data and automate routines with workflows so that your people can concentrate on more meaningful and motivating tasks.
Standard Service Management Solutions that Extend to All Directions
The Efecte platform is extremely compelling for our partners because they can build their solutions on top of it and offer those to their customers. Instead of deep customizations, the platform is configured for each customer's individual needs without custom coding. This means that when Efecte releases a new version of the cloud platform, nothing breaks in customer environments. We have customers whose configuration is from 20 years back, and they are still running it successfully in today's environments.
Standard ITSM processes are a great way to get your customers to know Efecte. All 19 Information Technology Infrastructure Library (ITIL) practices have been certified, and, noticeably, Efecte has been the first ITSM solution provider who received Serview's ITIL 4 certifications on all of the defined practices. Based on this robust standardized platform, you can extend your customers' solutions in whatever direction you will.
Sales and Technical ITSM Training for Your Most Valuable Professionals
We genuinely care about your success. Efecte has a partner training program that leads to certification and enables your people to sell and deliver our solutions in a consistent and future-proof manner. Our training curriculum is available entirely digitally, too (released in 2021 Q1). This way you can enable your people to stay safe even in the most unusual global circumstances we live in today. In addition to the classroom or digital training classes, we are also willing to help you as our partner with your first customer implementations. Many of our partners have appreciated the possibility for their people to "shadow" Efecte's experienced professionals on their first customer assignments. Thereby partners have acquired first-hand intelligence on the best practices of building an ITSM solution while delivering customer success to our first joint customers.
A Real-Life Example of Human-centric ITSM Partnerships
Despite all the digital in today's world, many MSPs are looking for ways to build and embrace a human-to-human interaction between their customers and themselves. This, exactly, was the case with a Finnish Service Provider, ICT Elmo Oy, that started collaborating with Efecte back in 2017. With business growth of more than 25% year-over-year and a Net Promoter Score (NPS) of over 80, Elmo seems to have found the secret sauce to combining rapid business growth with a humane touch on its customers. Elmo has crystallized their core purpose into "Bring customer drive and human-centricity into IT outsourcing services." Elmo provides its customers with a Service Management solution that is based on Efecte's platform. On top of its customers' IT functions, Elmo can extend Efecte's solution to new usage scenarios like HR or Financial Service Management, or Customer Service Management. Elmo's objective is to create order and management for all corporate services. With Efecte, Elmo can help its customers eliminate the inefficiencies, security risks, and job dissatisfaction that are caused by detached systems and manual work.
Your Business Opportunity with Efecte in ITSM – And Beyond
As a Managed Service Provider or System Integrator, your opportunities with us are virtually limitless. If you want to resell the Efecte licenses, you will be entitled to a recurring fee from the monthly revenue paid by your customers. If you prefer not to participate in the cloud services license business, you can still earn a lead fee for every end-customer that you bring as a prospect to Efecte, for the first 12 months of the customer lifetime. Aside from cloud service license fees, the professional services revenue from implementing Efecte to end-customers is a lucrative source of income for our partners. You can focus on configurations or integrations, training, continuous support services, or all of the aforementioned. After the initial implementation, your in-depth understanding of your customer's business will allow you to find practically endless possibilities to help expand Efecte's usage to departments like HR, finance, legal, facilities, or any other business service function.
Efecte is the friendly European alternative in the ITSM space and we aim to provide Europe's best partner experience in the service management tools business. We will continuously evolve our partner program through daily interaction with our current partners and partners to be. Our financial rewards are as agile as our platform, and we are always willing to negotiate our Channel Partner Program terms to fit our common business goals.
If you feel that such a win-win-win approach might suit you better than the stiff agreement terms of the global ITSM players, please find your way to www.efecte.com/jointsuccess.
There you can read more about partnering with us and try out our platform for free.