What is the New Normal? At the moment, everyone seems to have an opinion on how the industry is impacted by the COVID-19 pandemic. For us, listening to our customers is key to how we operate, and this time is no exception.
We took the opportunity to survey the Efecte user base on what their genuine concerns and insights have been so far in dealing with the situation, and we spent time evaluating their responses to create a perspective of how organizations are using IT Service Management (ITSM) or Enterprise Service Management (ESM) to manage their business operations in uncertain times. Here's what we found.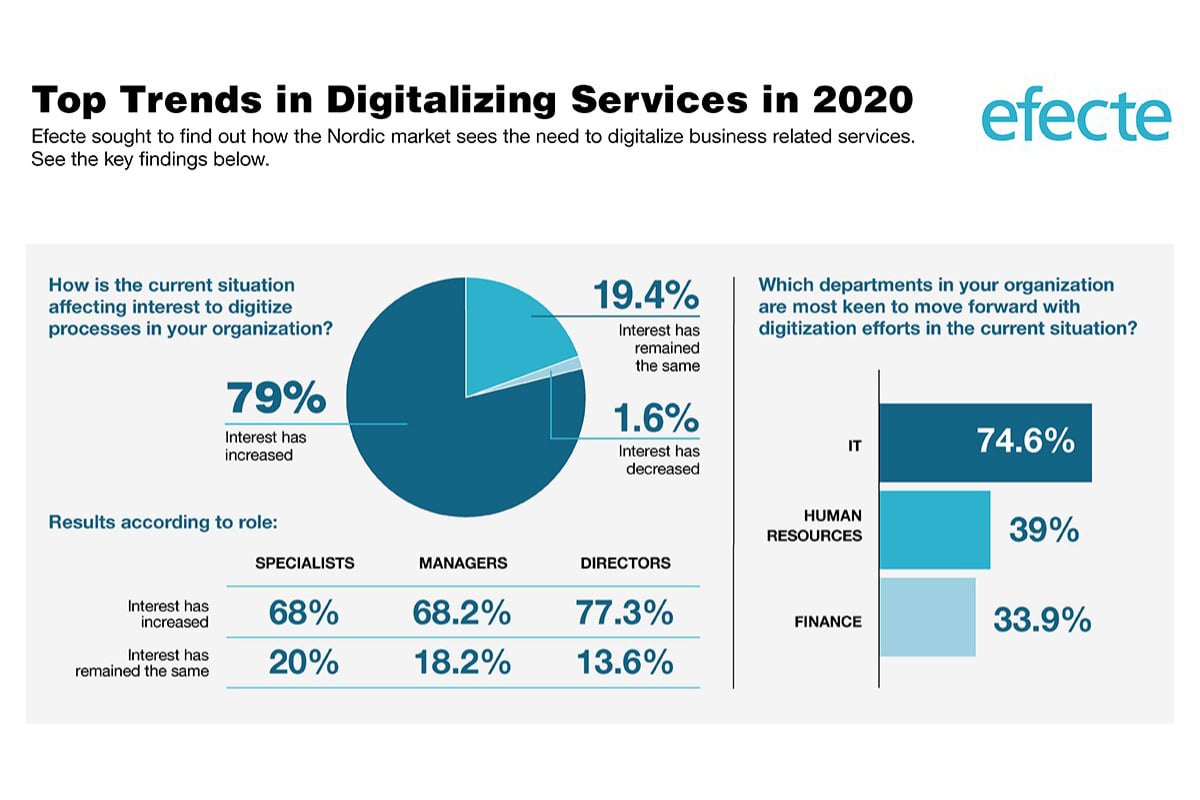 The Main Findings from our Survey:
79% of organizations have experienced an increased interest in digitalizing their processes. This is a strong indicator that companies are seeing a positive side effect of the challenges they have been faced with in recent weeks and months. Many of them have been forced to work differently, both in dealing with customers and within their own teams. What the most successful organizations have been able to do is to adopt digital processes and systems in order to be more closely connected – even when working in separate locations.
The top 3 departments driven to move forward with digitalization efforts are IT, HR, and Finance. With the help of an agile ITSM/ESM solution that covers a wide range of IT and business processes, our customers have a blueprint for creating an integrated service management landscape that offers resilient and adaptable process delivery across all these functions and many others. However, we are seeing these indicators not just within our customer base but in the general market, as organizations are increasingly looking to digitalize and optimize their service delivery to keep up with demand.
A third of organizations have seen an increase in service desk interactions

,

while 34% have had volumes remain the same. This means that for a majority of companies, the pressure on handling service desk interactions has either risen or stayed within normal levels – while many have been unable to operate with the same number of support staff handling them. Many teams have essentially been faced with having to 'do more with less'.


The Role of ITSM in Times of Recovery
We know that ITSM plays a crucial part in business right now. But it's not just about service resilience, it's also about business recovery and long-term sustainability. Coming out of a crisis is always a sensitive time, and it's vital to build a service delivery environment that not only meets the immediate needs of stakeholders but that can be shaped to adapt quickly to a changing world. The right ITSM tool will allow your organization to move forward with confidence.
About Efecte
Efecte helps service organizations digitalize and automate their work. Customers across Europe leverage our cloud service to operate with greater agility, improve the experience of end-users, and save costs. The use cases for our solutions range from IT service management and ticketing to improving employee experiences, business workflows, and customer service. We are the European Alternative to global players in our space. Our headquarters is located in Finland and we have regional hubs in Germany and Sweden. Efecte is listed on the Nasdaq First North Growth Market Finland marketplace.