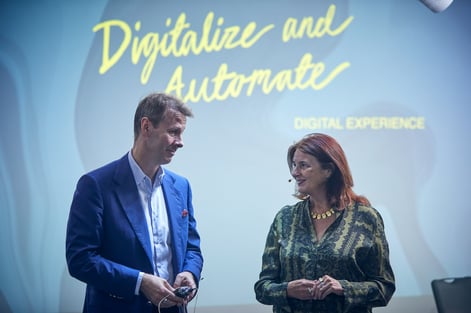 Espoo, October 9 , 2020 - Efecte, the European specialist for cloud-based service management, has announced multiple news at its first virtual annual event "Digitalize and Automate " at the end of September.
With over 1200 registered participants, the event, which was held as an online event for the first time, reached an audience more than ten times as large as last year's on-site event, partly because of the general interest in agile and user-friendly digitalization and automation has increased significantly among companies. The full on-demand access is now available at https://www.efecte.com/digitalize-and-automate.
Announcements:
Efecte cloud available Pan-Europe

Efecte partner program available Pan-Europe

Artificial intelligence is finding its way into Efecte IT Service Management (ITSM)

Efecte Accelerating innovation across the digital customer journey

including Digital Learning Subscriptions and Customer Experience Portal

A free trial of the Efecte platform is now available
CEO Niilo Fredrikson pointed out how Europe has dramatically fallen behind in building the digital platforms that our lives and businesses depend on today. To turn the trend requires smarter cooperation and focus and investments in European technology. Currently, Europe represents only three percent of the top 100 technology platforms, while the USA represents 68 percent and Asia and the Pacific 27 percent. In contrast to the USA and Asia, Europe has become too complacent. "It's not them vs. us. I'm just calling for balance: to create sustainable prosperity and growth also in this part of the world, we need more European digital platforms", Fredrikson explained and concluded his remarks with the appeal: "Across the public and private sector, let us agree that building more European digital platforms is an explicit target we want to reach by 2025. If we do that and use that goal as a North Star guiding policy and business decisions, I have no doubt we will be able to achieve it."
Risto Siilasmaa, founder and Chairman of the Board of Directors of F‐Secure Corporation, explored what it takes to succeed and enable growth in 'the era of re-building'. In his thought-provoking keynote, Siilasmaa discussed the importance of understanding what is happening today, and what we can learn about the future from past developments. The speed of change, in particular the speed of technology dispersion, is increasing at breakneck speed. In Siilasmaa's view, this exponential speed of change is the challenge we are all struggling to comprehend.
Efecte Accelerates Innovation
At the digital event, Efecte gave an outlook on new functions in its solutions, but also on innovations in the area of customer experience. Efecte integrates the first AI-enabled functions in its solution. These digital superpowers will give users a range of AI-driven coaching sequences to provide faster and smarter solutions to problems.
COO Steffan Schumacher announced a new "Efecte Service Management Add-ons" offering. These are enhancements based on customer requests, which each customer can choose to add to their Efecte environment. Efecte add-ons include mass notifications about open tickets, activity reports in ticket templates, or advanced certificate management. In the area of customer experience, Efecte presented the availability of new digital training offerings and a modernized certification program during 2020 Q4.
Furthermore, Efecte now provides its customers with a Customer Experience Portal available in Q1 2021. This customer-specific area contains all information about onboarding at Efecte, documents, videos, training, demos, admin tools, and detailed information about the operation and use of the Efecte solution. "The promise of Efecte is to provide a more agile, improved user experience and reduce costs," said Schumacher, summarizing the goals.
Free trial of Efecte ITSM and IAM
Efecte now offers the opportunity to try out its ITSM and integrated identity and access management solution free of charge and without any commitment at www.efecte.com/free. Interested parties are offered their own individual test environment, in which they can be guided through predefined use cases or create their own processes and test them. The test version is valid for 14 days.
AI and agility
CPO Peter Schneider shared Efecte's vision for the future of the service desk, highlighting how disruptive technologies and methodologies are changing the world of ITSM and other enterprise services. Agile, virtual services, and AI are all elements that are being adopted and that are increasingly impacting our daily operations. This underpins the Efecte product vision, which aims to embrace these new opportunities over the coming years.
Schneider stressed the importance of artificial intelligence but warned against false expectations: "We continue to rely primarily on human intelligence. That is why the service desk of the future will not replace human work, but will raise it to a new level. This includes bots, machine learning, end-user help in self-service portals, virtual agents, and the automated detection of anomalies". Efecte is the only ITSM provider to offer kanban boards for any process. This graphical task management will make teams much more agile. What is important here is their composition: "You need a number of generalists as well as specialists who are champions in their fields," Schneider concluded.
For more information:
Niilo Fredrikson, CEO
Steffan Schumacher, COO
+358 50 524 0873
steffan.schumacher@efecte.com
ABOUT EFECTE
Efecte helps people to digitalize and automate their work. Customers across Europe leverage our cloud service to operate with greater agility, to improve the experience of end-users, and to save costs. The use cases for our solutions range from IT service management and ticketing to improving employee experiences, business workflows, and customer service. We are the European Alternative to the global goliaths in our space. Our headquarters is located in Finland and we have regional hubs in Germany, Poland, Spain and Sweden. Efecte is listed on the Nasdaq First North Growth Market Finland marketplace.