Working with Efecte not only improves the user experience for employees and customers of our Service Provider partners - but it also enables these players to identify, innovate and implement new services, explains Advisory Services Lead, Risto Siltasalmi.
The Service Provider market continues to expand, as a growing number of companies outsource their non-core functions. In our company strategy update today, Efecte took a stronger position towards European Service Providers, to help them succeed in serving their customers better.
Efecte has extensive experience with Managed Services Providers in the IT sector, but we are also doing fruitful co-operation with Service Providers in sectors ranging from Financial Services to Telecommunications. The opportunities we have discovered with our customers range from using Efecte as a source of new business innovation by enabling data-driven leadership to very basic but extremely effective ways of automating and simplifying their existing processes.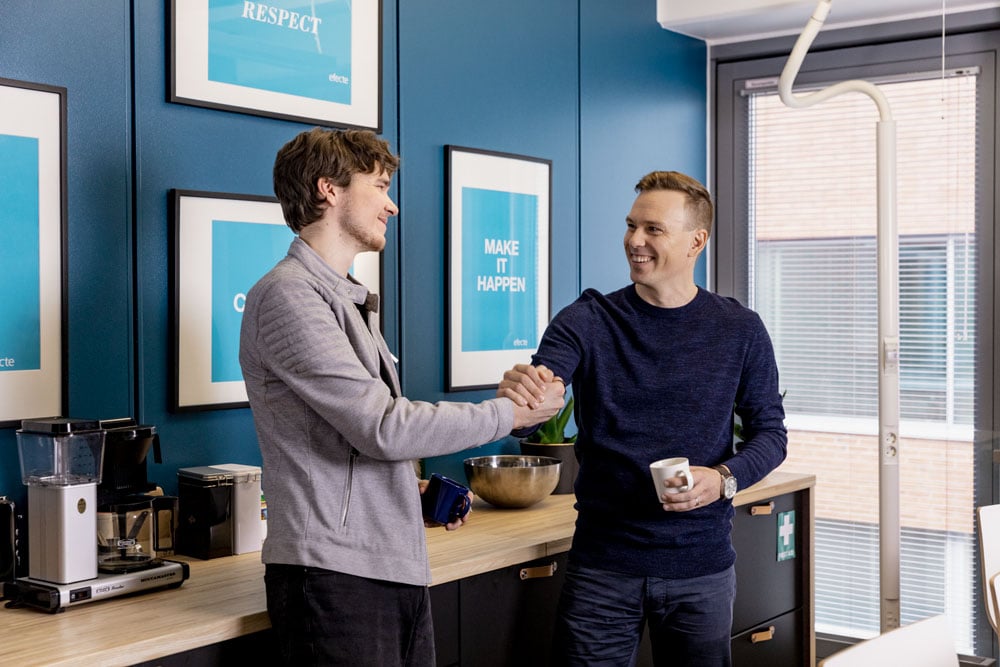 From an application vendor to a trusted innovation advisor
Traditionally, most of Efecte's engagements come from companies already looking for a Service Management solution, and projects are often driven by the IT department. However, we always aim to explore the possibilities further, beyond Service Management. As we work with these companies, we like to get up close and personal – take time to get to know our customers, their businesses, and their customers. Creating a tight relationship with our customers enables us to dive deeper and identify broader opportunities for our customers to leverage the possibilities of the Efecte platform.
Close collaboration creates mutual benefits as innovative ideas can be shared both ways. Our recently launched Efecte Community allows customers to interact directly with our experts and developers – even with the top leadership of our Product Management. This enables customers to influence the development of our products and share ideas and best practices, both with Efecte and among each other.
A staggering 90% of respondents in a recently conducted customer satisfaction survey said that it is either important or very important for them that Efecte is a European vendor with product development and data centers close by. Having a local partner with personal service was also a key factor for telecommunications, IT, and contact center services provider VSP, which successfully implemented Efecte not only for its own operations but also for some of its customers. We have received a lot of excellent feedback from our Service Provider partners from the mutually beneficial collaboration with our customer teams. It is of utmost importance for these customers to be able to work with people who have direct and uninterrupted contacts to the source of Efecte's own product innovation.
Transparent data creates new business opportunities for entire value chains
Centralizing a Service Provider's services to a single platform also allows the centralization of the data related to those services. Having this data at hand in real-time is vital to understanding customer behavior. Understanding the customer, in turn, allows companies to identify and implement new business opportunities, find ways to optimize resources, and target their marketing efforts more effectively. Ultimately this will lead to a Service Management system investment returning value way beyond simply Service Management.
An entirely new business opportunity is created by making the data available to the customers of Service Providers. Offering access to a real-time view of services eliminates the need to run manual reporting processes and promotes the quality of services. With that data, a Service Provider can also move up in the value chain, as such data can enable their customers to utilize new insights for their development and innovation processes. Creating transparency to their operational data has opened entirely new topics to discuss for many of Efecte's Service Provider customers.
Building solid foundations for business innovation
Of course, the more down-to-earth benefits of a well-implemented Service Management solution in a Service Provider environment can also be substantial. One of the key objectives for many of our customers is automating manual, repetitive processes such as copying data between systems. This is an example of a quick-win that can be a major time-saver and minimize the risk of human error.
Another common objective is to modernize the system architecture by consolidating disparate systems. An example of a company achieving this is Istekki, which develops information, health, and wellness technology services for healthcare and municipal activities in Finland. Because of its co-operative ownership model, the company had multiple systems performing core processes, including four separate systems to receive service requests, create tickets, record work hours, and update asset data. By partnering with Efecte, Istekki was able to replace over 10 legacy systems with a single system, resulting in time and monetary savings and great benefits for end-users both internally and at Istekki's customers.
In the financial services space, municipalities Service Provider Sarastia has used our platform to address issues with fragmented communications and insufficient tracking. By offering user-friendly interfaces to its administrators and end-users, productivity has risen by more than 20% as employees can plan their days and work more independently.
Expanding the use of a Service Management system into a source of innovation is only made possible by a collaborative approach and a real partnership, not just a supplier-customer relationship. Our objective is to use the services expertise we have accumulated over the last two decades to further improve outcomes for our Service Provider customers and our customers' customers. If you want to discuss how we could help you explore new business opportunities, get more out of data or optimize your processes, please fill in your contact information below and we will be in touch!