Niina Hovi, VP Culture & HR at Efecte, looks at the evolution of the human resources function and how it can deliver greater value.
As director of HR and Culture in an international software company that aims at double-digit annual growth, I often wake up thinking about two questions:
First, how can we perfect the "moments that matter" for our employees? How to refine interviews and on-boarding to meet the expectations of the candidates? How to perfect the experience in periods of change such as a promotion or parental leave?
Second, how can we ensure that everyday encounters with HR, the "micro-moments", are as effortless as possible? And make basic HR services virtually disappear from employees' sight.
Moments that matter
We have all heard of situations where a new hire turns up on the first day and is unable to start working due to lack of equipment, access to enterprise applications, or even physical locations. This is unacceptable as new people are too valuable assets to be sitting idle.
Over 1000 new employees start at Valmet Automotive's car manufacturing plant every year. They have a system for the hiring manager to handle the entire process of onboarding a new employee. Granting them accesses to needed resources, ordering laptops and key cards, and so on is all managed with one tool. The hiring manager does not need to know who provides the services IT, HR, or another function – it all just works.
Not all companies face such high amounts of new employees as Valmet Automotive. However, with a workforce that craves variety rather than seeking a long-term career with one employer, processes that allow managers to efficiently on-board (and off-board) employees are essential.
Perfecting the micro-moments
Organizations are facing the challenge of providing the right kind of working environment for employees who appreciate remote, yet communal work. Employees expect using enterprise applications to be as smooth and simple as booking a flight or reserving an Airbnb.
Employees must be able to ask questions, to book vacations, training and travel or to order a new backpack for their laptop anytime, anywhere. They don't need to know who provides the service, just that the experience is easy and does not require additional usernames or passwords.
In an optimal situation, services will over time start anticipating the employee needs. To do this, the organization needs to have the ability to capture data from earlier interactions with HR. If you wish to hear more about this approach, please listen to our webinar about how People Analytics meets HR Service Delivery.
Likewise, chat bots can help handling straightforward questions from employees. This allows HR to address more complex, urgent requests. Let the well-trained chat bot be the happy face answering the frequent questions on e.g. how to report your time or claim your travel costs. At least my team will be happy to on board such a teammate.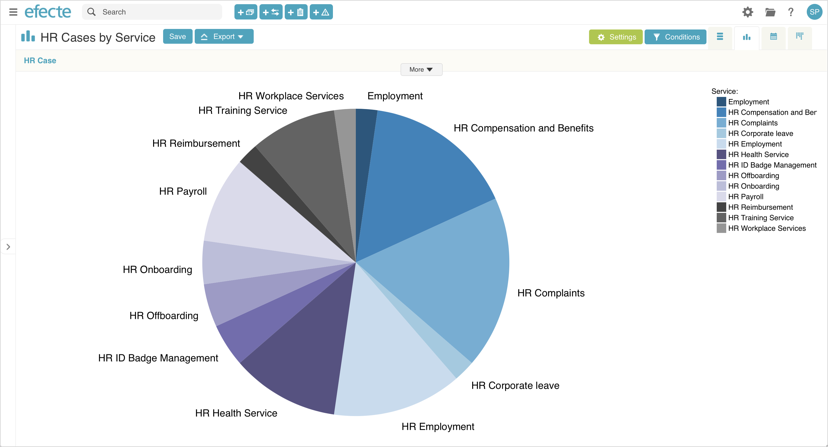 HR cases by service presented as a pie chart give a great outlook on how tasks are divided and what should be automated and simplified to release time for HR to focus on more complex and urgent requests.
Maintaining the human touch
I see the value HR delivers as a service based on business strategy and people's needs. This is an approach we have adopted at Efecte. Perfecting the service with the best possible tools and processes is what we aim to do, every day.
Work-life will continue to be full of people interactions. While technology is useful, it cannot replace the human sentiment aspects of work and HR. The focus here is on augmenting rather than replacing.
Efecte's solution for HR Service Management helps you master the "moments that matter" with on-boarding, and the self-service portal provides a smooth everyday experience for employees.