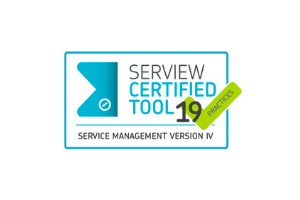 Munich, June 23, 2020 - Efecte, European specialist for cloud-based service management, has once again received the "Serview CERTIFIEDTOOL" award for the ITSM platform Efecte Service Management. The company is the first ITSM tool provider to receive an independent ITIL4 certification for all 19 ITSM practices and all associated processes.
The latest version 4 of the best-practice framework focuses more than ever on customer benefits, accelerates the implementation of service processes, and facilitates their continuous improvement. In 2019, Efecte has also been certified by Serview for 12 Enterprise Service Management processes in the field of HR Service Management.
Efecte's IT Service Management enables organizations to perform typical IT tasks faster and more efficiently, to increase service quality and to manage all processes in a much more agile way. The digitalization and automation of standard processes allow a much faster processing of service requests and other queries, hence increasing user satisfaction and relieving service desk staff of recurring routine tasks.
"With our modular cloud solution, organizations can manage their service processes via a central platform and also use them for business processes outside their core IT," says Peter Schneider, Chief Product Officer of Efecte. "With the successful ITIL4 certification, customers and prospects can rest assured that we consistently implement best practices in our ITSM module, helping them to achieve better business processes, greater agility and higher customer satisfaction".
Efecte Service Management helps organizations to digitize and automate their work
Certification from Serview confirms compliance with ITIL4 framework for all 19 ITSM practices and associated processes
Faster and more agile service processes ensure higher customer satisfaction
The 19 ITSM practices at a glance:
Monitoring & Event Management
Incident management
Service request management
Problem Management
Service catalogue management
Service level management
Capacity & Performance Management
Availability management
Service continuity management
Information security management
Change enablement
Relationship management
Deployment management
Release management
Knowledge management
Financial management service
Measurement & Reporting Management
Service configuration management
Supplier management
About SERVIEW
SERVIEW is an independent management consultancy specializing in the optimization of service organizations based on globally recognized best management practices. With the free SERVIEW CERTIFIEDTOOL seal of approval, Serview makes solutions comparable and supports organisations in selecting the appropriate software. In order to receive certification, manufacturers must apply, fulfill requirements from 600 assessment criteria and convince in a live demonstration. Further information can be found under the following link:
https://www.serview.de/serview-certifiedtool.
About Efecte
Efecte helps people to digitalize and automate their work. Customers across Europe leverage our cloud service to operate with greater agility, to improve the experience of end-users, and to save costs. The use cases for our solutions range from IT service management and ticketing to improving employee experiences, business workflows, and customer service. We are the European Alternative to the global goliaths in our space. Our headquarters is located in Finland and we have regional hubs in Germany, Poland, Spain and Sweden. Efecte is listed on the Nasdaq First North Growth Market Finland marketplace.
For more information:
Steffan Schumacher
COO
Efecte Plc
steffan.schumacher@efecte.com