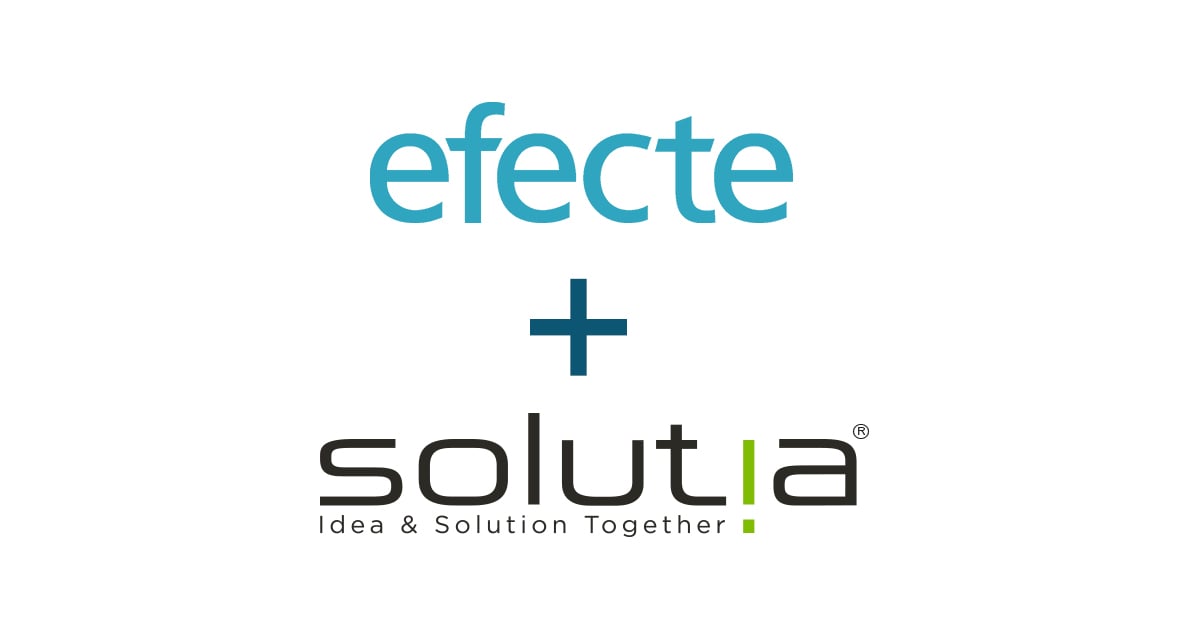 Espoo, January 26. 2021 - Efecte, the European alternative for cloud-based service management, has announced a new partnership with the Czech consulting company Solutia from February 1st, 2021.
Efecte continues its European strategy of expanding to new markets and is adding Solutia to its partner ecosystem. The partnership between Solutia and Efecte offers Czech customers a professional enterprise solution paired with strong support from local consultants experienced in first-class Service Desk, ITSM, and Service Management solutions.
"Solutia's expertise across the whole IT landscape helps customers to digitalize and automate their processes. In partnership with Solutia, Efecte can offer Czech customers exceptional business value through a Cloud-Based Service Management Platform out of Europe. We look forward to growing our joint business together", says COO of Efecte, Steffan Schumacher.

Solutia has over 16 years of experience in various IT domains ranging from custom application development, IoT, database solutions, and process management within companies with Service Desk solutions. The common experience in helping customers modernize and realize value made the co-operation between Efecte and Solutia easy. Efecte's cloud-based service management platform combined with the deep-seated solution expertise of Solutia made for a unique value proposition.
"We like the elastic service management offering from Efecte and mainly the fact that this solution encompasses the needs of companies big and small. On behalf of the company, I am delighted to inform you that we have been granted an official Efecte partnership" says Martin Stufi, CEO of Solutia.


Efecte's Service Management Platform
With the Efecte Platform, organizations can manage and automate any service in the company. These include classic IT service workflows, but also processes for human resources (HR), facility management, contract management, and many more. Customers can flexibly adapt the software to individual needs without programming knowledge. They can also decide for themselves whether to operate the solution in the Efecte cloud or their own private cloud. In this way, Efecte ensures that all customers benefit from the strict European data protection standards and can comply with compliance guidelines. Efecte supports the latest ITIL 4 guidelines, giving customers out-of-the-box access to industry-recognized best practices.
For more information, contact Efecte representative: 
Steffan Schumacher, COO 
+358 50 524 0873 
steffan.schumacher@efecte.com
For more information, contact Solutia representative:   

Martin Stufi, CEO
+420 267 316 318
martin.stufi@solutia.cz
About Solutia

Solutia is a Czech company, which has been established based on the idea of providing high quality and unique solutions to its customers. Our claim is: "Idea and solution together". Solutia brings the new and original way of thinking to real-life examples and creates excellent solutions by using renowned global technologies. Four solution pillars gradually were built within the company on the following domains (1) Oracle full-stack core technologies, (2) Service-desks solutions, (3) Security and analytics, and (4) Big data on which the company continues its development up to nova days. Our company is rated by Dun & Bradstreet and Bisnode in terms of risk as AAA +, the company with the lowest risk level. For more information, please visit www.solutia.cz
About Efecte
Efecte helps people to digitalize and automate their work. Customers across Europe leverage our cloud service to operate with greater agility, to improve the experience of end-users, and to save costs. The use cases for our solutions range from IT service management and ticketing to improving employee experiences, business workflows, and customer service. We are the European Alternative to the global goliaths in our space. Our headquarters is located in Finland and we have regional hubs in Germany, Poland, Spain and Sweden. Efecte is listed on the Nasdaq First North Growth Market Finland marketplace.