ESPOO, July 1st, 2020 - Efecte, the European specialist for cloud-based service management, announced today that it achieved the ISO/IEC 27001:2013 certification, the international standard for information security management systems. Efecte benefited from using the Risk Management solution on its cloud platform to reach the certification.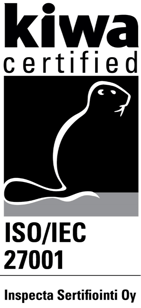 ISO/IEC 27001:2013 is the most widely used information security standard prepared and published by the International Organization for Standardization (ISO) and the International Electrotechnical Commission (IEC). It ensures that organizations have established methodologies and dedicated business and IT processes to identify, manage, and reduce risks to data security.
Following a thorough audit process, the certification was issued by Inspecta Sertifiointi Oy (part of Kiwa Group), an independent third-party auditor. The certification covers Efecte Cloud SaaS platform development and hosting to customers, management of information and supporting business functions, and consulting of Efecte products.
"We are the European Alternative to global players in our space, and the privacy and security of our customers is a key priority to us," says CEO Niilo Fredrikson. "It's exciting that our own product, used by hundreds of organizations to digitalize and automate service work, proved its value also in the area of risk and compliance management. We are already helping several customers to expand usage of their Efecte environment for similar purposes," Fredrikson continues.
"With the ISO 27001 certification, we want to show that we are fully committed to securing all data and that the Efecte SaaS platform is architected and operated in a highly-secure and reliable manner. It also indicates that we have a mature and verifiable approach to information security that encompasses not just risk, but also compliance and governance," says Topias Marttila, Chief Technology Officer at Efecte.
The certificate can be found here.
About Efecte
Efecte helps people to digitalize and automate their work. Customers across Europe leverage our cloud service to operate with greater agility, to improve the experience of end-users, and to save costs. The use cases for our solutions range from IT service management and ticketing to improving employee experiences, business workflows, and customer service. We are the European Alternative to the global goliaths in our space. Our headquarters is located in Finland and we have regional hubs in Germany, Poland, Spain and Sweden. Efecte is listed on the Nasdaq First North Growth Market Finland marketplace.
For more information:
Niilo Fredrikson, CEO, Efecte Plc
Topias Marttila, CTO, Efecte Plc