Espoo, March 2022- Efecte is the European alternative in Cloud-based Service Management, focusing on digitalizing and automating work. Customers across Europe leverage Efecte cloud services to operate with greater agility, improve the experience of end-users, and save costs.
Efecte and Device42 announced today they will partner up to help customers to enhance their asset discovery and tracking capabilities for hybrid IT - this will include Efecte to be able to provide customers a seamlessly integrated asset discovery solution that is integrated with the Efecte ITSM solution including the flexible Efecte CMBD. Efecte will also be able to resell Device42 and provide customers with a one-stop-shop approach.
Device42 solves the issue of gathering infrastructure data, which is time-consuming, high error marginal, and often manual. Now automatic discovery and management is available as part of your seamless processes managed within Efecte.
"We have a great market opportunity with Device42. Efecte has a strong service management platform that customers can use to implement IT processes. The combination of Efecte and the comprehensive solution from Device 42 that includes discovery, asset management & dependency mapping will create unique value for our customers. We look forward to exciting opportunities ahead" says COO of Efecte, Steffan Schumacher.
The true advantage comes when Device42's enhanced asset discovery and tracking capabilities are synced with the Efecte Platform (CMDB).
Efecte has already has several customer projects where Device42 and Efecte Platform are seamlessly integrated and complementing each other.
Device42 provides a single source of truth across complex IT enterprises including physical, virtual, cloud, and storage. It discovers
network switches,
bare-metal servers,
chassis and blades,
hypervisors, IT subnets, and more.
Device42 is integrated with native Amazon Web Services (AWS) solutions such as Migration Evaluator (formerly TSO Logic), CloudEndure, and AWS Migration Hub. It's capable of mapping deep application dependencies, providing unmatched visibility into interconnected affinity groups and business applications to create and accurately prioritize move groups.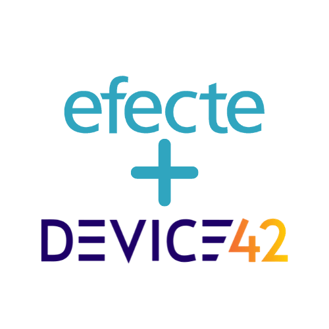 "You can't manage what you can't see. With the growing complexity in IT, Device42 in partnership with Efecte is in a unique position to provide the wide and deep visibility organizations need to run IT effectively today. We look forward to our continued joint efforts to help organizations achieve more with less" said - Raj Jalan, Founder & CEO of Device42.
With the Efecte Platform, organizations can manage and automate any service in the company. These include classic IT service workflows and processes for human resources (HR), facility management, contract management, and many more. Customers can flexibly adapt the software to individual needs without programming knowledge. They can also decide whether to operate the Efecte cloud solution or on
their private cloud and on-premises implementation. In this way, Efecte ensures that all customers benefit from the strict European data protection standards and comply with compliance guidelines. Efecte supports the latest ITIL 4 guidelines, giving customers out-of-the-box access to industry-recognized best practices.
About Device42
Device42 is the most comprehensive agentless discovery and dependency mapping platform for hybrid IT available today. Device42 can continuously discover, map, and provide data to optimize infrastructure and applications across data centers and cloud, providing accurate views of your IT ecosystem. Device42 intelligently groups discovered workloads by application affinities, dramatically reducing the effort required to create move groups, capturing all communications. www.device42.com
About Efecte
Efecte helps people to digitalize and automate their work. Customers across Europe leverage our cloud service to operate with greater agility, to improve the experience of end-users, and to save costs. The use cases for our solutions range from IT service management and ticketing to improving employee experiences, business workflows, and customer service. We are the European Alternative to the global goliaths in our space. Our headquarters is located in Finland and we have regional hubs in Germany, Poland, Spain and Sweden. Efecte is listed on the Nasdaq First North Growth Market Finland marketplace.
For more information, contact Efecte: 
Steffan Schumacher, COO 
+358 50 524 0873