Espoo, February 2022- Efecte, the European alternative for cloud-based service management, has announced a new partnership with Synerity in Sweden.
Efecte continues its European strategy of expansion and is adding Synerity to its partner ecosystem. The partnership between Synerity and Efecte offers Swedish customers exceptional business value through a Cloud-Based Service Management Platform out of Europe, and the possibility of a localized solution with
private cloud. This is vital when keeping Swedish data safe and stored in Sweden.

"This partnership is an important step in Efecte's rapid growth journey in the Nordics. Efecte's industry- recognized ITSM solution fits perfectly in Synerity's carefully selected offering. We look forward to growing our business in Sweden together with Synerity", says COO of Efecte, Steffan Schumacher.

Synerity specializes in case management, customer service and automation solutions for medium and larger organizations. They offer a selection of software solutions and services within Enterprise & IT Service Management, analytics, automation and engagement.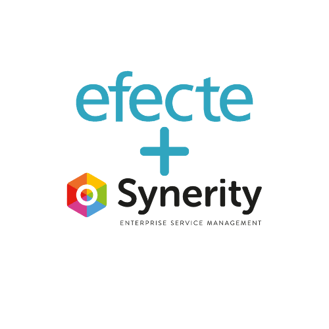 "At Synerity we are really excited to become a Partner to Efecte and now be able to add the Efecte ESM platform as a Nordic alternative to our prospective customers. During our thorough evaluation of the platform we've really been satisfied with the overall functionality, it offers today as well as what we have seen currently is being worked on for the future. What we also think is particularly interesting with Efecte, and what many prospect customers ask for these days, is the possibility to get an ITSM/ESM Cloud Solution by a Nordic company including the option to also store the data locally if preferred", states Glenn Alvérus, CEO of Synerity.
With the Efecte Platform, organizations can manage and automate any service in the company. These include classic IT service workflows and processes for human resources (HR), facility management, contract management, and many more. Customers can flexibly adapt the software to individual needs without programming knowledge. They can also decide whether to operate the Efecte cloud solution or on
their private cloud and on-premises implementation. In this way, Efecte ensures that all customers benefit from the strict European data protection standards and comply with compliance guidelines. Efecte supports the latest ITIL 4 guidelines, giving customers out-of-the-box access to industry-recognized best practices.
About Synerity
Synerity was founded in 2015 to bring IT advisory and tool services to businesses across Sweden and beyond. Combining their experience and expertise, molded by a belief in the importance of being customer-focused and providing products and offerings based on industry-leading analysts such as Gartner and Forrester, Synerity strives to exceed customer expectations. By primarily targeting companies and organizations that set slightly higher quality requirements and by always putting the customer first and thinking long-term, Synerity urges to take the service experience to a whole new level.
About Efecte
Efecte helps people to digitalize and automate their work. Customers across Europe leverage our cloud service to operate with greater agility, to improve the experience of end-users, and to save costs. The use cases for our solutions range from IT service management and ticketing to improving employee experiences, business workflows, and customer service. We are the European Alternative to the global goliaths in our space. Our headquarters is located in Finland and we have regional hubs in Germany, Poland, Spain and Sweden. Efecte is listed on the Nasdaq First North Growth Market Finland marketplace.
For more information, contact Efecte: 
Steffan Schumacher, COO 
+358 50 524 0873