Efecte, the European alternative for cloud-based service management, is delighted to announce a new partnership with Eupraxia in Spain.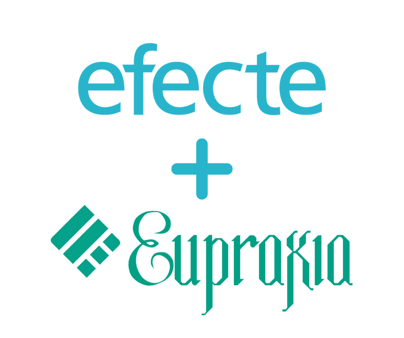 By adding Eupraxia to the Efecte partner ecosystem, the company continues its European strategy of expanding into new markets. Being available in the Spanish market is part of Efecte's aim to serve Pan-European customers in their local language and enable even more in-depth services. This partnership provides the opportunity to reach the customer base who will benefit from Efecte's One Platform solutions for Digitalizing and Automating services across industries.
Eupraxia's main business areas focus on providing customers with IT services, cybersecurity, consulting or BPO, among others. Eupraxia has more than 14 years of experience and works with dedication to meet the highest quality standards.
"Eupraxia's expertise in helping Spanish companies to digitalize and automate their service process is impressive, with customer references from Iberdrola to the Spanish Ministry of the Interior. In partnership with Eupraxia, Efecte can expand to Spain with Efecte's exceptional business value through a Cloud-Based Service & Identity Management Platform. We are looking for exciting opportunities ahead" . Tommi Lattu, Country Manager of Efecte, Spain.
"We are delighted to start working with Efecte´s ITSM and IAM solutions. Innovative solutions that fit perfectly with Eupraxia's vision. That will guarantee to our customers and business partners, the integration of their technological and business aspects, under the principles of simplicity, usability and customer orientation, both, externally and internally". José María García Orois, Managing Director of Eupraxia.
About Eupraxia
Eupraxia is a group of companies that was created in 2017 and is made up of professionals with extensive experience in the development of IT services, services management, cybersecurity, outsourcing and other support services.
Based on the professional know-how of its previous functions, the company's management and technical team are capable of meeting the professional challenges that clients set in order to improve their business processes. www.eupraxia.es
About Efecte
Efecte helps service organizations digitalize and automate their work. Customers across Europe leverage our cloud service to operate with greater agility, improve the experience of end-users, and save costs. The use cases for our solutions range from IT service management and ticketing to improving employee experiences, business workflows, and customer service. We are the European Alternative to global players in our space. Our headquarters is located in Finland, and we have regional hubs in Germany and Sweden. Efecte is listed on the Nasdaq First North Growth Market Finland marketplace. www.efecte.com
For more information, contact Efecte: 
Tommi Lattu, Country Manager, Spain