Efecte, the European alternative for cloud-based service management, has announced a new partnership with Computer Aided Network Systems BV (CANS BV) in the Netherlands.

Efecte continues its European strategy of expanding to new markets and is adding CANS BV to its partner ecosystem. The partnership between Efecte and CANS BV offers Dutch customers a professional enterprise solution paired with support from local consultants experienced in first-class Service Desk, ITSM, and Service Management solutions.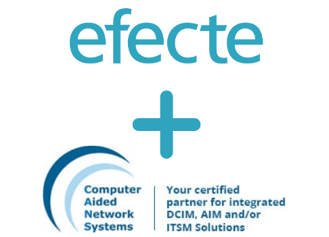 Serving a variety of customers, CANS BV provides DCIM & AIM solutions, and together with Efecte ITSM, CANS expands its solution portfolio to cover ITSM related services.
CANS BV has deep experience in several solutions, that enable fluent workflows. One of them being their DataCenter Infrastructure Management (DCIM). CANS' unique skill set and independent expertise in advising their customers within a variety of DCIM, AIM, and ITSM solutions.
We believe, that together we can truly be a powerhouse in providing effective and specialized DCIM & ITSM services for our customers.
"CANS' DCIM solutions portfolio combined with Efecte's ITSM solution will bring a lot of increased value to customers. Efecte's CMDB will enable more effective datacenter processes as well as utilize ITIL processes in a powerful manner. ", Steffan Schumacher, the COO of Efecte sums it up.
Frank Verhofstad, Managing Director of CANS BV, " An integration of Data Center Infrastructure Management (DCIM) and IT Service Management (ITSM) bridge the often-overlooked separation in IT organizations between the datacenter and the IT service organization, combining DCIM & ITSM enables enterprises to maintain accurate, up-to-the-minute information about their IT and data center assets, streamline their processes and improve the measurement of data center operations resulting in improved service level agreements (SLAs)"
About CANS
Computer Aided Network Systems BV (CANS BV) has been founded more than 25 years ago. Since its inception, CANS BV has specialized in providing the best-integrated solution for our customers in the area of DataCenter Infrastructure Management (DCIM), Automated Infrastructure Management (AIM), and IT Service Management (ITSM). The results of our bespoke solutions are a more efficient and effective operation of the DataCenter and the facilities connected to and with the DataCenter.
About Efecte
Efecte helps people to digitalize and automate their work. Customers across Europe leverage our cloud service to operate with greater agility, to improve the experience of end-users, and to save costs. The use cases for our solutions range from IT service management and ticketing to improving employee experiences, business workflows, and customer service. We are the European Alternative to the global goliaths in our space. Our headquarters is located in Finland and we have regional hubs in Germany, Poland, Spain and Sweden. Efecte is listed on the Nasdaq First North Growth Market Finland marketplace.
For more information, contact Efecte: 
Steffan Schumacher, COO 
+358 50 524 0873