Efecte and ABIT Puresoft are delighted to announce a new official partnership in Romania. ABIT Puresoft being the only authorized reseller on the Romanian market offers an excellent opportunity for the Romanian-based organizations to acquire a European Service Management and Identity and Access Management Platform to enable their growth.
This partnership is a response to the local markets' needs to have a suitable size single Platform solution to cover all of their business needs in Digitalizing and Automating their services.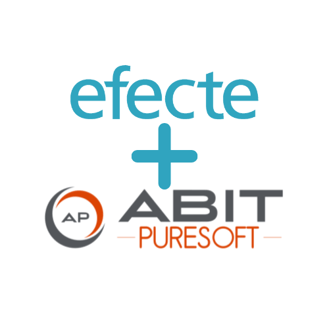 ABIT Puresoft identified the need to extend its services portfolio and integrate Efecte's outstanding range of services around IT Service Management. Efecte's platform combines functionalities for managing and automating any service in the company, including classic IT service workflows, HR processes, facility management, contract management, identity, and access management.
ABIT Puresoft has long understood the power of IT Service Management, which can be used to build, design, deploy and support the tools and technological services provided to employees as part of routine IT operations.
By continuing its strategy of expanding to new markets as the Leading European Alternative in the field of Service Management, Efecte is seeing great potential with ABIT Puresoft. ABIT Puresoft and Efecte together will be able to improve their customer's productivity and efficiency through Efecte's single Platform solutions.
"ABIT Puresoft's values of adaptability, creativity, transparency, service excellence, innovation, results-driven, growing talents, and social responsibility are something we as Efecte can totally agree on. As Romania has a very competitive IT market, with experienced and qualified personnel, for us ABIT Puresoft was a good match. We want to provide Romanian customers with a European alternative in the space of Cloud-Based Service Management. We look forward to growing our joint business together" says the COO of Efecte, Steffan Schumacher.
"We are thrilled to be the only Efecte authorized reseller in the region. By leveraging the functionalities of Efecte's platform, we will be able to offer a local alternative to our prospective clients who are looking to automate their services and save costs. With a team of 120 great individuals and vast experience with service models, we are confident that this partnership will be a success and strengthen Efecte's presence on the Romanian market." Alexandru Banica, CEO ABIT Puresoft.
About ABIT Puresoft
We support organizations to improve and develop their business performance by designing and delivering innovative technology experiences through digital transformation. ABIT Puresoft explores the global business scene via industry knowledge and digital competencies. We recommend and implement the best enterprise business solutions to help achieve your digital plan by blending our results-driven digital transformation strategies and data engineering at scale.
About Efecte
Efecte helps service organizations digitalize and automate their work. Customers across Europe leverage our cloud service to operate with greater agility, improve the experience of end-users, and save costs. The use cases for our solutions range from IT service management and ticketing to improving employee experiences, business workflows, and customer service. We are the European Alternative to global players in our space. Our headquarters is located in Finland, and we have regional hubs in Germany and Sweden. Efecte is listed on the Nasdaq First North Growth Market Finland marketplace. www.efecte.com
Efecte's Service Management Platform
With the Efecte Platform, organizations can manage and automate any service in the company. These include classic IT service workflows and processes for human resources (HR), facility management, contract management, and many more. Customers can flexibly adapt the software to individual needs without programming knowledge. They can also decide for themselves whether to operate the solution in the Efecte cloud or their own private cloud. In this way, Efecte ensures that all customers benefit from the strict European data protection standards and can comply with compliance guidelines. Efecte supports the latest ITIL 4 guidelines, giving customers out-of-the-box access to industry-recognized best practices.
For more information, contact Efecte: 
Steffan Schumacher, COO 
+358 50 524 0873