Tampere University community aspired for an ITSM system that would be efficient and agile, less labor-intensive, and minimize any unnecessary downtime. Instead of a customer having to make a separate ticket for each service, the objective was to establish an end-to-end service model for optimal user experience.

The three organizations went through careful mapping of their existing IT infrastructure, service processes, and workflows as part of the tendering process. This helped to recognize the potential for streamlining the processes and to create a better customer experience for ITMS users.

It was necessary to make the groundwork well in order to avoid hiccups at the execution stage, as the time frame for the merger was relatively short.

"It was important first to get a clear view of our processes and related resources. Doing our homework well enabled us to make the call for tender and to evaluate the bids realistically", says ICT Service Manager Mikko Mäkelä of Tampere University.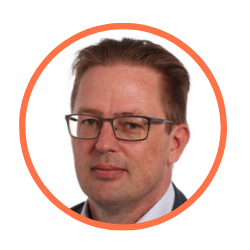 Mikko Mäkelä, ICT Service Manager, Tampere University
When preparing and executing the merger, Tampere University wanted to ensure that:
the IT Service Management (ITSM) would be uniform and functional for the whole organization,
the system could migrate all the key data from the preceding organizations, and
the IT services for students and staff would need to run without interruptions.
To meet the needs of the organization, the Tampere University community chose Efecte as the ITSM solution. "Efecte met our requirements and we were able to get the project moving quickly. During the negotiation phase, the open dialogue with Efecte helped us to further define our specifications", concludes Mäkelä.
Resource effectiveness was also one of the drivers for change. "To have a uniform system to collect relevant data for decision making has been important", notes Mäkelä. "Efecte has various reporting templates and the possibility to customize them according to our needs."

The most visible push for implementing Efecte was to launch 40 000 new usernames and passwords at the start of 2019. The ICT services had prepared for the number of tickets to multiply because of this, but the numbers remained moderate. As the merger took place, the system was in operation as planned.