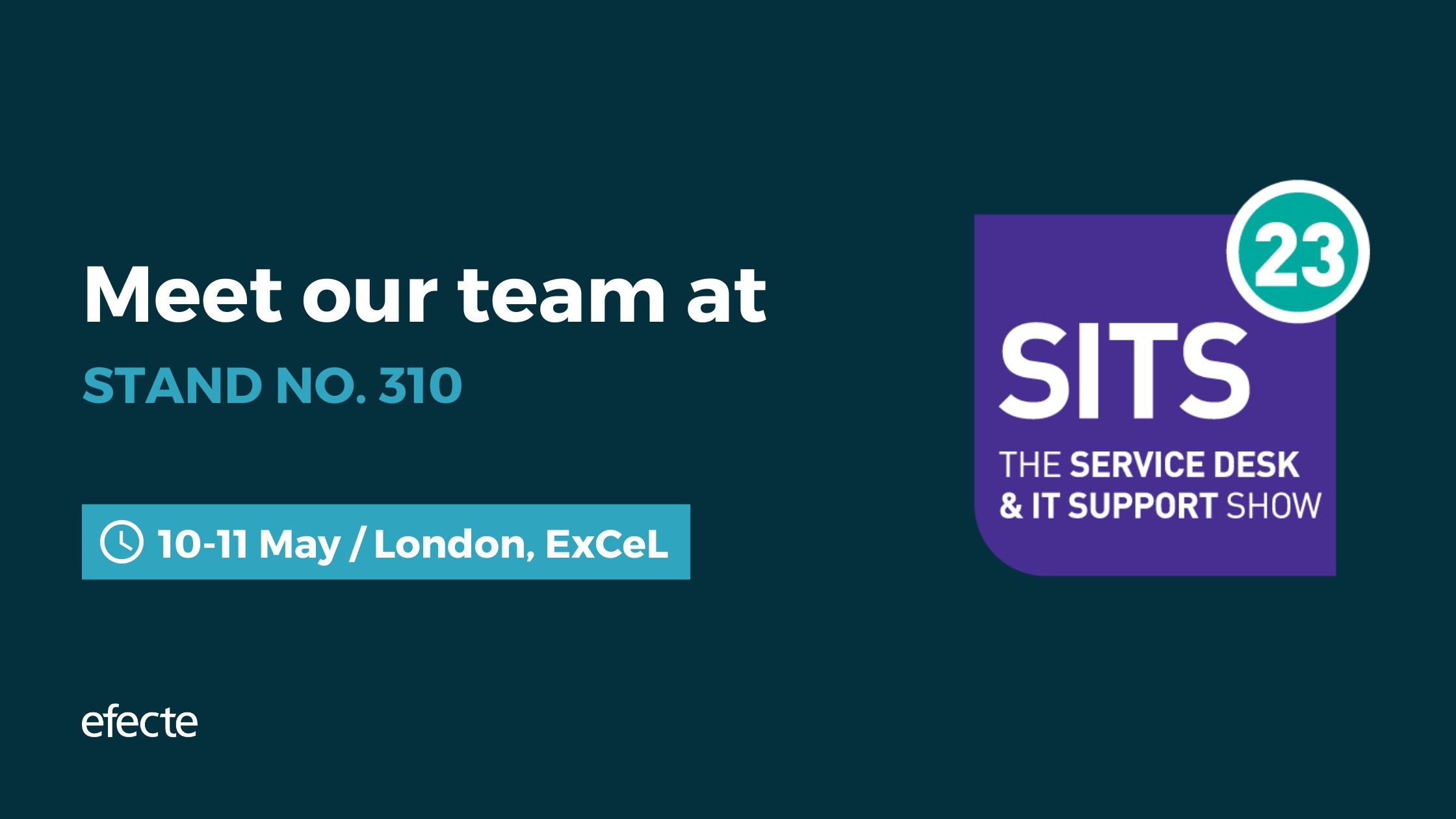 As a leading provider of cloud-based service management and identity access management software, we are excited to announce our participation in the upcoming SITS 2023 show in London.
SITS – the Service Desk and IT Support Show is the UK's leading event for IT service management and support professionals and is set to take place already next week on May 10-11, 2023, at the ExCeL London convention center.
Efecte will exhibit at SITS - Meet our team
As a first-time exhibitor at the event, we are eager to showcase our innovative software solutions and connect with other IT professionals and service providers. With over 20 years of experience in the industry, Efecte has built a reputation for delivering cutting-edge technology that helps organizations improve their IT service management processes and enhance their security and compliance capabilities.
At the SITS 2023 show, we will be demonstrating our cloud-based service management platform, which enables organizations to automate and streamline their IT service operations, from incident and problem management to change and release management. If the challenges of improving service quality and efficiency while reducing costs and minimizing risks are still on your table, drop by our booth to learn how we can help you solve them.
We will also showcase our identity access management solution, which provides a secure and user-friendly way for organizations to manage user identities, access rights, and permissions across all their IT systems and applications. Efecte's IAM solution is built on industry standards and supports multi-factor authentication, passwordless login, and other advanced security features.
Attend our workshop on the subject of Artificial Intelligence
In addition to our product demos, we will also be hosting a workshop on Wednesday, May 10 at 11.00, on the topic "Human Intelligence (HI) or Artificial Intelligence (AI)? Where should the focus be?". The workshop will be facilitated by Harri Väänänen from Efecte and Mark McGinn & Julian Wigman from MarXtar, who will cover the following topics:
What do we think AI means when viewed from the perspective of ITxM?

What practical examples have we seen?

Are vendors pushing AI when they really mean ML (Machine Learning)?

Should HI need to be applied before AI can be successful?

If AI or ML learn from what we do, then doesn't bad practice make for faulty AI logic?

What HI should we be applying before we set AI loose on our users?
We are gladly inviting everyone to participate!
To learn more about Efecte and our cloud-based service management and identity access management solutions, visit our stand no.310 at the SITS 2023 show or simply get in touch with us!