It's been another information-packed day at Efecte's virtual event 'Digitalize and Automate', and it's time to highlight the second day's sessions along with some of the key things we learned. After looking at the 'why' of digitalization and automation yesterday, we have today explored the 'how' – with the help of some exceptional speakers.

Digitalization with Impact
Reidar Wasenius, Chief Creative Officer at Breaks Finland, again served as moderator and introduced the day's format of presentation tracks, allowing participants to choose their preferred topics and themes.

To start off the presentations, Efecte CPO Santeri Jussila took to the virtual stage to present the Efecte vision and exciting product roadmap. "Digitalizing and automating is of course nothing new," he clarified. "However, we believe there is a huge potential to do more. A lot of automation still focuses on individual taks rather than end-to-end processes. We want to move beyond the narrow point solutions to instead supercharge IT productivity, govern the full lifecycle of digital identities, and transform business processes for the digital era."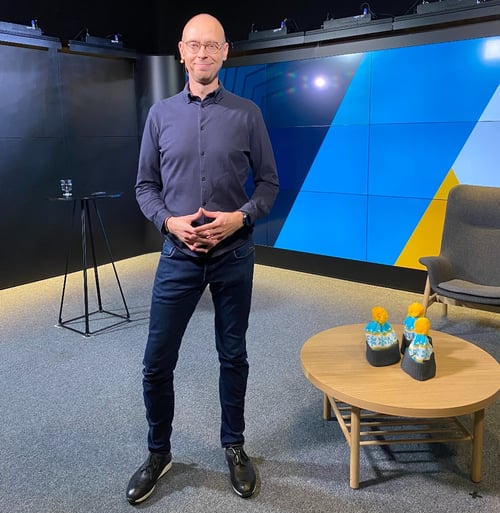 Efecte's goal is to be the most agile service management platform in the market, making it a joy to use, while suiting the customer's budget. "Our customers truly appreciate the agility of the Efecte platform. We are also investing heavily in the user experience, which will bring more joy. And the budget aspect means our solution is commercially viable. Cost-efficiency, cost transparency, and total cost of ownership is front of mind for us as a solution provider."
In terms of new solutions, Santeri was excited to introduce a range of areas where Efecte is currently enhancing and strengthening the technology environment for all users. "Our investment is focusing on AI. We understand the impact it has on the human users, as it allows them to work better and use their time better. The next phase is all about scaling and expanding to thousands of users with the use of AI for self service and digital identities."
Santeri explained that a key aspect of Efecte innovation is to create self-service that offers a consumer-like experience for business users. He proudly introduced the brand new Efecte Self Service – a mobile-native tool that is beautifully designed to improve how the user engages with services. The company will also be bringing in the 'conversational' experience by expanding Efecte Chat to incorporate an enhanced AI chatbot, video chat, and screen sharing, to simplify the service process.

"We want to empower agile teams with digital superpowers," Santeri concluded. "We're giving people the tools for powerful, simple-to-use, automated systems that support their way of working. It's not just about helping their existing output, but allowing them to do more. Together, we create maximum value from the digital era we live in."


Internal process development at Finnlines
Kimmo Kostia, Head of Group IT and Hardware at Finnlines – one of the biggest freight shipping companies in Northern Europe – shared some of his experiences of working with Efecte to enhance their operations.
The Finnlines IT department consists of a skilled team with specialist skills in the technology required to run the ships and manage connectivity. "In the shipping world of IT we face a number of unique challenges," he explained. "There are limitations in terms of cloud use, and we require a different level of self-sufficiency compared to a fixed physical environment."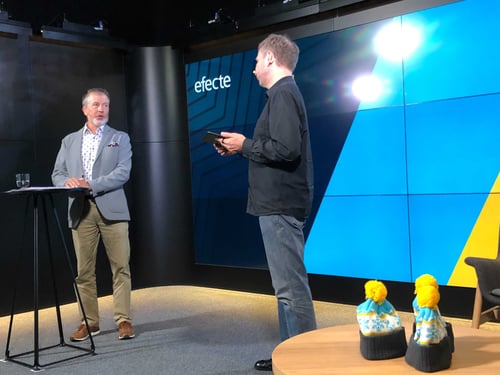 Kimmo describes how the organization's has focused on getting rid of many legacy systems and developing better, modern systems and digitalization. "We have traditionally had many person-based IT processes, where one individual would be in charge of one system. While this can work on a smaller scale, this often leads to isolation of knowledge and an uneven user experience. What we're building now is a balance between formalized processes and person-based quick response abilities for 24/7 operations."
Finnlines had been using Efecte for years, in a limited number of IT processes, when they decided to enhance the system into other processes. "We particularly enjoyed the new, modern Efecte portal. It made it very easy to adapt the solution to our specific needs and workflows," Kimmo declared.
"The next step now is to incorporate Efecte into other processes outside of IT, such as Human Resources and onboarding processes. We're confident that this will allow us to increase the value we get from Efecte and improve our existing operations."
One-click Production: The Fast Track to Cloud
The three parallel tracks of the day covered the aspects of IT Productivity, Employee Experience, and Technology. In the technology track, we first heard from Paavo Kyyrönen, Cloud Product Manager and Team lead, and Gustavo Miranda, Cloud Architect at Efecte, who discussed the topic of running a secure and scalable Cloud.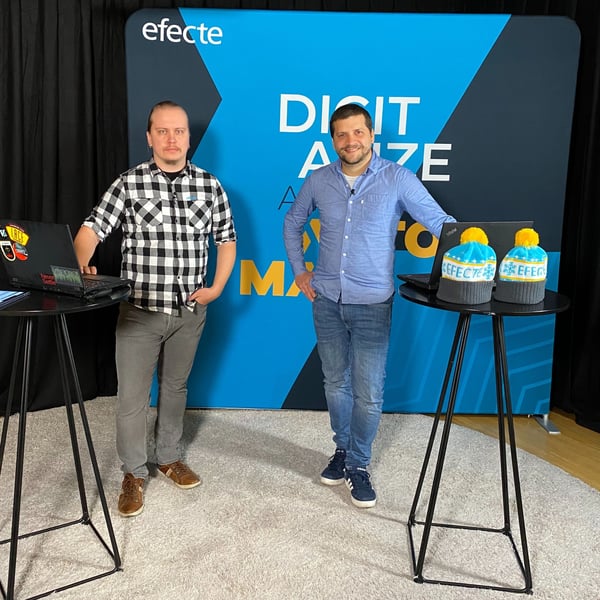 A key part of the Efecte service offering is to be cloud-agnostic and deploy in any way the customer needs. The most popular option is the standard Efecte Cloud. However, organizations can choose a private cloud if they face particular regulational requirements. Either way, the cloud is managed securely in Europe, with high availability and live data replication for super fast recovery.
Paavo and Gustavo described Efecte's industry-standard deployment automation as a 'one-click production' process. The cloud onboarding environment provisioning takes approximately 10 minutes thanks to the plug-and-play architecture with automatic service discovery, application self-setup and out-of-the-box baseline, and simplified data center migration. This removes the need for manual setup by a technical specialist and eliminates technical delays.
Quality Assurance at the Heart of Development
Topias Marttila, CTO, and Elena Chernova, Quality Assurance Lead at Efecte, discussed the company's focus on quality and security for the hundreds of thousands of Efecte users.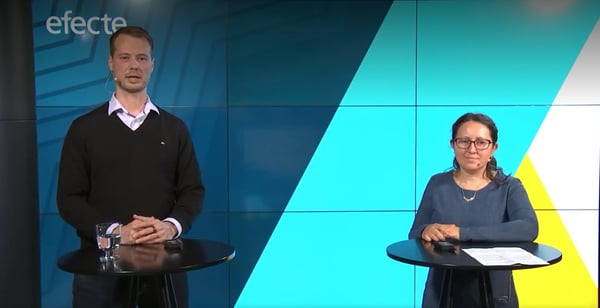 At Efecte, quality assurance is tightly connected to software development. All feature development includes a feedback loop to ensure a consistent quality focus, and developers are closely engaged in the quality and testing process. Quality is of course also closely linked to security, and the Efecte team takes part in mandatory secure development training, security checks as part of CI, internal and external penetration testing, and internal as well as external audits.
The company has a separate quality team that focuses purely on customer-reported problems and bugs to monitor real-life use and improve products over time. Over the last few years Efecte has also run a unique quality initiative called 'Quality Week' where developers can take time out of their daily tasks and focus on creative and innovative problem-solving to try new paths, learn more, and discover improvements.
New Ways to Govern and Automate Digital Identities
Jukka Papinaho, Senior Product Manager at Efecte, explored how the world of identity lifecycle management has changed. A modern business now requires ready-made packages for identity and access management as a quickly deployable solution. Without having to build everything from the ground up, the process needs to be easy and transparent to fulfill the customer's requirements.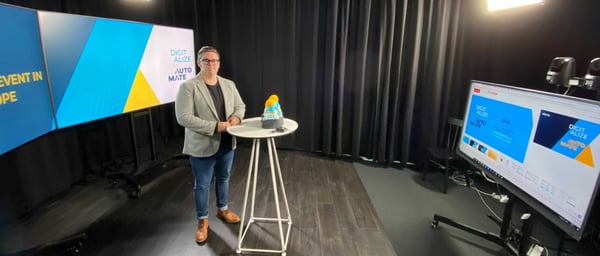 Where identity management previously needed a great deal of configuration and consulting support, Efecte can now offer a modern approach for managing digital identities at every stage of the business journey with the help of a new range of SaaS-based IGA packages. Identity and access management allows the organization to follow the flow of user data, and stay fully aligned with European Identity standards and regulatory requirements.

Jukka also predicted that AI will play a central part in the IAM of tomorrow, as it can decrease the amount of manual administration work while offering new authentication features, self-registration, and automatic identity creation.
Enabling an agile mindset through digitalization in a research center
Anja Ludolph is Process Manager at Helmholtz Center Munich, a major research center in the field of medicine, genetics, and environment. In her session, Anja covered how her organization introduced digitalization and shifted to a new, agile mindset.
The organization employs more than 2,400 people from 85 different nationalities. It faced a rising demand for digitalization, triggered by the ongoing pandemic as well as internal factors such as a growing interest in digital services across different teams.
Anja's team was able to introduce an agile working methodology based on Scrum principles to facilitate the digital transformation through ITSM application. Anja described the flexibility of an agile framework as the primary success factor to influence and improve the organizational culture. "A key part for us was to build a core 'implementation and customizing team' that features cross-functional skills," Anja explained. "We matched the scrum roles to internal roles which would adopt the responsibilities of agile processes to support the transition to a well-functioning, transparent operation that would allow us to achieve our defined goals."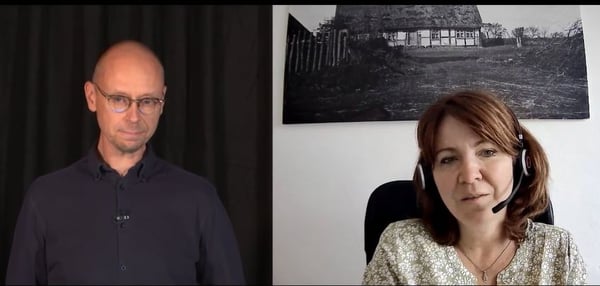 Another essential factor Anja had to consider throughout the project was to ensure that everyone understood the new processes, through close communication and cooperation. This was something the organization was able to do with the help of an iterative development cycle, where the project team would ensure understanding, alignment, validation, agreements, and feedback through every stage.
Anja closed her session by sharing two major success stories of how the organization digitalized and improved two areas of the organization: The roll-out of a digital process for ordering scientific equipment, followed by the digitalization of HR processes. However, the journey doesn't end there, Anja claimed. "It's a real cultural change and we see an increasing demand to digitalize in more areas. We are now working to improve workflows for complex demands such as those of our legal department, which we expect to go live with later this year."
Customer Experience – A Future Outlook
Kirsti Laasio is a Customer Experience professional, and a champion of the human experience throughout the entire customer journey. In her session, she explained how customer experience in fact represents the most powerful competitive advantage of any business. The customer journey is getting increasingly detailed, and we have the opportunity to deliver an exceptional experience at every stage.
We no longer dwell on the B2B and B2C concept – it's all about H2H: Human to human connection.
Customers increasingly expect a consumer-like experience, even in the business world. We want a convenient and consistent experience that is effortless and frictionless.
"In any customer experience journey we want to arrive at what we call Meaningful Experiences," Kirsti explained. "This is a point where the customer feels that they have spent their time well, which leads to an increased share of 'mind' as well as 'wallet'. This state is underpinned by a number of factors, which we have the opportunity to impact, analyze and track."
At the base of it all sits company culture. This is the foundation of the entire customer experience, as it infuses everything the customer comes into contact with on their journey. A positive company culture fosters a positive employee experience, which in turn impacts the employee's behavior and performance when interacting with the customer. And when the customer has an excellent experience engaging with your people, they become emotionally connected and loyal advocates of the brand.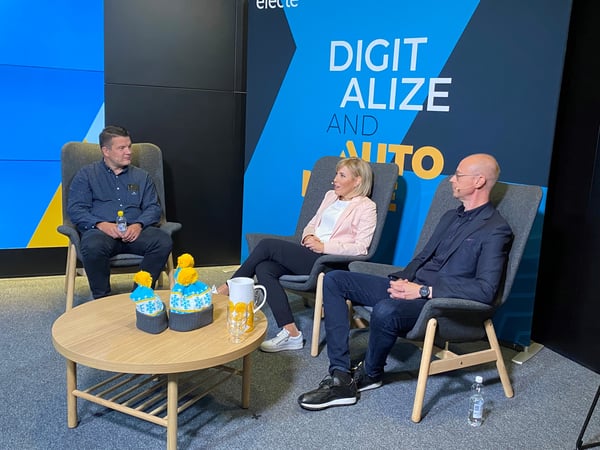 The power of this model is that everyone becomes accountable for customer experience. "Our job is to listen to, measure, and understand the customer's experience," Kirsti clarified. "This information is what gives us the insights we need to improve experiences over time. We use data to optimize operational efficiency, and we develop the tools and systems needed to empower and engage our teams – as well as our customers."
How Customer Experience Shapes the Future of Service Management
The conversation around customer experience continued into a Fireside Chat where Kirsti was joined by Santeri Jussila and Steffan Schumacher. They discussed the various factors that play into what makes a truly extraordinary service management experience, and how organizations can invite a people-centric approach that coexists with a digital approach, without compromises on either side.
The group agreed that organizations need a strong connection to user experience, which goes beyond the basic Net Promoter Score. A company that understands its customers' lifetime value will also be able to improve it over time. We should strive for a good balance between service-based value and data value, where we not only track qualitative feedback but also measure the use of the product – through time spent online, number of clicks, number of service requests and more.
The perfect mix of digital and human experience is important, but can of course be difficult to achieve. Exceptional customer experiences in service management is built on our ability to serve customers well – both digitally and in person, the quality of the software, and the sense that things 'just work'. These are all important parts of the service experience.
The People-Powered Digital Future
After selecting a number of lucky winners of the trendy Efecte shirts and beanies (European-made of course), Steffan Schumacher summed up the day's event by reminding us how the Efecte platform is easy to implement, easy to configure, and quick to realize process and cost-efficiencies – which ultimately provides a positive experience for employees as well as customers.
"Our goal is always to provide a five-star customer and partner experience," Steffan explained. "However, if we ever let you down, we do everything we can to make sure we don't let you down a second time." This is the power of transparency, and of continuous quality improvement. And as part of improving the experience as well as relationships with customers, Steffan introduced the Efecte customer experience portal which allows for direct feedback and engagement, as well as an ongoing digital training service to help optimize system understanding and use.
Niilo Fredrikson helped to summarize the event by highlighting that the engagement with customers and partners has been a major takeaway for him personally, and his passion for establishing Europe on the global digital stage will continue to influence the focus of the business for the years ahead. "As Europeans, we share a set of values and world views, which all essentially link back to the human experience and connections. We need to harness the power of digital by remaining focused on the people we are – and the people we serve."
From all of us here at Efecte, we look forward to welcoming you to our upcoming Efecte events where we can share, learn and collaborate further!
Read Digitalize and Automate 2021 Day 1 recap here:
A New European Digital Landscape - Day 1 of Digitalize and Automate

Curious about Efecte? Visit www.efecte.com/free to find out more and try Efecte's ITSM and IAM solutions for free.