Efecte acquires Conversational AI company InteliWISE to strengthen its position as a leading European service management platform.
Efecte will bring InteliWISE's unique AI bot technology to the European market to help organizations digitalize and automate their work with greater agility, better experience, and lower costs.
A big step forward on Efecte's journey to becoming the leading European service management vendor.
Efecte aims to be the number one European alternative to the global service management software goliaths. The company's SaaS platform helps companies digitalize and automate their work. More than 300 customers across Europe leverage Efecte to run services ranging from IT support to HR with greater agility, improved end-user experience, and lower costs. Efecte is listed on the Nasdaq First North Growth Market Finland, with its headquarters located in Finland and regional hubs in Germany, Sweden, and now in Poland.
Efecte acquired InteliWISE to add conversational AI onto its service management platform and help more European customers access and benefit from InteliWISE's technology. InteliWISE's AI-driven voice and chat automation platform, integrated with omnichannel live-agent support, is already used by leading global brands. InteliWISE has already delivered more than 200 of its AI-powered chatbots and voice interactive assistants (IVA) to global brands in the retail, financial, and insurance industries, boosting the productivity of their service desks and HR teams.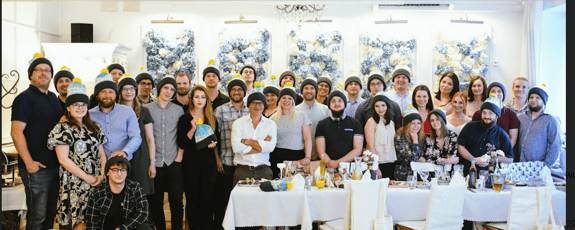 Niilo Fredrikson, CEO of Efecte says: " We help people digitalize and automate their work, and this transaction is another important step in making Efecte the leading European Alternative to global corporations in our industry. I am very excited to have the InteliWISE team join the Efecte family. Together, we are stronger than ever before. As announced, we plan to delist InteliWISE from the stock exchange and integrate the company with Efecte."
Marcin Strzałkowski, CEO at InteliWISE says: The digitalization of today's employees' workspace desperately requires new communication tools, just like chatbots. I founded InteliWISE as the AI bot company years ago, but only nowadays, in times when employees increasingly use messengers, working remotely, do we begin to see the enormous opportunity, that this conversational technology can bring to digital platforms like Efecte. "
InteliWISE acquisition provides Efecte with crucial technology to help meet the market's needs for employee satisfaction and talent retention
Today's shift in the workforce market is immense due to the recovery from the pandemic, inflation pressures, fear of recession, and the abundance of new technologies. Employees are increasingly becoming mobile, using messengers and mobile apps, at the cost of traditional help desk portals.
All these challenges are increasing the complexity of working life and can also increase attrition. Lack of acknowledging them may lead to lower employee satisfaction, hence affecting organizations' productivity and their ability to grow. Addressing these concerns is especially important in Europe, where the employees' role and well-being are essential to maintaining competitiveness.
InteliWISE's modern conversational AI technology combined with Efecte service management creates a strong European-built and operated platform to connect business with people. It allows customers to take their employee experience to the next level and benefit from increased automation of any service processes. IT, HR, and other business services should be accessible instantly – in real-time, without waiting time, and in channels of their choice.
The new, combined offering focused on 'Happy Employee' solutions will help Efecte cut into the shift in customer usage patterns and towards personalized self-service
Organizations' HR and helpdesk teams are striving to raise volumes of questions and issues reported by employees. Service management solutions like Efecte help manage these issues, resolving problems and enabling employees to work more efficiently. Automation is a big topic in this area, as the cost of service and resolution times are affecting employee satisfaction. Bots, powered by Natural Language Processing Technologies, are intuitive to use and provide a high level of self-service capability. Employees also need to self-solve their issues across an increasing number of touchpoints, via not only email or phone but also chats, popular messengers, or even video calls.
Efecte's solutions make it easier to resolve employees' day-to-day problems, and provide work benefits faster, thus diminishing the risk of resignation. The use cases for the Efecte platform and solutions range from service management and ticketing to improving employee experiences, business workflows, and customer service. In the short term, Chatbots and Voice Assistants from InteliWISE will speed up and enhance the support of employees' needs. In the long run, future features such as powered recommendations based on Data + AI help scale up the personalized yet automated service for employees.
Niilo Fredrikson, CEO at Efecte says: "In InteliWISE, we see modern conversational AI technology, a strong R&D team, and go-to-market that we can help further accelerate. The InteliWISE team not only feels like a cultural fit, but also adds important capabilities and future possibilities through expanding our talent pool and establishing an Efecte R&D, professional services, and customer success center in Poland. This is a natural step in building the long-lasting R&D collaboration we have had for 10+ years with software developers in Poland. Lastly, the acquisition will also mean establishing Poland as a new direct market for Efecte."
Marcin Strzałkowski, CEO at InteliWISE says: "Today, we're not only talking about customer experience, but also employee experience. At InteliWISE, we have seen many highly successful deployments of AI and bots, which helped global brands improve the service of their help desks and HR departments. Employees today are increasingly faced with digital systems in their work, and they want to have their issues fixed right now, right here – without a fuss. The use of bots for supporting such processes is a predominant choice nowadays, as they deliver it in a natural, conversational mode, at the lowest possible service cost.
Consideration, financing, and transaction structure
By 22 July 2022, Efecte Plc has gained 93.41 percent ownership of all shares in InteliWISE through a voluntary tender offer announced on 27 May 2022, its extension period, and acquiring shares from the market. In addition, Efecte on 16 August 2022 published a formal delisting tender offer directed at the remaining shareholders of InteliWISE to tender all their shares in InteliWISE to Efecte. The purpose of the new formal tender offer is to allow the delisting of InteliWISE and consequently squeeze out the remaining shareholders regardless of the result of the new formal tender offer.
The public tender offers consist of a cash consideration of PLN 3.99 (approximately EUR 0.84) in cash per share. The price represented an 85% premium vs. the last market quote. This implicated the valuation of InteliWISE at Eur 5.9 million. Efecte financed the acquisition fully by cash but has since raised financial loans for 2 MEUR to support financing the transaction. In addition, Efecte has concluded a directed share issue to the CEO and CTO as well as the largest shareholder of InteliWISE to retain the said InteliWISE key persons post-acquisition and align their interests towards successful integration of InteliWISE and Efecte's long-term.
Financial and Legal Advisors
Sisu Partners Oy acts as the lead financial advisor and Domanski Zakrzewski Palinka (DZP) as the lead legal advisor for Efecte in connection with the transaction. The financial advisor of the Inteliwise Group in the transaction is CC Group, while the legal advisor is CDZ Chajec i Wspólnicy.
For additional information:
Contacts: Niilo Fredrikson
CEO, Efecte
+358 50 356 7177
Contacts: Marcin Strzałkowski
CEO, InteliWISE
+48 503 007 654
mst@inteliwise.com
Efecte Plc
Efecte helps people digitalize and automate their work. Customers across Europe leverage our cloud-based service to operate with greater agility, improve the experience of end-users, and save costs. The use cases for our solutions range from IT service management and ticketing to improving employee experiences, business workflows, and customer service. We are the European Alternative to the global goliaths in our space. Our headquarters is located in Finland and we have regional hubs in Germany, Sweden, and Poland. Efecte is listed on the Nasdaq First North Growth Market Finland marketplace.
InteliWISE SA
InteliWISE is a Conversational Artificial Intelligence (AI) company. InteliWISE provides customers with AI-powered solutions that enable intelligent automation of customer service, marketing, and sales. InteliWISE's AI Voice Assistants, omnichannel cloud contact center, and team video-chat software are delivered both as a cloud service and installed on the company's servers (on-premises). InteliWISE's US-patented software enabling omnichannel interactions consists of AI-powered natural language processing (NLP), leading customer service, and e-commerce technologies.