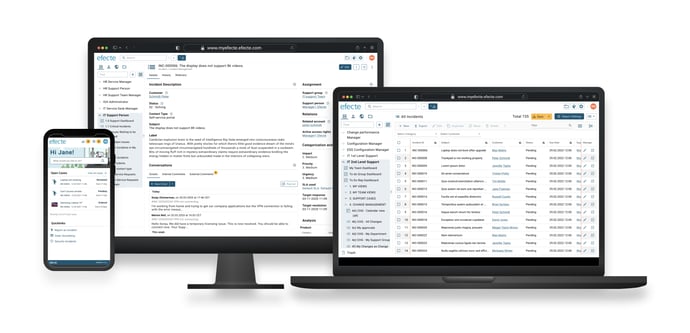 The 2023.1 release of Efecte includes functionalities to help customers improve their service management and identity governance. The release includes numerous improvements targeting to help users work smarter and enhance their experience.
Efecte 2023.1 Highlights
Service Management

Capabilities
Automation of local user creation: Adding local users is now possible in ESM from the Visual Workflow without root level access. Orchestration nodes are used to trigger user creation from the automation. Administrators save time when creating external users such as subcontractors or partners. The feature benefits also MSP admins who need to allow key customer users to log in for report inspection.
Improving troubleshooting efficiency with Visual Workflow Automation (VWA) logging: admins can now track automations and inspect workflow execution in detail. The new workflow.log file includes each workflow step and provides details about each workflow node.
Improving the agent experience: Efecte Chat for Service Management introduces improvements to usability and reporting. The chat window shows now all tickets related to an end-user session. Additionally, agent response times are stored in data cards, which allows to follow up service delivery performance.
Self-Service Capabilities
Automation of repetitive service requests: Often users need to repeat certain service orders in Self-Service over and over again. Repetitive service requests, such as "Refill first aid kit", can now be ordered again easily, as the order details are prepopulated based on previous order.
Improving user experience with notifications: Admins have now the option to define expiration times for end-user notifications in Self-Service, i.e. how long a notification is visible in the UI when user has created a ticket or ordered a device. Once expiration time is defined, notification goes away without any action required by user.
Two new languages available: Efecte Self-Service is now available also in Bulgarian and Romanian.
Provisioning Engine and Secure Access Capabilities
Faster identification of errors: Administrators can now download logs easily from ESM UI. This feature reduces the need for host access when configuring ESA and EPE. It speeds up the process of finding errors and it is much easier for admins to view logs.
Improved login experience: New languages supported in login screen with Efecte Secure Access (ESA). Available languages for end-user are English US, English UK, Finnish, German, Swedish, Polish, Croatian, Czech, Danish, Dutch, Estonian, French, Italian, Latvian, Lithuanian, Norwegian, Russian, Spanish and Turkish. Administrators can easily define default language options.
Want to read more, take part in discussions and get the complete release notes?