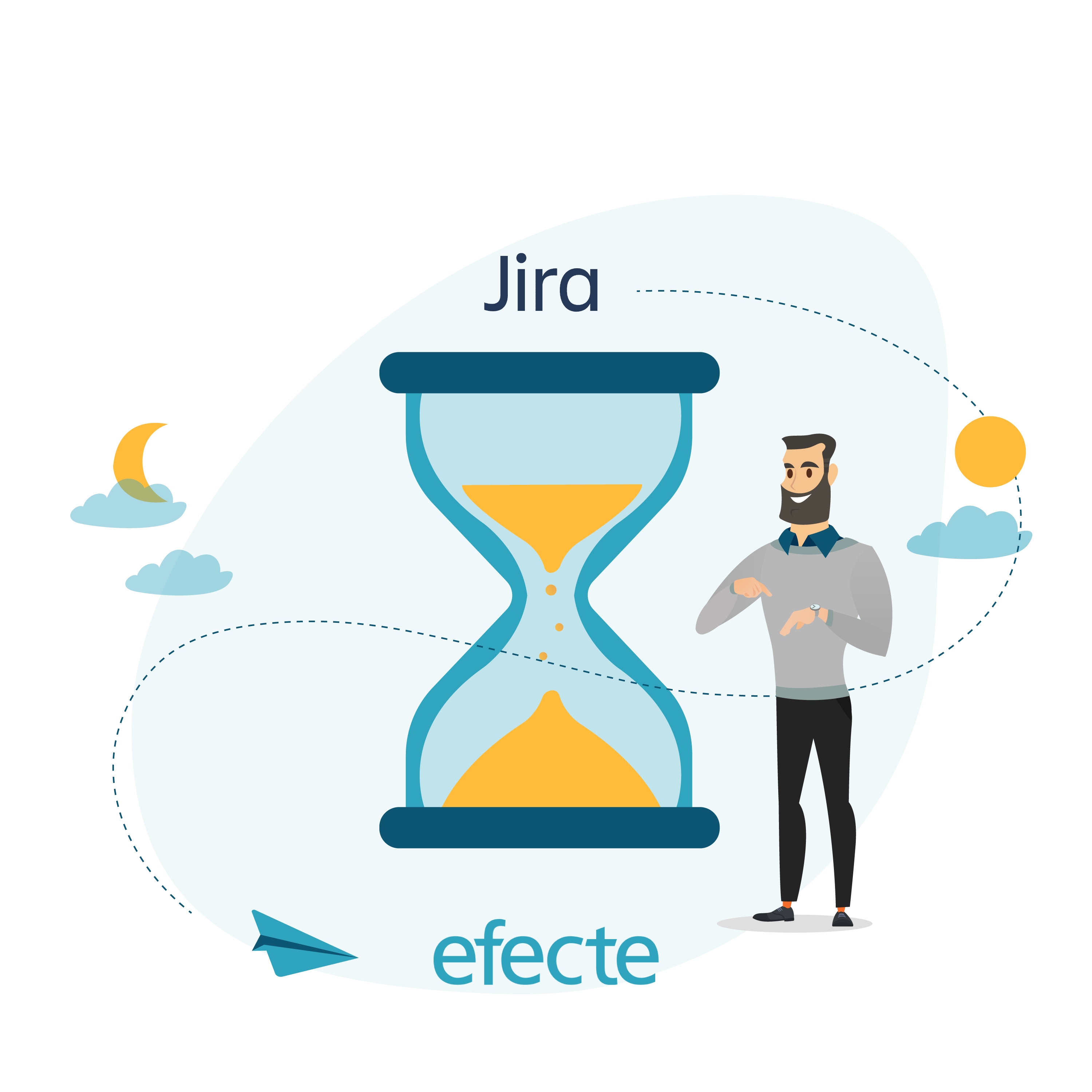 Efecte ITSM: Stay on-prem when Jira support ends
Keep your IT service management on-premises after Jira Service Management Server support ends. Efecte ITSM stays on-prem for as long as you want, with easy migration to Efecte Cloud when you're ready.
Get ready for Jira Service Management Server
end of life
If you're running Jira Service Management on-premises today, the clock is ticking. New licenses and upgrades/downgrades have already been discontinued, and support for all Atlassian Server products - including Jira Service Management Server - will end completely on February 15, 2024.
Your IT service desk faces a choice: move to Jira Cloud and see your data moved into the AWS public cloud, or keep service management in your own datacenter with an alternative ITSM platform.
Efecte ITSM: The European alternative to Jira
If it's important for you to stay on-premises, Efecte IT Service Management (Efecte ITSM) could be the ideal solution.
As the friendly European alternative to the global ITSM giants, Efecte is the IT service management platform of choice for over 300 organizations across Europe.
Total flexibility means you can deploy Efecte ITSM any way you prefer: in your own datacenter, in a third-party private cloud, or in Efecte Cloud. And unlike some ITSM solutions, you can move easily when you need to.
Key features of Efecte ITSM
5 reasons to migrate from Jira to Efecte
There are many great reasons to migrate from Jira to Efecte for ITSM, but here's our top 5:
Stay on-prem now and in the future
If you need to keep data on-premises for GDPR or data protection compliance, or if you just prefer to have it close to hand, you can stay on-prem with Efecte ITSM for as long as you need to.
SaaS-like experience
With Efecte ITSM you get the benefits of SaaS without the downsides. We'll manage the software in your datacenter, so you get regular updates and the same user-friendly experience as Efecte Cloud.
Smooth path to Cloud
If you plan to go to the cloud in future, we've got you covered. You can move to Efecte Cloud at your own pace—and you'll find exactly the same features and user experience in the cloud as on-prem.
Next-level IT service
Efecte ITSM is a step up from Jira in terms of IT service delivery. You and your users will benefit from a native CMDB, support for all 19 ITIL 4 processes, and ease of use for agents and end-users.
Deploy in days
Our fully-functional ITSM baseline means you can be up and running on Efecte ITSM in days, rather than weeks or months.

Compare Efecte ITSM vs. Jira Service Management
Efecte ITSM gives you all the benefits of Jira Service Management Server—and much more. Use the table below to compare key Jira features with Efecte ITSM.
Feature
Jira
Efecte
Data hosting
In AWS

Your choice of:

On-premises

Your chosen Public Cloud

Efecte Cloud

CMDB
Third-party CMDB with no discovery capabilities
Native CMDB with integrations to INC/SR/PRO/CHA/etc. :
ITSM Maturity
7 ITIL 4 practices certified
All 19 ITIL 4 practices certified
Integrations
-
Wide integration capabilities
End-user licenses
Required for self-service portal
Not required for Efecte self-service portal
Agent licenses
No floating/concurrent licenses
Dedicated/concurrent user and read licenses
Plan a best-practice migration from JIRA to Efecte
Migrating from JIRA Service Management Server to Efecte ITSM is easier when you have a solid plan. Download our Migration Guide for insight into these key planning and migration considerations:
Managing change
Keep people up-to-date and onside before, during and after the migration—and make sure everyone is trained and ready to go at the switchover.
Reviewing processes
Migration is a key opportunity to review your current IT service management processes and decide which you want to replicate in the new environment, and which could benefit from a redesign.
Migrating data
You may not need to bring all of your legacy data over into the new ITSM environment. Deciding what data you need to bring over, and what you can safely archive, can make a big difference.
Exploring features
The aim of your migration may be to replicate the Jira environment as closely as possible, especially if it's a forced move from an end-of-life platform. But Efecte ITSM has many other features that can help your team, so it's worth taking time to explore what's available and how it could work for you.
Plan a best-practice migration from Jira to Efecte
Migrating from Jira Service Management Server to Efecte ITSM is easier when you have a solid plan. Download our Migration Guide for insight into these key planning and migration considerations:
Find out more about Efecte ITSM
With less than a year until Atlassian Server support ends, it's a great time to explore alternatives to Jira Service Management. Do you have questions about Efecte ITSM as a replacement for JIRA Service Management Server? Get in touch and we'll be happy to help.
Request a demo
After you leave your contact information, we will be in touch with you shortly via either phone or email.