Top 5
ITSM Event of the Year
25
Top Speakers, Panels and Demos
Welcome to Digitalize and Automate 2022
Pre-registration is now open for Digitalize and Automate 2022, one of Europe's biggest and most exciting #ITSM and #ESM events.
In 2021 we brought together almost 2,000 professionals, thought leaders and students to discuss and define the way forward for European digital platforms. This year we have a bold ambition: to make Digitalize and Automate even bigger and more impactful.
Over the two days, you'll hear inspiring keynotes, insightful panel discussions and technical deep dives that you won't want to miss. You'll also be among the first to hear about new Efecte platform features, product roadmaps and innovations.
Sign up today – and look out for keynote speaker announcements and a detailed agenda in the coming weeks!
Event overview
The pace to digitalize and automate has gained new urgency in these extraordinary times. Like never before, organizations must balance user expectations of a smooth IT experience with the need to improve productivity and protect critical assets from cyber-threats.
We'll talk about these themes head-on at Digitalize and Automate 2022, with Day 1 devoted to Accelerating Digitalization and Automatization in Europe and Day 2 focusing on re-designing work to meet the needs of a new era.
Day 1: Accelerating Digitalization and Automatization in Europe
On Day 1 we'll explore how digitalization and automation help organisations to operate more efficiently and to achieve their growth targets. With our core values being tested as the economic environment gets tougher, how can we draw on European innovation to support sustainable growth and prosperity – both in our own organizations and around the world?
Watch out for some exciting keynote speaker announcements – and sign up now to get updates!
Day 2: Work, redesigned
On Day 2, discover how Efecte is helping organizations across Europe to re-design work to meet the needs of a new era. How can you deliver the next-generation user experience that digital natives expect? How can you embed AI into your work processes to increase efficiency? How can you protect your key assets – like digital identities and digital services – in the age of hybrid working? And how can you choose the right deployment model for your organization?
Read more about the topics we'll go through on Day 2
This year's lineup promises to be truly breathtaking. Apart from the industry leaders, we have invited a real star to our virtual stage.
This special guest won't leave anyone indifferent. He is an idol for many, and a major source of inspiration for the rest.
Holding the title of the World Champion in motor racing sport twice, this man will share his recipe for success. What does it take - digitalization and automation, human bravery, or a combination of both?
Can't wait to find out who he is? Check out our LinkedIn for the jaw-dropping reveal.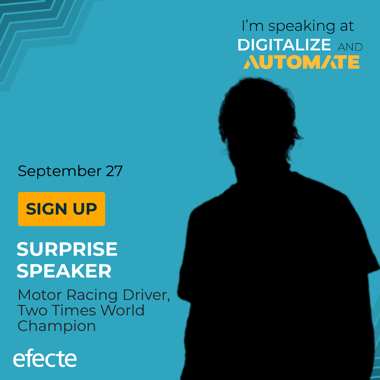 Meet other exciting speakers from this year's lineup

Stay tuned for more speaker announcements!
At first I thought that one more time I'll be participating in boring lecture-like event, but oh my was I wrong... I loved everything about this event, especially your openness.
- Feedback from 2021 Event
9.00 CEST
Welcome to Digitalize and Automate 2022 - Accelerate growth in Europe moderated by Reidar Wasenius
OPENING KEYNOTE: Niilo Fredrikson, CEO of Efecte
KEYNOTE: Jussi Tolvanen, CEO of DNA
11.30 - 12.30
LUNCH BREAK
KEYNOTE: Aleksandra Przegalinska, Associate Professor and Vice-President of Kozminski University
KEYNOTE: Matthias Walter, CEO of fastbreak.one
Panel discussion
14.00 - 14.15
BREAK
KEYNOTE: Surprise speaker
CLOSING KEYNOTE DAY 1: Niilo Fredrikson, CEO of Efecte
15.30 CEST
FINISH
TIME (CEST)
Getting your ROI with user experience
Designing software with user experience in mind
Technology vision and the future of user experience
9.00 - 9.25
Efecte Product keynote: Work redesigned- Digitalize & automate with exceptional user experience
9.30 - 9.55
Customer Keynote - User Experience
10.00 - 10.25
Keynote - Joerg Hesselink, Technology Evangelist, Founder, CEO of DC Smarter
10.30 - 10.55
Partner talk: The power of usability & employee satisfaction on ROI
Defining modern Service Management to capitalize on experience
Viewpoint on re-defining European Cloud
11.00 - 11.25
From ticketing to enterprise service management - new ways to create value
Introducing a new approach to digital identities
Enriching IT processes with deep visibility into all your IT assets
11.30 - 11.55
Customer talk: Focus on digital transformation
Towards exceptional user experience, Case study - self-service modernization
Viewpoint on security: Our approach to prevent cyber threats
12.00 - 12.55
LUNCH
13.00 - 13.25
AI Keynote: Conversational AI to drive better business results and employee satisfaction
13.30 - 13.55
Partner talk: Focus on European alternative
New ways to work with Service Management
Agile integration ecosystem and edge computing
14.00 - 14.55
Round table and wrap-up
Join us for one of the biggest virtual ITSM events of the year!
Are you a student?
Get more information on our student event and sign up on the webpage!
The event is brought together with our Reseller and Service Delivery partners
Counting the days to the event