What is Identity and Access Management (IAM)?
Enterprises and their employees have a growing number of devices and services at their disposal and different requirements for IAM systems. How does IAM help you control them all effectively?
What is Identity and Access Management (IAM)?
Enterprises and their employees have a growing number of devices and services at their disposal and different requirements for IAM systems. How does IAM help you control them all effectively?
Efecte IAM Solution
View the Efecte IAM Solution product page and discover more content on how to governance identities and accesses.
Read More
Centralize and Simplify IAM Services
Learn more about user experience, fulfillment, and other trends of Identity and Access Management (IAM) from our Modern Identity and Access Management Guide.
Download Guide
Identity Management (IDM) and Access Management (AM)
Identity and access management (IAM) systems can be divided into two categories: Identity Management (IDM) and Access Management (AM).
IDM is the administration of user-profiles and permissions. It manages for example provisioning and de-provisioning capabilities via workflows. AM is the usage of user-profiles for access control. It manages for example authentication, single sign-on (SSO), authorization for the users.
The users might be anything from a customer, member of an ecosystem, employee, or a non-human identity.
The main idea with any IAM solution is to act as a centralized identity store. Depending on the customer needs, user/-s can have several identities which are controlled and monitored, and as automated as possible. With a centralized IAM solution, you will get benefit by providing, for example, flexibility for business, increased security, and compliance with regulations.
IAM can be at the beginning managed and monitored without automation to target systems, at that point you should put your efforts to request- and approval- processes and follow the audit trail through manual provisioning.
IAM Tools vary according to the need. However, there are particular standards to follow when building a successful Identity and Access Management solution. IAM solutions can be implemented gradually. This makes the process more flexible and adaptable to the organization's needs.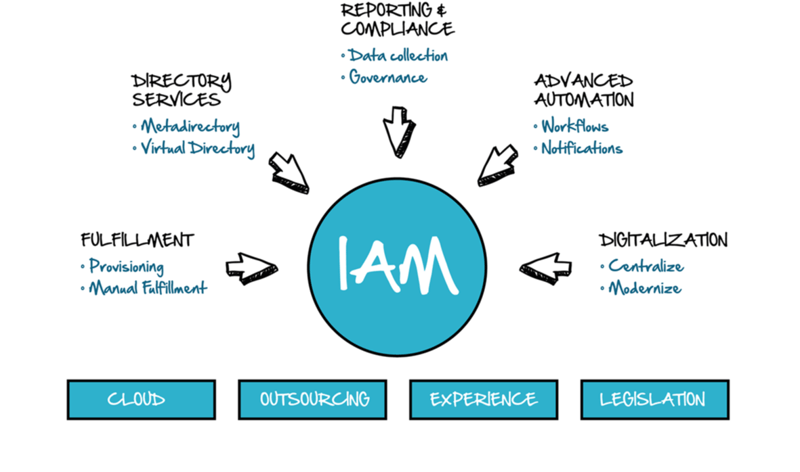 What makes a good IAM system?
An abundance of information and data is processed in every enterprise. IT experts are charged with the management of this flood of information. Managing data and access to it is becoming increasingly challenging as the business IT environment evolves at an increasing speed.
Enterprises and employees have a growing number of devices and services at their disposal, forcing different requirements for IAM systems. Recent trends in other areas of IT have also been dramatically influencing the IAM industry, including the spread of cloud services, outsourced employees, bring-your-own-device (BYOD), the need for excellent user experience, and new legislation such as GDPR.
To address organizations' needs and react to changing environments, most IAM systems and IT professionals will consider 5 key areas.
1: Fulfillment
Fulfillment is the process of providing employees, partners and other stakeholders with the needed rights to access systems with the appropriate permissions. Fulfillment can be processed in two primary ways, provisioning and manual fulfillment. Provisioning is when the process of adding, removing, or modifying access rights or information in the target system is automated. Manual fulfillment requires a user to add, modify, or remove the information from the target system manually.
2: Directory Services
Directory services or directories refer to the systems used to store, synchronize, and manage identity information and credentials. Directories are used to enable access to corporate services, resources, and information; bringing together users, accesses, and access points. The effective use, centralization, and consolidation of this wide range of information is the driving factor in promoting high-speed access to critical systems and information. In many cases, organizations will store the user data in a separate system such as an Active Directory (AD) or another account repository.
3: Reporting & Compliance
The quick and easy review of identities, access rights, and all information managed and maintained in your IAM solution is paramount for remaining compliant and keeping the information secure. Many traditional IAM systems have limited, minimal, or complicated reporting tools. As the entire IAM industry and regulations relating to the storage and processing of user data have developed, these tools have however remained slow to develop. Modern IAM systems must provide support for auditing, recertification, and the ability to audit any identity or access information.
4: Advanced Automation
A part of fulfillment was provisioning or automated changes to the account repository (such as the AD). When considering IAM solutions this is typically the main area considered surrounding automation. Organizations that are truly interested in improving efficiencies should instead consider automating: password management, approvals, notifications, and other common use areas. Some of these areas are not traditionally part of IAM systems or part of the decision-making criteria. However, due to increased interest and desire for automated systems, they are quickly becoming a key requirement.
5: Digitalization
The topic of digitalization has become a buzzword for many industries and areas, in part for good reason. When organizations can digitize many of their processes and services, they inevitably decrease the processing time and improve the possibility for further automation. The complete process of digitalization can take many forms and requires many actors. Depending on the organization's maturity and systems this could be as simple as moving away from emails and excels to a unified solution or deploying a modern system including a self-service portal, reporting tools, and automation capabilities.
Other Trends and Considerations
The topics of fulfillment, directories, regulation, automation, and digitalization are only some of the main areas surrounding IAM systems. Organizations considering implementing an IAM system or replacing an old system must also consider a number of other related trends and areas. Some notable trends include:
Cloud and Software as a Service
Mobile and outsourced workforce.
Increased legislation

User experience and processing speed.
3 Common Questions Surrounding IAM
1) How does IAM Work?
Traditionally IAM systems have been costly and complicated to deploy. However, Cloud deployments eliminate the need for your organization to purchase, operate, and maintain its infrastructure. Cloud technologies also support services-based pricing further reducing the adoption cost. A modern IAM system should be able to handle every promotion or role, ensuring that employees always have the correct permissions and access rights. A common problem is that the necessary permissions are granted quickly, but the levels are not returned when the extended rights are no longer required.
In basic terms, Identity and Access Management is built on four core elements:
A directory of the personal data for the system to identify each user
IAM Tools for managing the data related to identity lifecycle management
A reliable system to regulate user access, including access privileges and security policies

An effective auditing and reporting system so that it can be verified of what is happening on your system.
2) Why do I need IAM?
Identity and Access Management is (or at least it should be) a critical part of any enterprise security plan. Today, as our economy is highly digitally enabled, IAM is directly linked to the productivity and security of organizations.
Organizations that are not able to quickly and easily provide partners, consultants, or temporary employees with access rights are not receiving the full value from these services. Similarly, if these accesses or accounts are not suspended or removed, the security of the system is at risk.
The legislation surrounding personal information and identities has increased over the past years and will only increase further in the future. The most notable legislation in this area is GDPR. Within this legislating organizations must easily identify which data is stored, where it is stored, and how it is being used. They must also provide uses with an easy way to request this information and if they wish, have it deleted. Cloud technologies help to simplify the upgrade and maintenance of these systems. The use of cloud technologies has also helped simplify integrations and security reporting. Cloud technology and software-as-a-service solutions have further reduced the initial adoption costs making these technologies accessible to a much wider range of customers.
3) What are the benefits of an IAM system?
Basic IAM systems should allow managers to easily be able to search for user information to address issues with GDPR. Advanced IAM systems will automatically fetch and present this information with the use of workflows reducing the need for human actions while improving security by reducing the need to provide access to critical and confidential information. Many systems will also employ a self-service portal to further simplify this process by providing users a location to review or request the stored information.
Having a profound Identity and Access Management System can give your organization a significant competitive advantage in many ways. With increasing needs to grant access to users outside your organization (partners, customers, suppliers, contractors, and employees) an IAM system will serve as an enabler for lower operating costs and a source of increased efficiency.
When considering an IAM solution, you must also consider end-user experiences along with the technical specification. Automation can be very beneficial, but if employees are unable or unwilling to use the system, processes will remain unchanged and your investment will be for nothing.
How to Get Started with IAM
Many think the first step in IAM planning, is to get an IAM solution or start building. However, there are several steps that organizations can (and should) take before investing in a centralized IAM solution. IAM projects can be long, expensive, and frustrating, but with good preparation and small steps, any IAM project will prove to be successful.

We have gathered some preparation tasks and materials that will be crucial at some point in your IAM journey. So why not get started with them right away, after all every step is forward is in the right direction.
Define Your Organizations IAM Principles
When having a conversation around Identity and Access Management, everyone in attendance will have an opinion on every topic of the conversation. However, it is rare that hands are raised when a question like "Who owns IAM?" or "Who will make sure IAM is properly taken care of?" pops up.
When your conversations around IAM do start, it is important to have a few key figures involved. Here is a list of roles, we think are necessary to involve when planning, documenting and approving IAM-principles.
Why are IAM principles needed?
IAM Principles are organizations' guidelines when it comes to Identity and Access management.

The Principles should be based on legislation, laws, Information security policy, recommendations, GDPR, etc.

IAM principles define needed actions when it comes to managing a user's digital identity.

Without these principles, managing identities and access is going to be a lot harder to handle in this world of digitalization.

Understanding what these principles mean in the real-life and Writing these principles down are the first steps towards secure and centralized Identity and Access Management.

The Next step is to take these principles into everyday use.




Need help planning your organization's IAM principles? Here are some of the roles you will need to get involved in.

Create and Take Unique IDs into Use
When it comes to identifying users in this world of digitalization, you might found out that the old measurements are just not enough today. It is very important to start identifying users' digital identities in different applications (systems and services).
The first step is to find out if there already is a unique ID that can be used. Here are some questions that can help you define a unique ID:
What kind of information is collected from the user when a new employee starts? Please note: A personal identification number is not recommended to be used as a unique ID in any applications or systems.

Is an employee number giving to the new user by another system, (e.x. HR-system)? Remember: External or temporary users may not receive an employee number from your HR-system.

Could this be used for internal users as unique IDs?
It is important to make unique IDs mandatory in every system, application, or service. A unique ID should be also updated to existing applications. This might sound like hard work, but it is almost mandatory these days.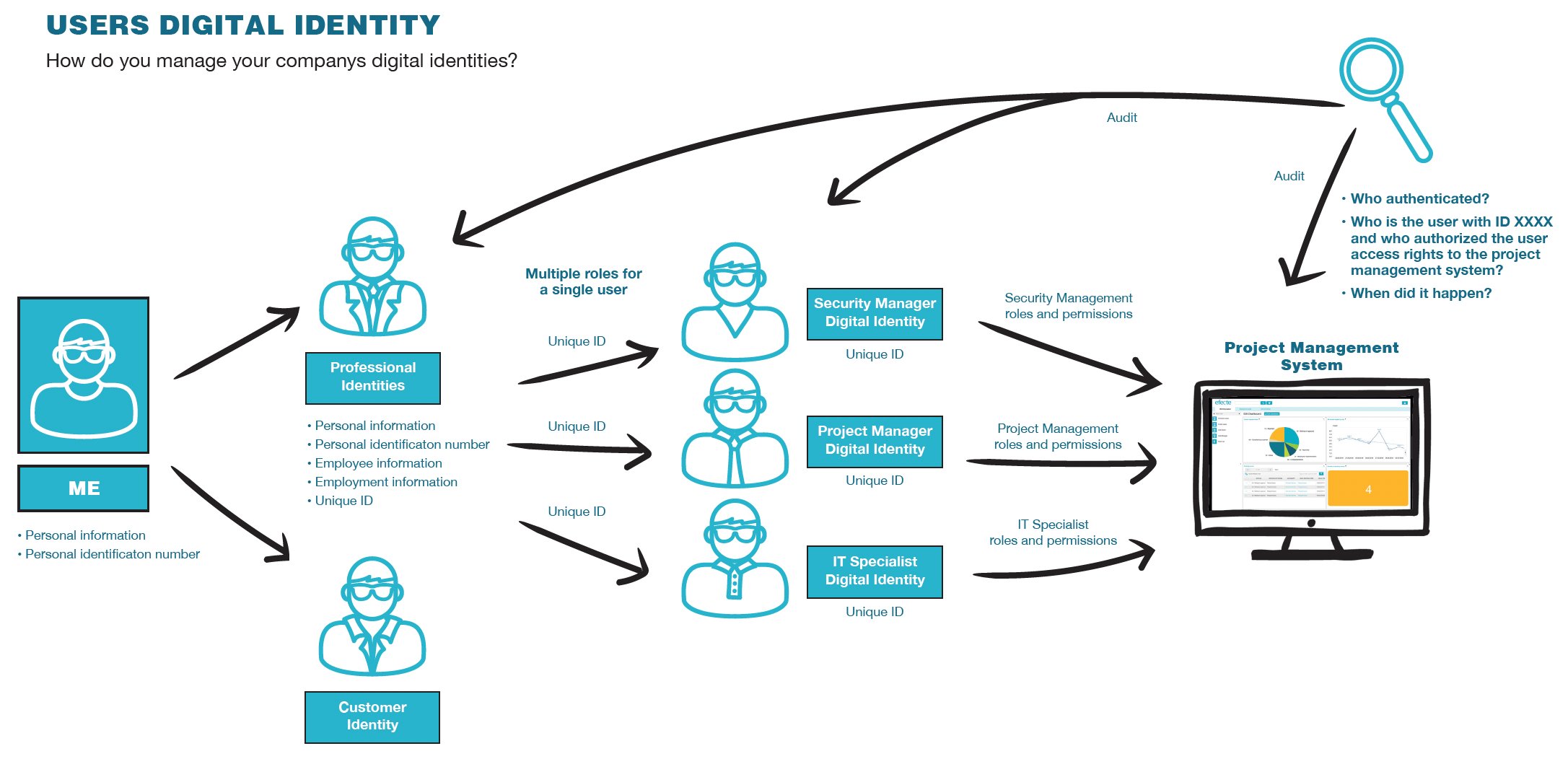 Define Your Organizations IAM Principles
Do you know this feeling, everything is attached to everything, and you don't know where to start... Our best advice in these situations, don't get overwhelmed by the work that is in front of you. Reviewing for and implementing an IAM system is just something that needs to be done. The good news is that every IAM need can be broken down into 4 phases.
1: Review and record your organization's applications.
Gather the needed information from all of your organization's applications, systems, and services (e.x. name, description, owner, admins, etc.)
Start with one to five applications, finish those, choose another set, and keep going on.

Make sure that the application owner or admins will take responsibility for updating application information in the future.
2: Attach the related access rights.
Identify the different types of access rights that are related to each application, system, or service. Collect needed information from related access rights (e.x. user-friendly name, description, related AD-group, etc.)
Remember to consider:
What are the access rights for?

What exact information or rights will the user get with this access?

Are the access rights at a needed level, or should they be more specific?
3: Create a catalog for requesting access rights.
Now you know the access rights for each application, and have the information needed to plan your catalog. But don't forget to ask yourself:
What are the main categories within the catalog (e.x. common applications, finance applications, IT applications, CRM system)?
What are the applications inside each of these categories?
What related access rights can a user order?

How user-friendly is the request process, and how do users request rights?
4: Get creative with your needs.
Now you are ready to start your IAM implementation by :
Automating attribute-based access right management
Defining toxic combinations and other segregation of duties (SOD) controls
Role management
Need some help getting started? We have created templates to help you define your access rights and applications. Download our templates (Excel)»
Efecte IAM, modern solution!
Want to find out what modern IAM software looks like? View the Efecte IAM Solution product page and discover more content on how to governance identities and accesses.
Want to learn more about IAM?
Download our guide Modern Identity and Access Management in Enterprises: Practical tips for IT decision-makers.