Modern IAM Webinar
How to bring your IAM processes to a new era of digitalization?
Watch a webinar
Try Efecte's IAM for free for 14 days
Discover Efecte IAM for free and see how it fits your needs.
START TRIAL NOW
Add Agility and Simplify Your IAM System
In a services-driven world that's increasingly digital and intelligent, where experience rules, local is the new global, and compliance is non-negotiable. Efecte's Identity Governance and Administration (IGA) solution is the perfect tool for automated and compliant Identity and Access Management working seamlessly with all enterprise services.
Efecte IGA provides organizations prebuilt workflow automation, real-time governance capabilities, and user self-service for identity and access requests, through the use of our Identity Governance and Administration baseline. Dramatically increasing the speed of IAM administration processes.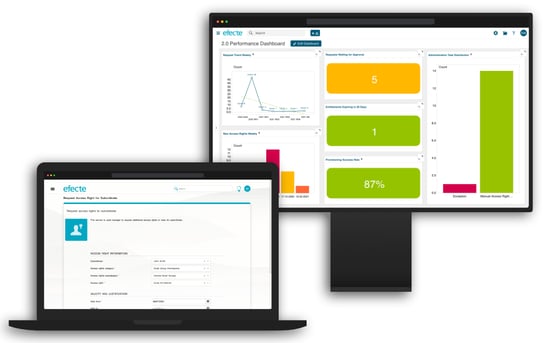 Centralize and Simplify IAM Services
Manage any identity or access request as part of one enterprise self-service portal. Create standard request offerings that can be limited based on a user's location or role.
Learn more about user experience, fulfillment, and other trends of Identity and Access Management (IAM) in our Modern Identity and Access Management Guide.
"Our IAM system is responsible for over 5,000 active identities at a time. Previously, creating a single user ID by hand took up to 15 minutes. This system will help us save a great deal of time and money."
Benita Kapp, ICT Manager
KeuSote
"We recruited 1,000 new employees in one year, which made easy on- and off-boarding essential. In the past, requests were made with several platforms but now everything is done using Efecte."
Petri Nieminen, ICT Manager
Valmet Automotive
Automate and Synchronize Identity and Access Requests
Fully or partially automate approval chains, notifications, fulfillment, provisioning, or any other processes relating to IAM with enterprise workflows such as on-boarding.
Need help getting your access rights in order? Download our FREE access rights template to identify, collect, and organize critical access rights information.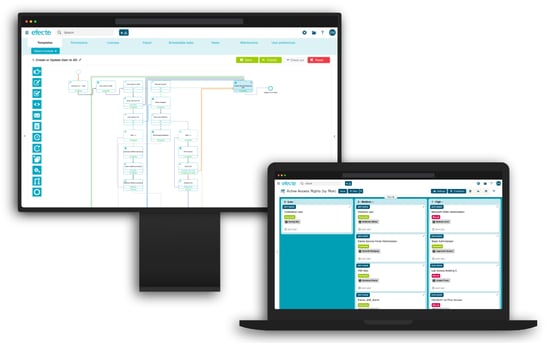 Govern, review, and remedy IAM Requests and Issues
Quickly react to the factors impacting access requests, information security, risk management, and more using custom lists, graphs, kanbans, and filters to identify missing or inaccurate information.
Watch how easy it is to review access rights requests, create new users, and more with Efecte. View our on-demand webinar "Identity and Access Management (IAM) - How to get started?"
Add the Features You Need with Add-ons
Discover our add-ons, including Attribute-based Access Rights, to improve onboarding by provisioning multiple access rights based on a single attribute and Toxic Combination Management, to streamline your segregation of duties controls (SOD Controls).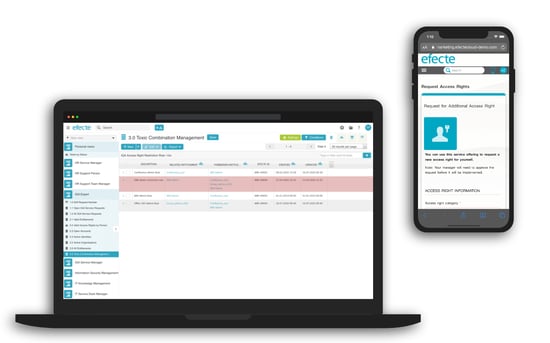 Toxic Combination Management
Ensure system security by limiting the combination of certain user access rights.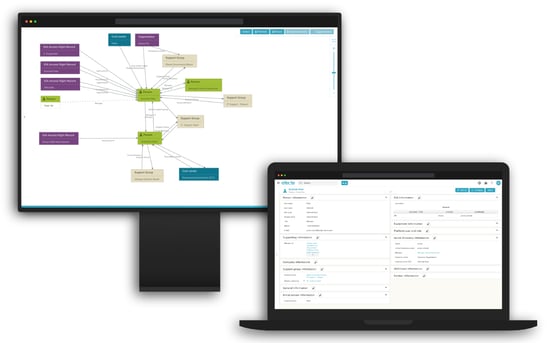 Attribute-Based Access Rights
Simplify on-boarding by provisioning access rights based on user attributes.
Why Efecte is the Best IAM Solution
A Single Solution for Every IAM Process
Efecte IAM is a business-centric solution simplifying entitlement processes, identity lifecycles, provisioning, and fulfillment.
Developable to Meet Future Needs
Efecte IAM is designed using industry standards and best practices to streamline and automate processes while remaining flexible enough to fit any organization's current and future needs.
Flexibly Adapt to Business Needs
Efecte IAM can incorporate service and processes from other business areas such as HR or IT to create a unified system.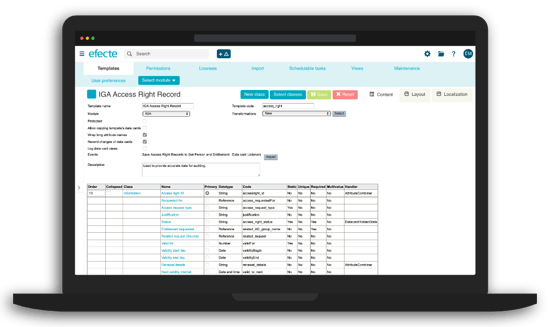 Easily Be Taken Into Use
Efecte IAM incorporates an easily configured self-service portal allowing offerings to be created or modified to meet exact needs.
Systematic Installation and Expansion
Efecte IAM allows you to easily deploy approval chains, offerings, user roles, and add basic restrictions without limiting future expansions or developments.
Building an IAM System with Efecte
Prestudy
The customer receives a cost estimate for a possible delivery project and preparatory work for the to-do list.
Proof of Concept (POC)
Create a POC with customers to better evaluate their needs.
Delivery Project
The delivery project includes implementation and technical product deployment.
Maintenance
Expanding the catalog of subscription rights, collecting needs for further development.
Further developments
Production use and feedback from users indicate the direction of further development.
Have a question? Send us a message and we would be happy to discuss your needs.
Download our new IAM guide!
Download our guide for modern IAM to learn more about how to react to modern trends.
Request a Consultation
Want to find out how we can help you with Identity and Access Management processes?