A modern tool for modern organizations
Efecte Chat for Service Desk allows organizations to simplify their support processes and serve customers more efficiently. With direct contact with the end-users, support agents can solve customer problems even before they need to open a ticket.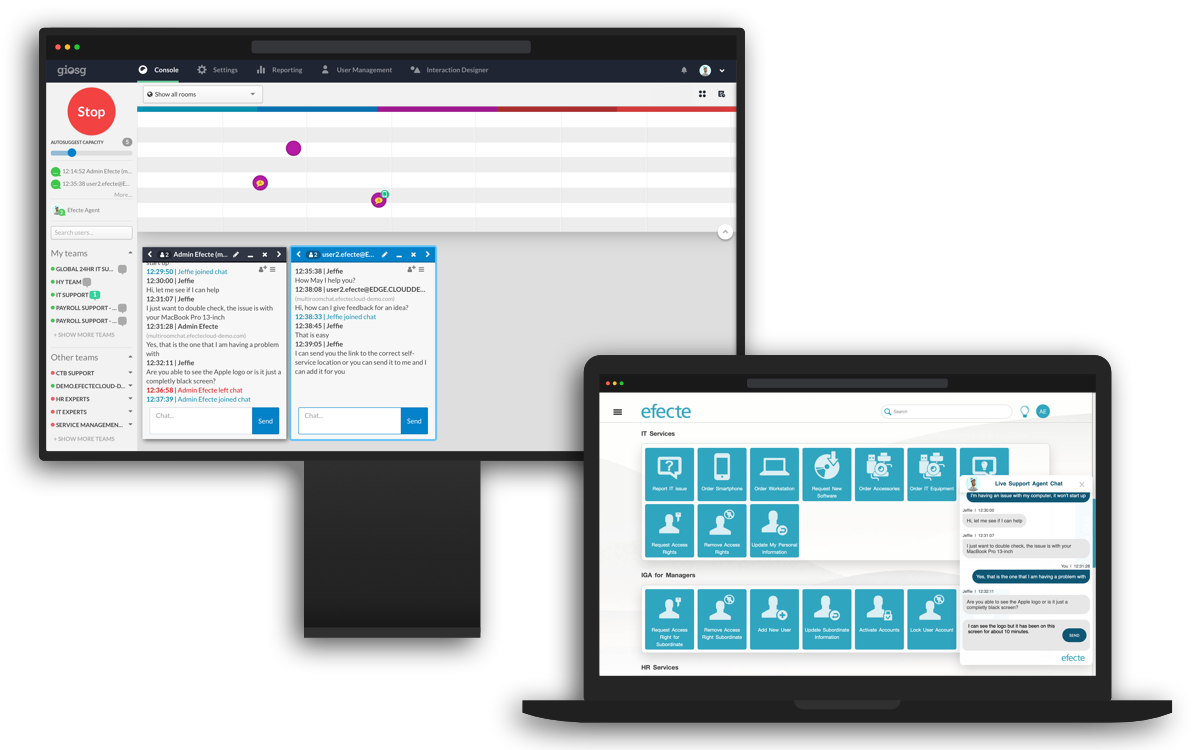 Automate initial contact
Customize initial interactions to solve issues or route end-users to relevant teams, solving problems quickly.
Comprehensive reporting
Service managers can track team performance and support efficiencies, such as service levels or response times.
Go further with AI chatbots
Chatbots using AI can provide the answer in most common support scenarios, so your support personnel can focus on challenging tasks.
Boost productivity and satisfaction
Team-to-Team Routing – Provide specialized support and guide users to experts who can best help.
Rule-Based Actions – Customize the chat experience to target users when they most need help.
Interaction Designer – Create user flows for custom interactions.
Automatic Records of Chats – Keep track of chat history and find previous support cases for quicker resolutions.
GDPR Compliant – Handle customer data with care and automatically remove data based on your policies.
Canned Responses – Quickly respond to customers using pre-defined answers for the most common questions.
Tagging Chats – Tag chats with keywords to keep track of support topics.
Customizable Chat UI – Customize the chat UI to match your branding to make it an extension of your portal.
Create workflows for personalized experiences
Customize
Messages based on parameters or user information (
e.g.
greetings for a specific URL, etc.).
Target
Specific visitors with relevant and interactive content at the right time to solve problems faster.
Trigger
Follow-up messages, integrations, or actions based on the interactions with the chatbot.
"As a part of the ITSM, Efecte provided chat functionality to the customer interface. For us, it was essential that a chat could be automatically converted into a service request."
Mikko Mäkelä, ICT Service Manager
Tampere University
"Thanks to an intelligent chatbot, questions that arise are either answered immediately, answers are offered via a self-service portal or the questions are forwarded to specialist IT staff. Efecte Service Management thus offers significant relief for the IT service desk, creates scope for the processing of complex problems, and increases customer satisfaction."
Tobias Stender, Head of the ESM Competence Centre
Bechtle IT System House Hamburg
Embracing the omnichannel opportunity
Customer satisfaction ratings for live chat are often higher than other support channels. Customers can quickly solve their problems or get the answer they want in a few minutes instead of a few emails.
An average customer service agent can have 5 simultaneous conversations with the same resolution rate. Efecte Chat will help to boost your employee satisfaction, efficiency, and end-user happiness.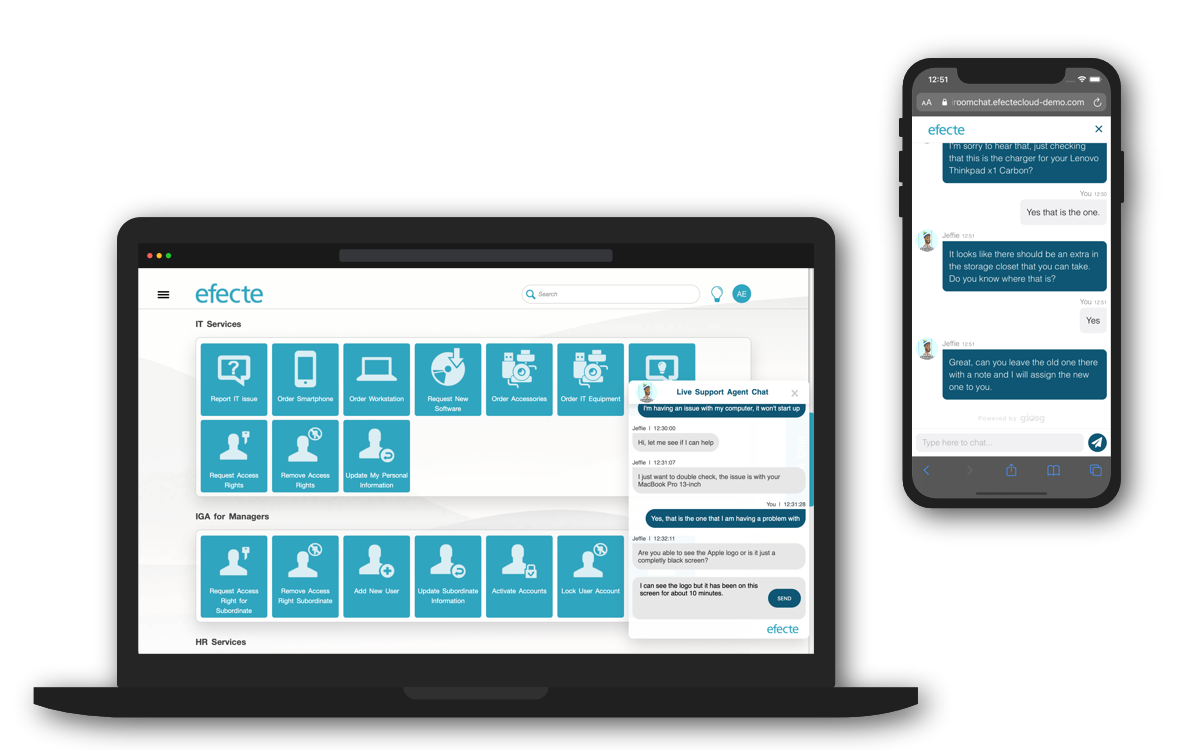 The first line of customer support - chatbots
Improve efficiency
Chatbots handle repetitive conversations with visitors, so your customer service team can focus on complex ones.
Ongoing learning
Chatbots learn from each conversation which escalates into customer service helping to eliminate agents repeating themselves.
Intelligent targeting
Define and set where and when the chatbot or live chat should be triggered to ensure that end-users receive the best experience.