One of our longest relationships has been with the
Parish Union of Helsinki

, a tremendous 20 years since 2002.


We live in a fast-moving society. Automation, Digitalization, Virtual Assistance - they all seem to develop faster than light and enable us to work efficiently and smoothly. A look under the deck discovers a much more realistic view: it takes long-term commitment, a lot of trials and failures, and turgid codes to create shortcuts for end-users. As there are ambitious dreams to create a world, where we can focus on what's most important and have the ability to automate routines, we need a lot of profound dedication to behind-the-scenes technology to make this happen. This most definitely is a marathon, not a race.
Supporting our customers to reach their digitalization and automation goals is where we thrive from. Being able to commit to supporting their growth as their needs and end-users change within times is seen as a challenge to conquer, not shined from.
One of our longest relationships has been with the Parish Union of Helsinki, a tremendous 20 years since 2002.
Seppo Kuusivuori, Chief Information Officer of Parish Union of Helsinki was one of the first ones using Efecte's Bitmount back in 2002. His team had identified a need to solve issues with their solution database, feedback management, and license management.
"In 2001-2002, before we started using Efecte, our IT services had severely expanded. We had between 1200-1300 internal customers and a lot of support requests. It was clear that we had to adapt to Service Desk requirements.
We started by expanding our team and began looking for a system to serve and adapt to our needs. We needed to have all of our growing IT under one roof.''
"After research, we came to a conclusion that Efecte was a good system to meet our needs." Seppo Kuusivuori, Chief Information Officer of Parish Union of Helsinki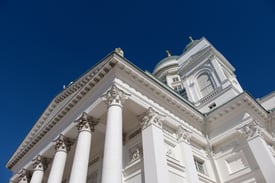 As one can imagine, a lot of changes took place in the scope of twenty years, the need for efficiency being one of them. Today Parish Union of Helsinki uses a variety of elements from the Efecte Platform: Self Service for the internal customers, a ticketing tool to manage incident and request management, IT asset management together with Efecte Integration Services connector to 3stepIT, SCCM data import, and updated user data coming from the MS Azure AD.
Such operator as the Parish Union of Helsinki, who needs to represent a variety of backgrounds, needs to highly evaluate user-friendliness. "As we have a variety of internal users on our Self Service Portal, you can imagine them all not being native in digital services. The feedback we constantly receive from them is that the Efecte system is intuitive to use. This feedback guarantees that all of their voices are being heard and they are comfortable in using this platform."
One major step Parish Union of Helsinki did with Efecte was the shift from on-premises to Efecte Cloud.
Seppo felt like it was time to move to modern ways of working: "Today's demands for remote work no longer require a private data center. Also, changes in the local data center premises initiated change towards cloud services. We deal with some highly confidential data, so data security of crucial to us. Efecte Cloud offers us the element we need to function according to the demands of this decade while ensuring our data is secured."
The joint development with Efecte and Parish Union of Helsinki is far from being over, the next steps Parish Union of Helsinki is looking into have to do with the development of their service channels. Looking forward to what the next eventful 20 years bring!